Swansea Bay observes first ever Covid Memorial Day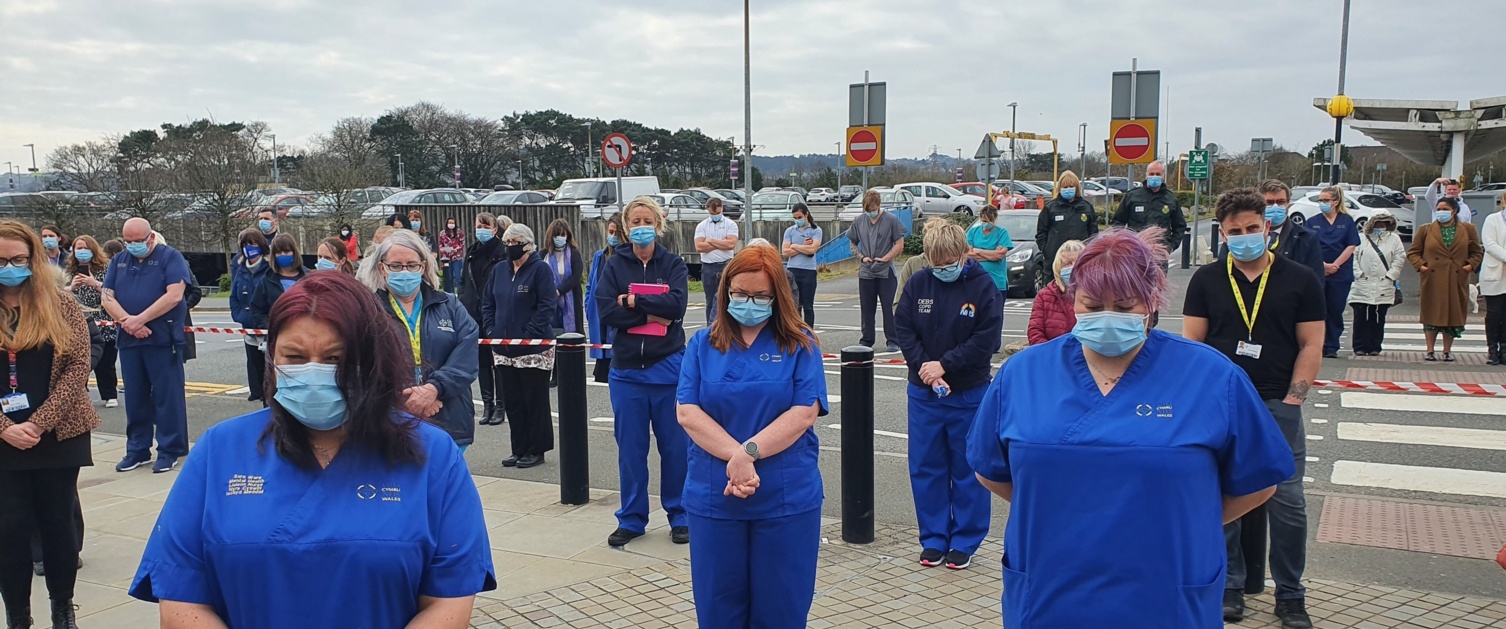 As part of Covid Memorial Day 2021, Swansea Bay University Health Board has paused to reflect on the struggle, sacrifice and selfless service of the past 12 months, and remember all those who have lost their lives during the pandemic.
A number of events took place today (Tuesday, 23 March), exactly one year since the first national lockdown started, across several Swansea Bay sites. They included poetry readings, a symbolic scattering of petals, prayers and a minute's silence, as part of a wider series of events held throughout the UK.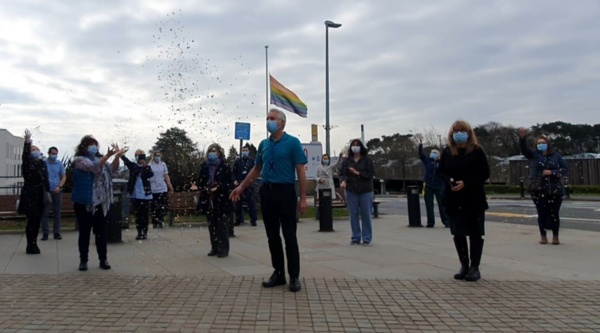 The day began with Stephen Banfield, a biomedical support worker in pathology, reading an original poem inspired by the pandemic to a gathering outside Morriston Hospital's main entrance, followed by a release of petals symbolising those who have been lost.
Further poetry readings took place throughout the day in Tonna, Singleton, Cefn Coed and Neath Port Talbot hospitals, and Bryn Afon Specialist Residential Service.
A socially distanced memorial service, which included the laying down of seven sets of different colour scrubs to form a rainbow, the handing out of bulbs to be planted in remembrance and addresses and prayers from a range of different faith leaders, was held outside Morriston Hospital and formed the main focus of the day.
Reflective spaces were also made available for individual contemplation throughout the day in the multi-faith rooms of all the health board's hospitals, while a special recording of the Morriston Emergency Department Choir, singing I'll Be There was made available online.
It culminated in all being encouraged to shine a torch or light a candle at 8pm before pausing to remember.
The day was symbolised by the forget-me-not flower, selected to represent the incredible unity and solidarity shown by our communities, which have pulled together to support and help one another during this pandemic.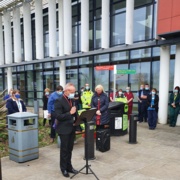 Father Jason Jones (pictured left), Catholic priest and a health board chaplain officiated at the memorial service.
He said: "The purpose of today's service was to reflect and remember, but to also look forward in hope and recognise the support we have had from one another.
"There have been many, many sad situations experienced by so many people in the health board but, through the support of one another, and our own faith, we have managed to come to the end of this year and, as springtime and Easter approaches, go forward with new hope."
Kimberley Hampton-Evans, Care After Death Centre manager, who helped organise the poetry reading in Morriston, said: "It went very well. We just wanted to pause for five minutes and reflect on what we have been through, as the NHS, and to remember those who we have lost.
"Everyone is really busy but it was nice to stop for five minutes and remember why we are here and why we are working so hard, and how important it is to stay safe."
Nicci Evans of the Patient Advice and Liaison Service (PALS) in Morriston Hospital, recalled the start of the first lockdown.
She said: "It's hard to believe that 12 months ago we came down to this very same place and shut the doors to visitors.
"I've been here 14 years in total and we have never had a year like it. It's been completely different to anything we have ever seen before – people have changed jobs, we've had different roles and have all pulled together. We won't forget this year.
"We've lost colleagues, the whole of the UK has lost a tremendous amount of people to this pandemic, and it's important for us all to get together and reflect not only on the people we have lost but everybody who has lost someone, it's nice to have a bit of quiet time to reflect."
Muslim chaplain Shakirah Mannan, said: "We felt that we had to be diverse and inclusive, so I did what I could to support the whole event, which I thought went very well.
"The whole theme was set around the forget-me-not flower, which was chosen to represent all those who we have lost."
Head of Swansea Bay's Chaplaincy Service, Tracey Pycroft, said: "The past year had been indescribable, that is what first comes to mind, but we have also been resourceful and have really pulled together as a team.
"We were overwhelmed by the number of people who came along today. We weren't sure how many would come out to commemorate with us and we are so grateful to all of the staff who have helped us put this very special commemorative day together.
"We are very proud of all those working in Swansea Bay Health Board."
She added that there will be special reminders of the first Covid Memorial Day for years to come in the form of the bulbs handed out.
She said: "We gave out bulbs which people can either take away to plant in memory of someone they knew and loved who have lost their lives, or they can be planted in the commemorative garden that is to be developed."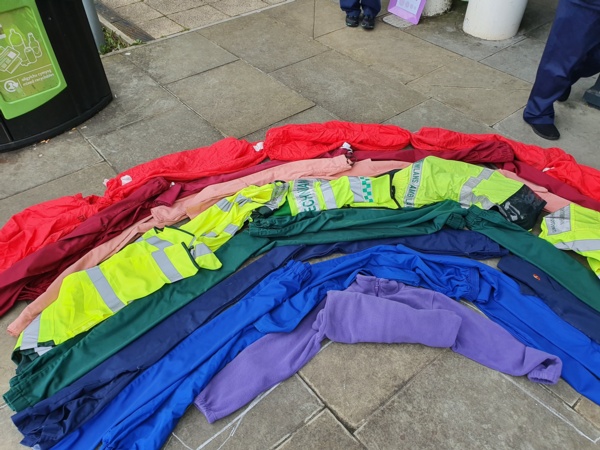 Watch our video highlights here https://tinyurl.com/45v35fuf