Swansea Bay innovation benefits renal patients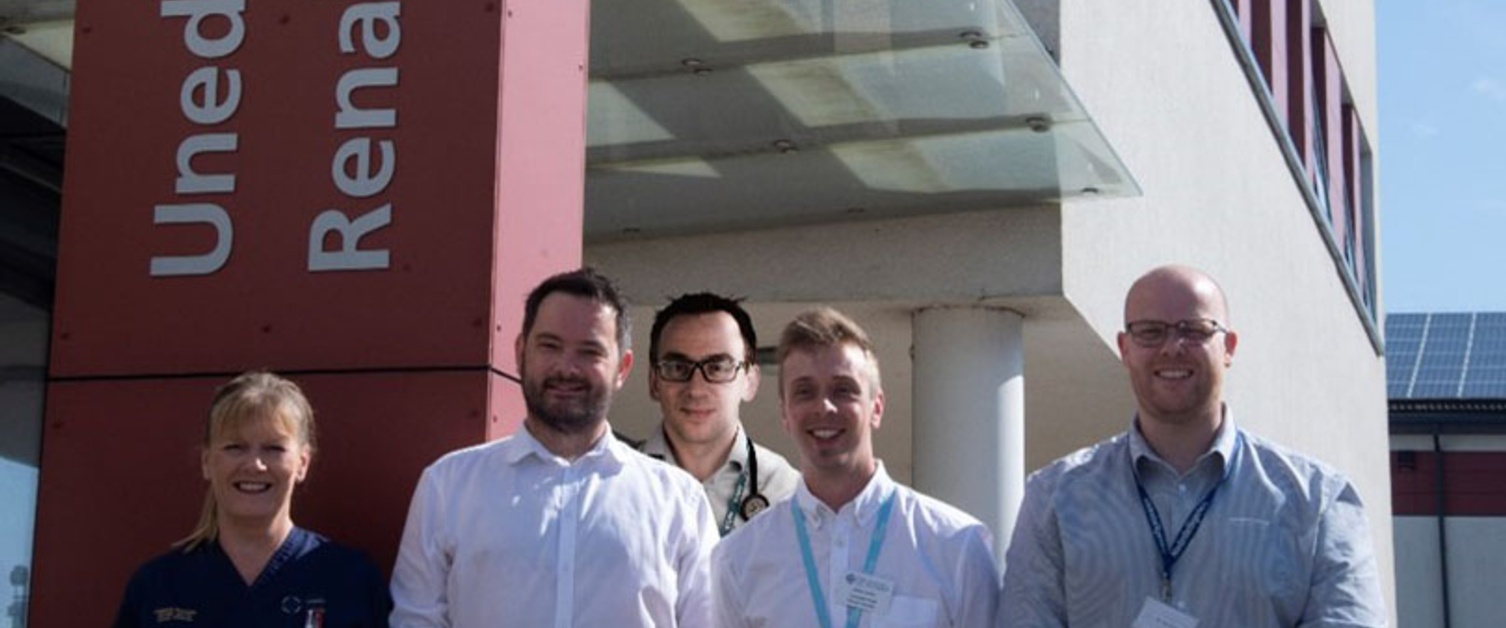 Going digital has not only improved kidney care across South West Wales it has also led to the Morriston Hospital-based renal unit being shortlisted for an NHS Wales Award.
For people with kidney failure, dialysis is a life-saving treatment.
Some people can have dialysis at home, but others attend a hospital dialysis unit three times a week, for around 4.5 hours a time, at one of the region's six units in Swansea, Carmarthen, Haverfordwest and Aberystwyth.
Across the region, around 1,200 dialysis treatments are performed each week and around 5,000 drugs are administered to enable dialysis.
With this level of activity, Morriston's renal unit staff were all too aware of the growing mountain of paperwork surrounding its patients.
Managing and tailoring these treatments for individual patients was no easy undertaking.
So they set themselves the task of creating a bespoke in-house digital system that could deal with the complexities of dialysis, yet be simple and intuitive for staff to navigate.
The results have been remarkable, leading to a significant improvement in quality and efficiency. The way staff work has been modernised and patients can also access their medication and blood results on the smartphones.
The quality of information has also improved, as well as the safety and efficiency of the service, freeing up time for clinicians to spend more with patients rather than being burdened with vast amounts of paperwork.
The project team comprised Chris Brown, consultant renal pharmacist, James Chess, consultant nephrologist, Dafydd James, renal pharmacy technician, Mike Wakelyn, renal IT engineer and Debbie Hopkins, renal dialysis sister.
Mr Brown said: "Paper-based prescribing is a logistic problem for our regional centre that covers a large geography across South West Wales.
"Our objective was to improve the quality, efficiency and safety of our renal service and improve outcomes for patients.
"We had three key targets: to avoid missed drug doses, to prevent treatment delays and to liberate administrative time for clinicians to spend on face-to-face care.
"We decided to create a bespoke in-house digital system that could deal with the complexities of dialysis and would be intuitive for staff."
But, Mr Brown added, going digital was not just for staff.
He said: "We worked with patients to develop the patients-portal so they could access their medication and blood results on the own smart phones and we automated patient friendly output for those who preferred paper.
"This improves our communication with patients and empowers them to become actively involved in their own care."
Dafydd James explained that, previously, medication administered on dialysis was prescribed on paper charts.
However, this sometimes meant changes to medication could be delayed until a visiting clinician could attend the dialysis unit.
"Urgent medication changes would require fax machine to send prescriptions from the coordination centre in Morriston Hospital," said Mr James.
"Mistakes were often difficult to identify with a paper system, but now our virtual pharmacy and digital surveillance allows us to quickly screen prescriptions across the region form the coordination centre in Morriston."
Mike Wakelyn said digital records were far more efficient and could be accessed quickly anywhere across the region.
He added: "Information is accessed quickly and reliably where it is needed, regardless of where the clinician or patients may be.
"We have created a number of tools that helps clinicians day to day. For example the system identifies any drugs that may have been missed, and alerts the dialysis nurses, which ensures the patient receives the intended treatment."
Sister Hopkins said: "The bespoke touch-screen eChart enables nurses to interact directly with the patient's record at the bedside, which means we have everything we need at the point of care.
"Renal treatments are complicated and regularly adjusted. The digital system not only makes the prescription much easier to read, it also allows the team be more responsive to changes in the patient's condition by enabling timely changes to treatments."
Dr Chess said designing the renal EPMA in-house meant it could be developed specifically to meet the renal service's requirements.
"Changes or additions to medication can now be made instantly at the main centre and immediately accessible to the nurse in the satellite units. There are no treatment delays.
"Going digital has made a significant impact on the efficiency, and quality and safety of prescribing, enabling timely initiation or alterations to over 5,000 treatments a week administered against an electronic prescription.''
Dr Chess said it also meant clinicians were freed from administrative duties to spend on patient care.
"They no longer need to travel across west Wales just to make administrative changes to paper records. Medication charts no longer need rewriting and cannot be lost.
"This saves time for the prescriber and eliminates the risks caused by the discrepancies between the paper medication chart and renal electronic patient records."
Judging panels, drawn from across NHS Wales, the public sector and professional bodies, have visited each finalist to find out more about the projects and see first-hand the benefits they've brought to patients. The winners will be announced in a ceremony in Cardiff on 19 September.