Staff surprise patient with 99th birthday party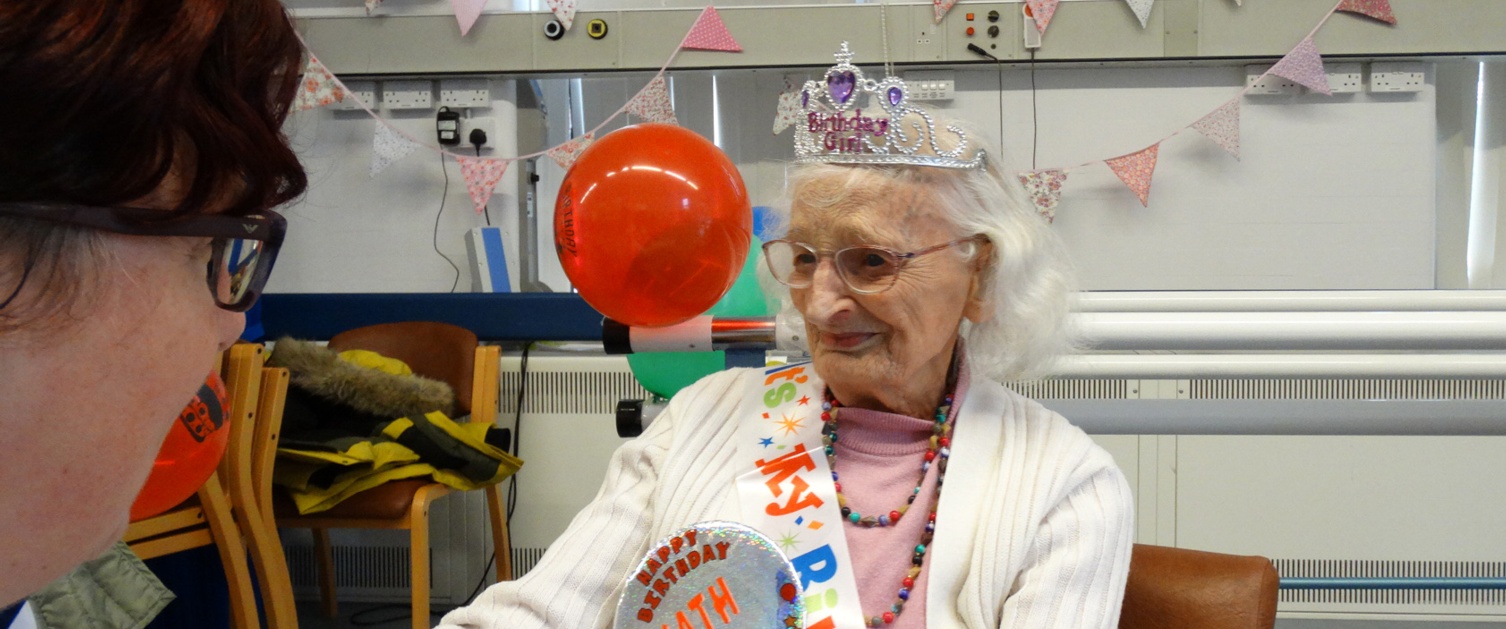 Main picture: Physiotherapist Catrin Treharne with Kathleen Davies, 99
An inspirational 99-year-old who regained her independence after a serious accident has been rewarded with a surprise birthday party.
Staff at Gorseinon Hospital in Swansea organised the bash for Kathleen Davies after being astounded by her recovery.
Arriving by ambulance on Wednesday morning, November 20th, for her weekly exercise class, she was stunned to see the room had been decorated with banners and balloons and a buffet and cake laid on.
"They've made such a lovely fuss. I didn't expect all that. I thought they would do the usual little cake," said Kathleen, who officially turned 99 on Tuesday, November 19th.
"I can't fault them at all. They have been wonderful to me."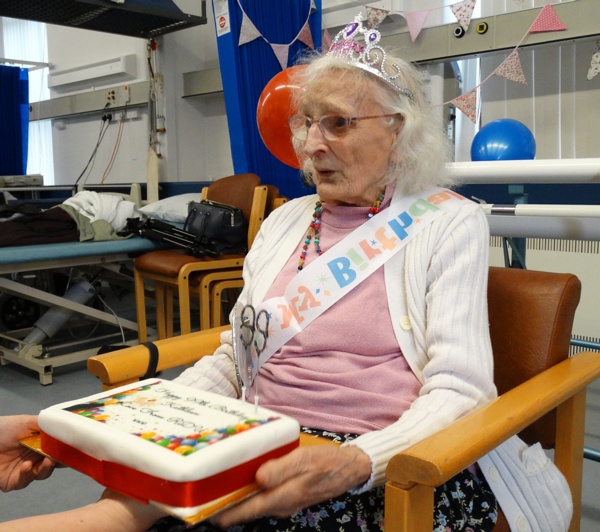 Kathleen Davies, 99, is presented with her birthday cake

Kathleen, who worked for the Food Office, which oversaw rationing during the Second World War, broke her left knee cap in the summer after tripping over at home.
The accident left her immobile as her leg was put in a full cast.
After a month in Gorseinon Hospital she was discharged and joined the strength and balance class in the hospital's day centre, through which she has now regained full use of her knee and her mobility.
Physiotherapist Catrin Treharne said: "She was so stoical really. She just was determined to be as independent as she could be.
"She does everything for herself. And that's exactly what she wanted to do, to be able to get back to how she was living before.
"She comes in every week and she brightens the place up and she motivates the other people in the group."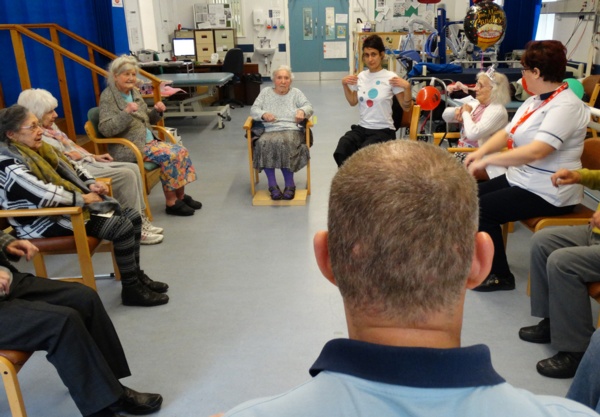 The strength and balance class at Gorseinon Hospital

Physiotherapy assistant Ian Phillips came up with the idea for a surprise party after chatting to Kathleen.
"We mentioned a couple of weeks ago that she was coming up to her 99th birthday and then last week she said, 'Oh next week I am going to have dancing girls, balloons, cakes and all sorts'.
"So we thought ok that's not a bad idea. Keep it under our hat, on the back boiler and see what we can get together. It's worked out all right.
"She's very charismatic, extremely larger than life character and an inspiration."
Catrin added: "I don't think I have come across any other 99-year-old who comes and participates in an exercise class.
"It's just a day of celebration really of not just Kath and her birthday but the fact she has achieved so much in so little time. We have been privileged to see that week by week."
Kathleen was thrilled with her party, but has now moved on to making plans for next year.
"I am looking forward to my 100th and I have invited everyone to a dance," she said.