Staff get creative and reflect on pandemic experiences to boost well-being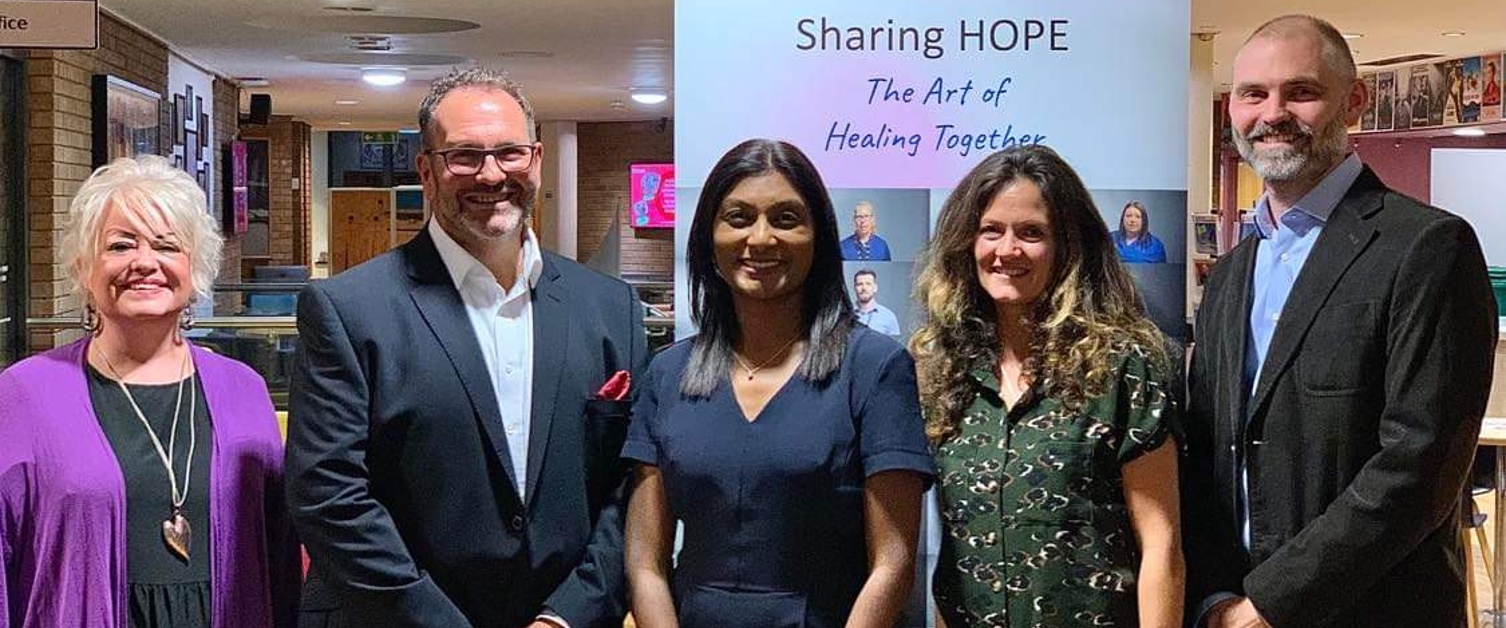 Members of staff have been reflecting on their experiences of the Covid pandemic as part of a new initiative aimed at improving their mental health.
Sharing HOPE (The Art of Healing Together) aims to get staff to talk and share stories in creative ways to help reduce the impact the pandemic has had on them.
It uses art, such as poetry, to support staff to open up about their experiences in ways other than just talking.
Pictured: Jayne Whitney, Nurse Director for Mental Health & Learning Disabilities, Stephen Jones, Chief Nursing Officer for Wales, Sue Tranka; art therapist, Virginia Hearth; and Johan Skre.
The project, a collaboration between Swansea Bay's Quality Improvement and Arts and Heritage teams, offers a safe space for staff to express themselves and access support to be able to reflect and move forward.
Jayne Whitney, Swansea Bay's quality improvement lead for suicide prevention, said: "There has been research emerging around NHS workers and the trauma they were exposed to during the pandemic.
"It has shown there has been an increase in trauma-related incidents where staff were finding it really difficult to process what they had seen and experienced.
"There has been an increase in mental health issues such as anxiety, depression, burn-out, stress and PTSD because people have been trying to process their trauma.
"As NHS professionals, the culture can often be seen as 'keep strong and carry on'.
"We wanted to introduce a project to highlight the power of sharing stories to help with recovery and help break the stigma around mental health. We wanted to do something that would really focus on staff."
The project was made possible thanks to joint funding from the Arts Council of Wales and The Baring Foundation, an independent grant-giving foundation improving the quality of life of people facing disadvantage and discrimination.
Its official launch, held at the Taliesin Arts Theatre, in Swansea University, saw the screening of its first creative project, a film featuring staff from across the health board reciting lines from a poem about what Covid meant to them.
Among those in attendance was the Chief Nursing Officer (CNO) for Wales, Sue Tranka.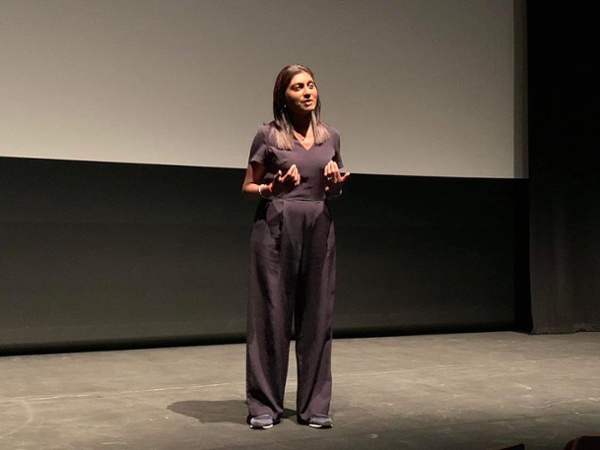 Pictured: CNO for Wales Sue Tranka at the Sharing HOPE launch.
The project was extra special for Jayne, who had been inspired to put pen to paper and write about how she felt the pandemic had affected NHS workers.
Her words resonated with her colleagues so much so it was decided that her poem would form the basis of Sharing HOPE's first project.
"We started looking at how we were going to launch the project and how we would involve staff," Jayne added.
"I went home and was thinking about what it was going to look like and I just wrote about how I felt and ended up with a poem. I found it very cathartic.
"I read it to colleagues and everyone connected with it.
"Even though they are words that I have written, it is staff connecting with the words with their emotions."
The film included 42 staff members from a variety of roles, based at Morriston, Neath Port Talbot, Cefn Coed and Tonna hospitals each reading a line of the poem.
Plans for more creative projects in the near future are hoped to help gain momentum in encouraging staff to talk openly about their mental health.
Johan Skre, Arts and Heritage project manager, said: "Even when we are dealing with very serious issues, art is always a very unintimidating and positive source of support.
"It is widely proven that engaging with arts and creative activities is good for our mental health.
"By focusing our efforts on trauma recovery for staff, we can really add to the support that is already available to them.
"We want people to tell their stories and talk about what they have been through but also share stories of hope and how they have managed to cope.
"With a diverse team of experienced arts facilitators, working with the Arts and Heritage team and our clinicians to co-produce high quality interventions and support, we hope to break new ground with Sharing HOPE."
The team will be working with an arts therapist and a poet, as well as a number of artists, to continue offering support to staff in creative ways.
Jayne said: "As NHS workers, we often don't allow ourselves to grieve or recognise when we've experienced trauma.
"Our staff work in environments where lives are often in the balance, sometimes involving tremendous pressure and unimaginable loss.
"The repercussions of the experiences we've shared can come out in other ways and that's where mental health can become an issue for some people.
"Quite often people won't have the words to describe how they're feeling and art can fill those words so they can express themselves in a very different and creative way.
"Whether it's through music, drawing, writing poetry or even coming together to do an activity where it opens up that shared dialogue.
"We want to engage with staff in a compassionate and caring way to let them know we are here for them and we can help them get through this and talk openly about it."
Speaking of the project's launch, Sue Tranka, CNO for Wales, said: "An inspirational event and a beautiful launch which was moving and powerful.
"Capturing the emotions and unspoken words of many.
"Well done to everyone involved, I look forward to seeing how the project will grow and develop."