Giving up smoking is a good idea for anyone – but for people on home oxygen therapy it's essential.
The therapy is an essential part of treatment for many patients in Swansea bay. People with a range of chronic conditions - such as chronic obstructive pulmonary disease (COPD), interstitial lung disease and more - use it to treat their long-term low oxygen levels.
But using oxygen can be extremely dangerous too, especially for smokers.
Beth Grant, home oxygen coordinator lead, explained: "Patients don't understand the dangers. If you smoke while using oxygen it can have very serious consequences.
"The air we breathe consists of about 21 per cent oxygen. However, the cylinders which patients use are 100 per cent pure oxygen.
"It is a medical gas and a fire hazard.
"Just in this health board area we have seen people left with serious facial or upper body burns after smoking while on oxygen, and they already have life-limiting conditions."
At any one time, up to 650 people may be on oxygen in Swansea Bay, and some are current or former smokers.
And while the health board's home oxygen team has found that some do quit when they start on oxygen, not all do.
Now, new guidance from NICE means that home oxygen will no longer be prescribed for some COPD patients who continue to smoke.
The health board is working with oxygen supplier Baywater and Mid and West Wales Fire and Rescue Service to create an appropriate plan for patients who do continue to smoke.
But this may mean they are no longer given oxygen therapy at home.
Respiratory nurse Michelle Davies added: "This is about their safety, and the safety of their carers, families, neighbours and community.
"Three people on oxygen at home have been admitted locally in the past five or six years with burns on their face after deciding to light up a cigarette. And there have been many more serious instances across the country.
"It doesn't necessarily have to be that they are taking the oxygen at the moment they light up either.
"The oxygen can saturate their clothes after they've used it for a while, or they might leave the open cannula on the side of the sofa, so the oxygen builds up around them."
The home oxygen coordination team is urging anyone who is currently having or is about to start oxygen treatment to seek help to quit smoking. It may delay their treatment if they do not quit.
Several free services are available from the health board, which can be tailored to suit each person.
These can be accessed by visiting www.helpmequit.wales, or phoning the Help Me Quit line on 08000 852 219. The call handler will assess the person's requirements and book an appointment with their desired service.
Families, friends and carers are encouraged to watch out for the signs of smoking too, and ask healthcare staff for help if needed.
---
The health board offers a stop smoking service that has helped many people quit over the years – including Kelly Wearing, who smoked 30 cigarettes a day before giving up.
Kelly started smoking when she was a teenager. She tried to quit several times but never managed to give up permanently until accessing the smoking cessation service at Singleton Hospital.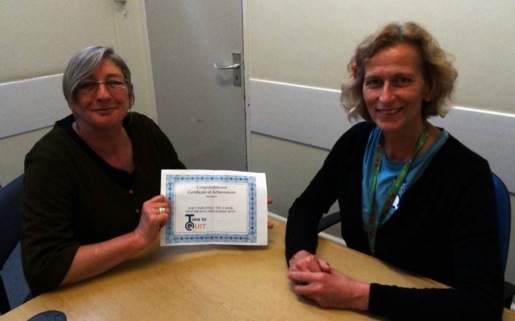 Caption: Kelly with her stop smoking counsellor Diana Green.
This service is customised to each patient's needs. While Kelly, who is not on home oxygen, opted for nicotine patches and an inhalator, people are encouraged to set their own goals and use the most suitable methods for them.
Kelly said: "I haven't smoked since about a week after I started meeting with my stop smoking counsellor.
"I am still astonished, it's been several months now since my last cigarette. I'm still amazed at being able to run upstairs, I have breath, I have some colour in my skin.
"I haven't been tempted either, even when I've been among smokers."