Robotic technology frees up hospital pharmacists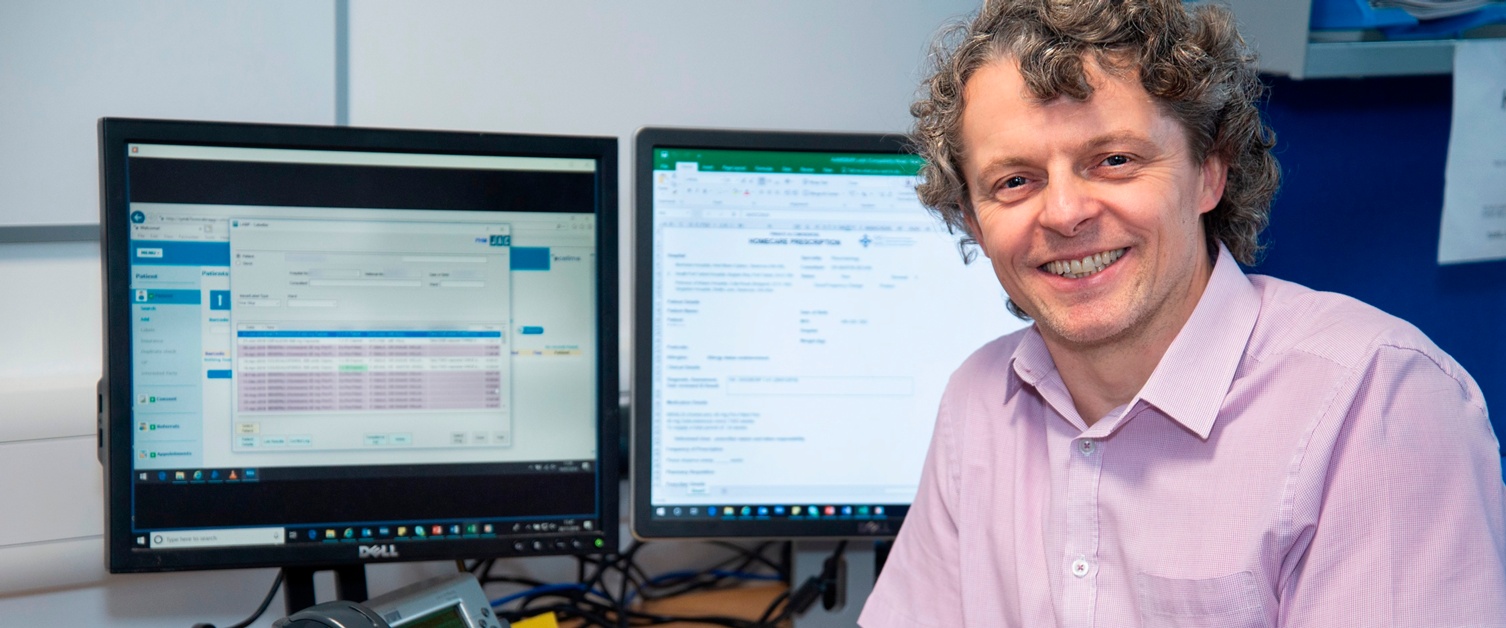 Robotic technology is being harnessed to free up hospital pharmacists to spend more time where they are needed most – on the wards.
Based at Morriston Hospital, the Medicines Homecare team manages outpatient prescriptions for people with chronic conditions.
These prescriptions can only be written by hospital clinicians, and used for conditions ranging from cancer to rheumatology.
The team manages the prescriptions from the moment they are written, all the way through delivery to the patient's door.
Main photo above: Medicines Homecare team manager Reuben Morgan pictured while the software runs on-screen in the background
Each prescription has to be validated – checked – by hospital pharmacists to ensure they meet all the criteria.
With the service having more than 3,400 patients on its books, that adds up to a lot of prescriptions. And while undeniably important, the process is time-consuming, labour-intensive and monotonous.
This does not make best use of the time, skills and experience of these highly-trained pharmacists.
The team successfully applied to Innovate to Save, which supports the potential for innovation in public services in Wales, for a research and development project.
Part of this included a "proof of value" model using Robotic Process Automation, or RPA, to make more efficient use of pharmacists' time.
Team manager Reuben Morgan explained: "The medicines are for chronic, severe, life-debilitating diseases.
"Without the prescriptions being validated by pharmacists, there isn't an alternative method of supply.
"But our pharmacists' time is best placed at the bedside, making that clinical intervention and in a clinical setting – where they make the most of their experience."
A shortlist of specialist companies was drawn up. Following a rigorous selection process, UK-based human+ was selected as automation partner.
Mr Morgan said: "We decided to look at rheumatology, partly because it is by far the largest specialty for this type of medicines supply and also because we have pharmacy teams embedded within rheumatology.
"We designed what is known as a process definition document.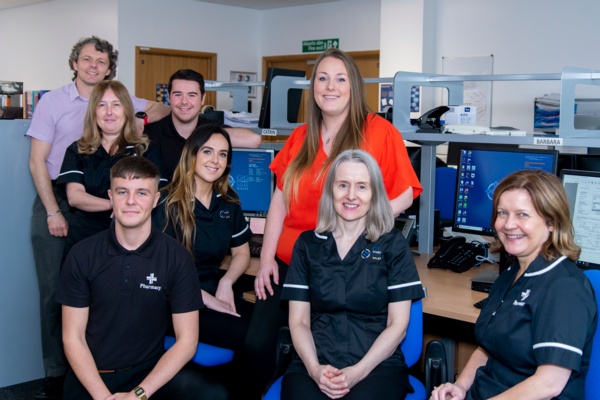 "That clearly detailed exactly what the pharmacist does and therefore what we expected the bot to do because the bot would purely mimic the role of the pharmacist.
"We know the bot doesn't have the years of experience and the qualifications the pharmacists have in order to clinically check these prescriptions.
"But using the process definition, it was able to check and either validate the prescriptions or not validate them, with an explanation of why not.
"Every prescription checked by the robot, the pharmacist also checked just to ensure all policies and procedures were adhered to and ensure the bot was doing exactly what we asked of it."
Meet the team: Medicines Homecare Manager Reuben Morgan, Medicines Homecare Manager; higher clerical officers Pauline Williams, Riley Martin, Dane Davies and Catrin James; team leader Claire David; higher clerical officers Barbara Jenkins and Lynette Brown.
RPA was used over a three-month period ending in October. Mr Morgan said proof of value was demonstrated, with RPA taking a third of the time to check prescriptions as a pharmacist would.
"It hasn't got any other duties. Its bleeper isn't going off, its phone isn't going off. It's not being distracted at all," he said.
"It can just get on with the work and process prescriptions in accordance with the process definition document.
"This is a more prudent approach which frees up our pharmacists to spend more time at the patient's bedside, doing that clinical intervention which is what they are trained for.
"It has demonstrated to us that there are so many other processes we can use RPA on, one of which we are investigating further. Hopefully we can roll that over the next few months."