Record-breaking LOV Awards 2022 highlights staff achievements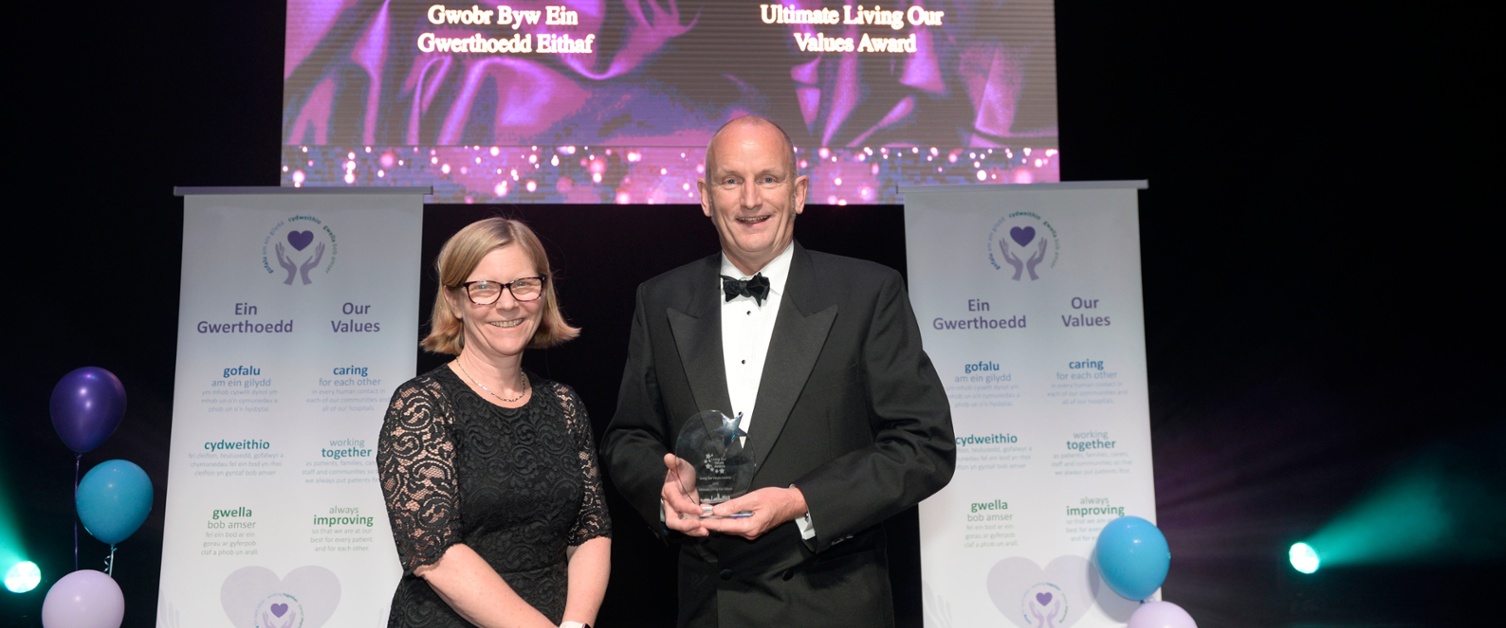 The 2022 Living Our Values Awards set new records in the health board's showcase event at Swansea Arena, as nominees gathered for the first in-person event since the pandemic.
It recognised staff who have gone above and beyond in providing excellence in the care and services they provide, while demonstrating the health board's values.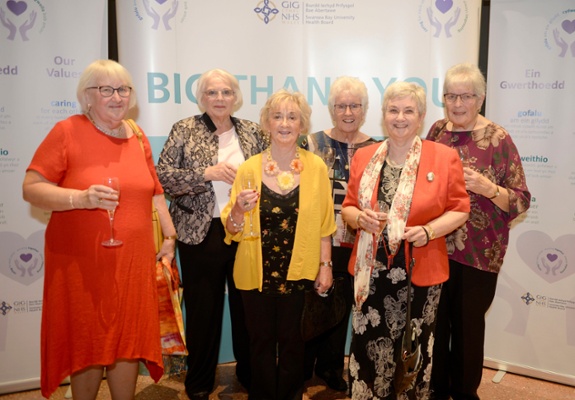 The event was the first in-person LOV Awards since 2019. Rebranded from the former Chairman's Awards, it has recently been a digital event only.
The awards broke records in terms of voting with 16,973 cast by 2,165 individuals.
PICTURED: Some of the nominees gather for a photo before the awards.
With 15 categories and 33 nominations, staff voted for the eventual winners.
The night was compered by Mal Pope, with attendees treated to music from Choirs for Good - a project in collaboration with SBUHB and the Swansea Well-being Centre.
The ceremony started with a minute's silence for Her Majesty Queen Elizabeth II in tribute to her dedication and lifetime of public service.
Swansea Bay UHB Chief Executive Mark Hackett said: "Recognising and celebrating our people and their achievements is a fundamental part of our health board values and how we do things here at Swansea Bay.
"Events such as these are an opportunity for us to say a sincere thank you for your sterling work throughout what has continued to be a significantly challenging year.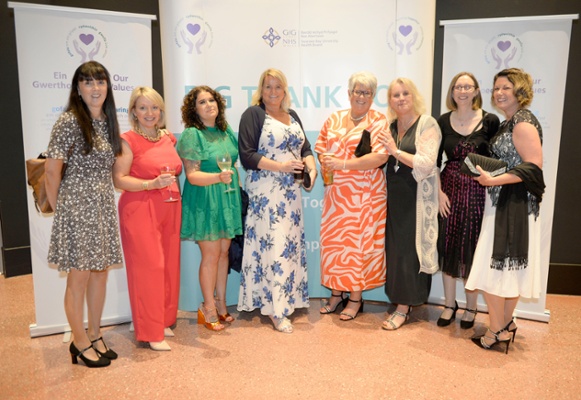 "In reflecting back over the past 12 months and beyond it is only fitting to acknowledge the sacrifices and efforts made by every one of our staff, students and volunteers in ensuring vital healthcare provision has continued throughout the pandemic and now in the recovery of our services.
"It has been an incredibly hard and exhausting two years, and not only because of the intensive and relentless work pressures. As colleagues we have lost co-workers to Covid, particularly during the early waves, and that loss is still deeply felt. We must remember, particularly on this special night, those who sadly passed away whilst in service of patients who needed care at their most vulnerable time.
PICTURED: Nominees for the awards line up ahead of the event.
"We must also acknowledge that some of us as individuals have endured the pain of losing family members, friends and neighbours.
"As we reflect on all that we have been through, I hope you will also take great pride in the exceptional care, team work, innovations and achievements that we have made."
Acknowledgements were also made on the night for Director of Public Health Dr Keith Reid and Dr Umakant Ramchandra Dave, who were each awarded an MBE in the Queen's Jubilee birthday honours.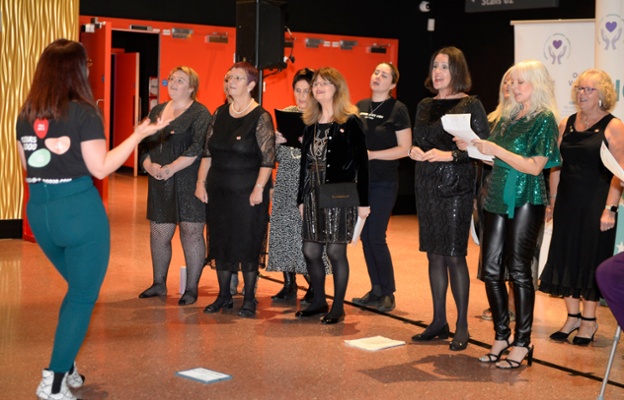 Chair, Emma Woollett, said: "What a fantastic way to return to our face-to-face recognition events and very first in-person Living Our Values Awards.
PICTURED: Attendees were treated to songs from Choirs For Good on arrival.
"It's been truly magnificent to celebrate our wonderful people and see so many recognised for their exceptional work over the last 12 months as we've continued through the strain of the pandemic to resume services. This recognition is thoroughly deserved – congratulations and well done to everyone!
"The aim of these awards goes beyond recognising and thanking our finalists here tonight, we also aim to inspire future developments and learning for the benefit of our patients and wider communities.
"As always, the calibre of entries from across the health board has been inspiring, and everyone who has been shortlisted should feel proud of their achievement, I certainly am."
The event generated £12,150 in sponsorship – the most raised at the awards – while £560 was collected by the Swansea Bay Health Charity team following a raffle held on the night.
LIST OF AWARDS AND WINNERS
Always Improving Award
NOMINEES: ReFit Projects – Investing in renewables and energy saving measures; The Start and Support of Non Invasive-Ventilation at home Initiative; Paediatric Medication Error Prevention PMEP.
WINNERS: The Start and Support of Non Invasive-Ventilation at home Initiative; Paediatric Medication Error Prevention PMEP
Caring for Each Other Award
NOMINEES: Bed Poverty – How Swansea Bay University Health Board Responded; Swansea Maternity Team for Maggie's; Adrian Paton
WINNER: Swansea Maternity Team for Maggie's
Working Together Award
NOMINEES: Team TRiM! Working Together to Support Each Other; 'Back to the Floor' Essential Skills for Covid; Covid-19 Gold Co-ordination Centre
WINNER: Covid-19 Gold Co-ordination Centre
Commitment to Research & Development Award
WINNER: Developing tools to support patients and staff in Outpatients
Excellence in Equality & Inclusion Award
NOMINEES: Laurie Wood; Integrated Sexual Health Team
WINNER: Laurie Wood
Excellence in Leadership and Management Award
NOMINEES: Jan Worthing; Catrin Codd; Rhiannon Hall
WINNERS: Jan Worthing; Rhiannon Hall
Improving Lives through Creativity Award
NOMINEES: Capital Planning Team; Sarah Francis; Sharon Hughesdon, Elizabeth Hogben and Joanne Pedrick
WINNERS: Sharon Hughesdon, Elizabeth Hogben and Joanne Pedrick
Learner of the Year Award
NOMINEES: Caitlin Amy Tanner; Charlotte Bowen
WINNER: Caitlin Amy Tanner
Partnership Working Award
WINNER: Support to the Care Home Sector Through the COVID-19 Pandemic
Speaking Up with Compassion Award
WINNER: CWTCH in the Community - Improving education to reduce adverse outcomes for patients who fall in nursing homes.
The Essential People Award
NOMINEES: Beverly Radford; Andy Powell
WINNER: Andy Powell
Trainee Doctor of the Year Award
NOMINEES: Dr Huw Dunstall; Dr Zena Marney; Dr Alena Ashby
WINNER: Dr Zena Marney
Volunteer of the Year Award
NOMINEES: Ty Olwen Gardening Group; Front Desk Volunteers; Phil Rees, Paul Clement & Brett Cotton
WINNERS: Front Desk Volunteers; Phil Rees, Paul Clement & Brett Cotton
Welsh Language Award
NOMINEES: Every day is a Welsh Day; Using multimedia to improve kidney health literacy; SBUHB's New Resourcing Team
WINNER: Using multimedia to improve kidney health literacy
Ultimate LOV award
WINNER: 'Back to the Floor' Essential Skills for Covid