Rachel's new role to offer vital support to abuse victims and survivors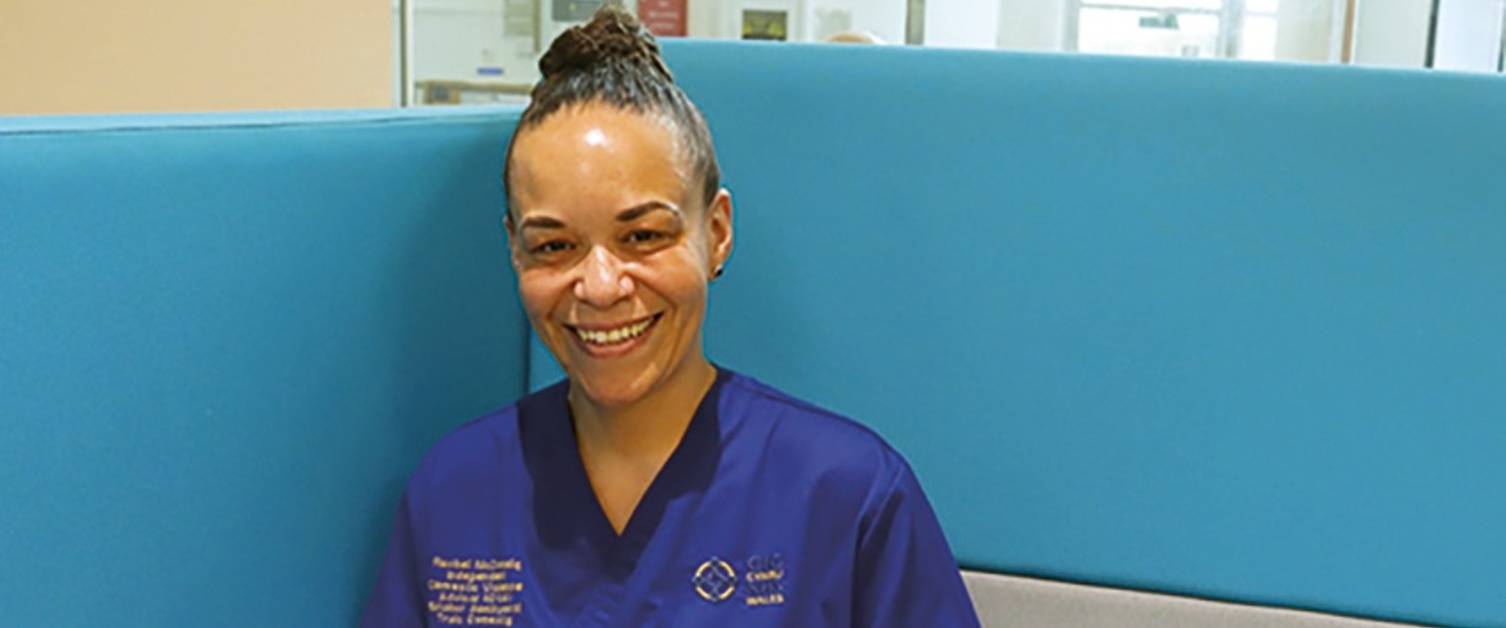 A member of Swansea Bay's safeguarding team is offering key support to victims of domestic abuse and sexual violence after becoming the first member of health board staff to achieve a specialist qualification.
Rachel McDonald (pictured above), who is based at Morriston Hospital's Emergency Department, has qualified as an Independent Sexual Violence Advisor (ISVA). She has now become one of only a handful with the qualification across the UK to be working at the front line of health care.
Rachel's new role is aimed at providing an immediate response and assistance to survivors and victims of sexual violence.
An ISVA is an advocate who works with people who have experienced rape and sexual assault, regardless of whether they have reported to the police.
ISVAs provide specialist emotional and practical support to victims and survivors, including support with navigating the criminal justice system.
As well as Morriston Hospital, Rachel also supports patients at Singleton and Neath Port Talbot hospitals, in addition to all Swansea Bay University Health Board staff.
As a survivor of abuse herself, Rachel is passionate about giving victims the support and guidance they desperately need at what is often a moment of crisis.
The new qualification compliments her additional expertise as an Independent Domestic Abuse Advisor (IDVA) and she is now keen to raise awareness of the wide-ranging emotional and practical support she can offer.
"How my role works within a health setting is that I can offer immediate, short-term intervention," said Rachel, whose role is currently funded by the Police and Crimes Commissioner until 2025.
"The most important message for people is they're not on their own.
"There are people who can support you and safe spaces to talk about it.
"It's emphasizing it's not your fault because that blame, that guilt, prohibits us from sharing and getting help and support.
"It's a new role in this health setting. I believe the first place to introduce an ISVA at A&E was at the NHS Trust in Cumbria, but that's only been since January this year.
"I work with any victims coming through the health care pathway. It's not necessarily off the back of an assault, it could be hidden victims.
"You may have known individuals who will come in to health care, but will decline support.
"There is a safe place for not only patients but for Swansea Bay staff, preferably.
"Disclosures will be taken seriously and support will be provided in a safe, non-judgmental space.
"I had a lady who had presented with an overdose. It was accidental, more than anything else.
"She had been subjected to assault. That disclosure didn't come until she was in hospital. So my role was to explore with her what she wished to do about that, in terms of potential reporting.
"It's accumulating any evidence that could be submitted for forensic examination. For example if she is still wearing the same clothes.
"The same would apply if its intimate partner violence.
"It's tough. It's managing expectations but it's about providing the safety aspect, engaging with police, social services and domestic abuse services."
While Rachel's role is non-clinical, she believes many common issues for patients presenting in a health care setting, particularly substance abuse and mental health issues, can be a red flag for domestic and sexual violence.
"Domestic and sexual abuse, substance abuse and mental health. It's phenomenal how often these three go together. I call them the toxic trio," added Rachel.
"The primary aim as clinicians is making a person medically fit. But there are people presenting with a wide range of medical issues because of abuse.
"Regarding the impact abuse has on health services, you realize very quickly how significant it is in terms of resources.
"Intervention as early as possible works towards safeguarding and then future prevention.
"It may be signposting and onward referral. Support services are there, whether it be from an ISVA, an IDVA or a Domestic Abuse Support Worker, or peer support groups, which are there, too.
"And domestic abuse and sexual violence isn't gendered. From my experiences, it disproportionately impacts women and girls but that's not to say we don't get males who experience that and I think it's really important to say, I'm open to supporting anyone."
Rachel's current priority is to raise awareness about her role, expertise and that she is not only there to support victims of abuse but also to provide advice and support for staff who suspect they're dealing with a victim of abuse.
"You can get it wrong by doing nothing. If you're unsure, ask," she added.
"Welsh Government's 'Ask and Act' program of training, which looks to provide professionals with help to identify abuse indicators and how to respond to those, is available.
"Staff training, building awareness and recognizing the signs and symptoms is vital.
"It's also important to underline that I support staff who are victims or survivors of abuse, preferably.
"Research shows you're looking at one in four individuals facing domestic abuse within your workplace at any time, so you can guarantee you'll be working with someone who is or has gone through this kind of experience.
"It's really important to show that we're taking these issues seriously."