A new puzzle table is helping patients pass the time while they wait for radiotherapy treatment.
Staff at Singleton Hospital's South West Wales Cancer Centre set up the table after hearing how it had been a hit with patients in other hospitals.
"It began with us putting a trestle table by the window and bringing in a 1,000-piece jigsaw from home, and it's really taken off," radiographer Caryl Matthews said.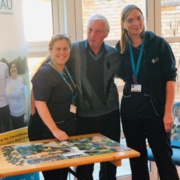 Patients receiving radiotherapy visit the centre every day for weeks at a time.
Due to the nature of their treatment they can be there for a few hours every session so having something to keep their minds off things is vital.
Caption: Senior radiographer Tracy Lewis (left) with patient Michael Puffett and radiographer Rebecca Lloyd.
"It is a simple idea but very effective," said radiographer Rebecca Lloyd.
"Patients have said how it really makes a difference while they wait.
"Now everyone takes part and patient relationships are growing because of it.
"We've added Sudoku, word searches, colouring books – lots of things to occupy their time."
Patient Ray Wooldridge has recently finished receiving treatment at the centre. The puzzle table was introduced during his visits and he says it made a real difference to his and other patients' moods.
Ray said: "We've enjoyed it a lot. For years we've done jigsaws at home, so when we saw it in the room we thought we'd have a go.
"The time passes very quickly with the jigsaw there. I had to drink water 45 minutes before my treatment and often my wife had to remind me to drink because I became so engrossed.
"We also started speaking to other people through doing the jigsaw. Just about the pieces and parts of the jigsaw they've done at first, but from there we talked about treatment and what we've all gone through or what to expect."
Ray's wife Susan added: "In the first week there were lots of magazines – Ray took in a book that he finished in a week. It was quite isolating, but as soon as we started doing it the atmosphere changed.
"It's certainly taken our mind off things, the illness almost became secondary to our visit!"
The team is now planning to introduce card games for patients during their wait for oncology treatment too.
Thanks to several generous patients, the radiotherapy department is not looking for any donations at present.