Pond oasis to boost staff well-being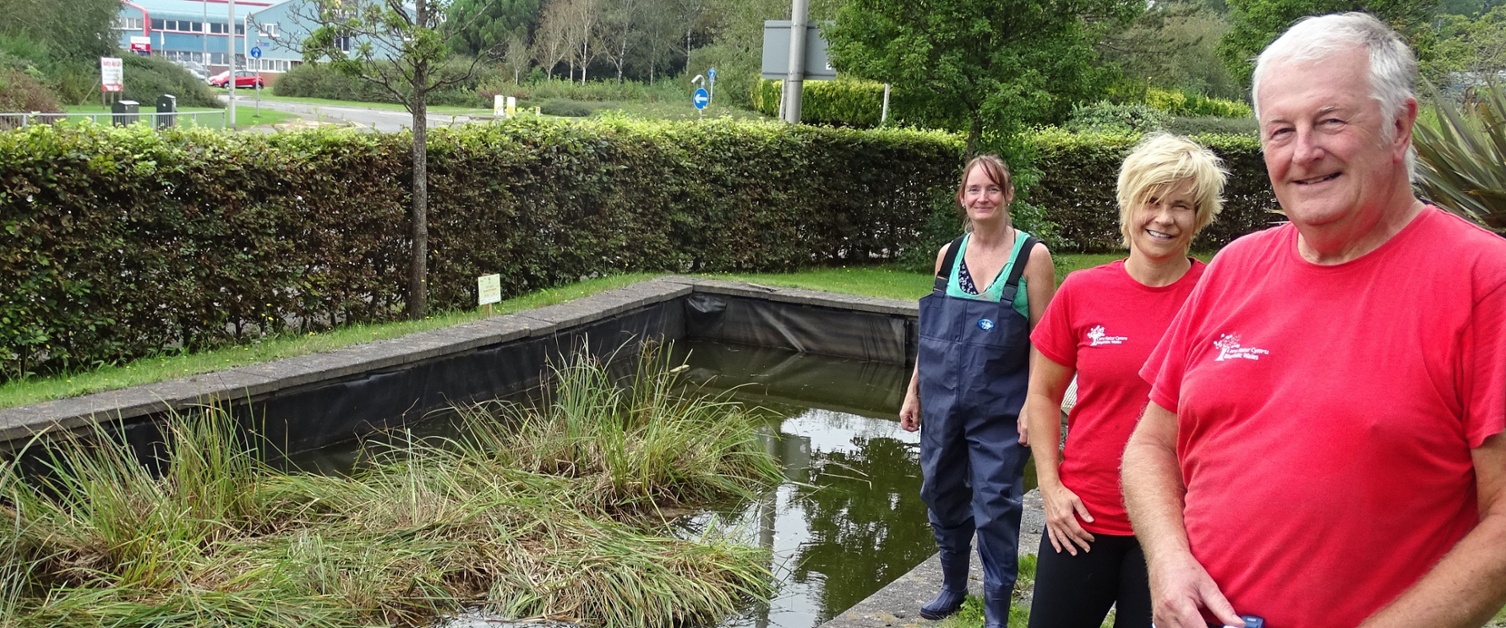 Staff in Swansea Bay's headquarters can benefit from an environmental project to help promote well-being.
The new scheme to transform the pond next to the building in Baglan, Port Talbot, will provide staff with an oasis of tranquillity for some quiet moments to enjoy nature during their breaks.
Floating islands have been installed in the pond to help keep the water clean but also to encourage wildlife such as butterflies and bees as well as wild flowers.
(Main picture above left to right: Kathryn Thomas from Biophilic Wales, volunteers Charlotte Meller and Keith Davies with the grass islands)
Similar greening initiatives are taking place across Swansea Bay hospitals and dozens of other health board sites at a cost of £1.28 million from Welsh Government's ENRaW (Enabling Natural Resources and Wellbeing) fund.
It's all thanks to Biophilic Wales, a collaboration headed by the National Botanic Garden of Wales, with Swansea Bay University Health Board, Swansea University and Natural Resources Wales.
Biophilic Wales has three main themes; Grasslands for Life, Plants for People, and Inspiring Spaces.
Swansea Bay's involvement has been with Inspiring Spaces, which uses sites owned by the health board as focal points for green projects that have been co-developed with the local community.
This is one of a number of green spaces large and small being developed on a total of 40 health board sites across Swansea and Neath Port Talbot.
The health board is already developing a full-scale solar farm to supply almost a quarter of Morriston Hospital's power, cutting the electricity bill by around £500,000 a year and significantly reducing carbon emissions.
A grass verge in the grounds of Morriston Hospital has been transformed into a green oasis to give staff, patients and visitors a chance to escape to the country.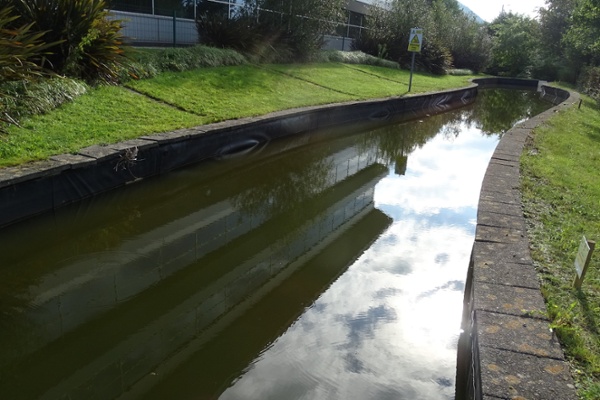 Kathryn Thomas, Project Manager for Biophilic Wales said: "We are bringing native Welsh wildlife into health board sites to increase patient and staff well-being.
"Everything about the project is proving that people need to be beside nature especially at the moment during stressful times.
(Pictured right: the pond before the floating islands)
"People need to get out at break time. Just 10 minutes outside, amongst nature and fresh air, can have enormous benefits for well-being.
"We're really looking forward to seeing all the flowers that will appear on the islands next spring."
Kate Morgan, Site Manager in Baglan HQ said: "We welcome Kathryn's input into improving the environment at HQ.
"The floating reed beds will not only improve the water quality but will assist us with estate management and be of enormous benefit to our staff who often walk around the perimeter of the building during their breaks."