Piano firm in grand gesture of thanks to hospital staff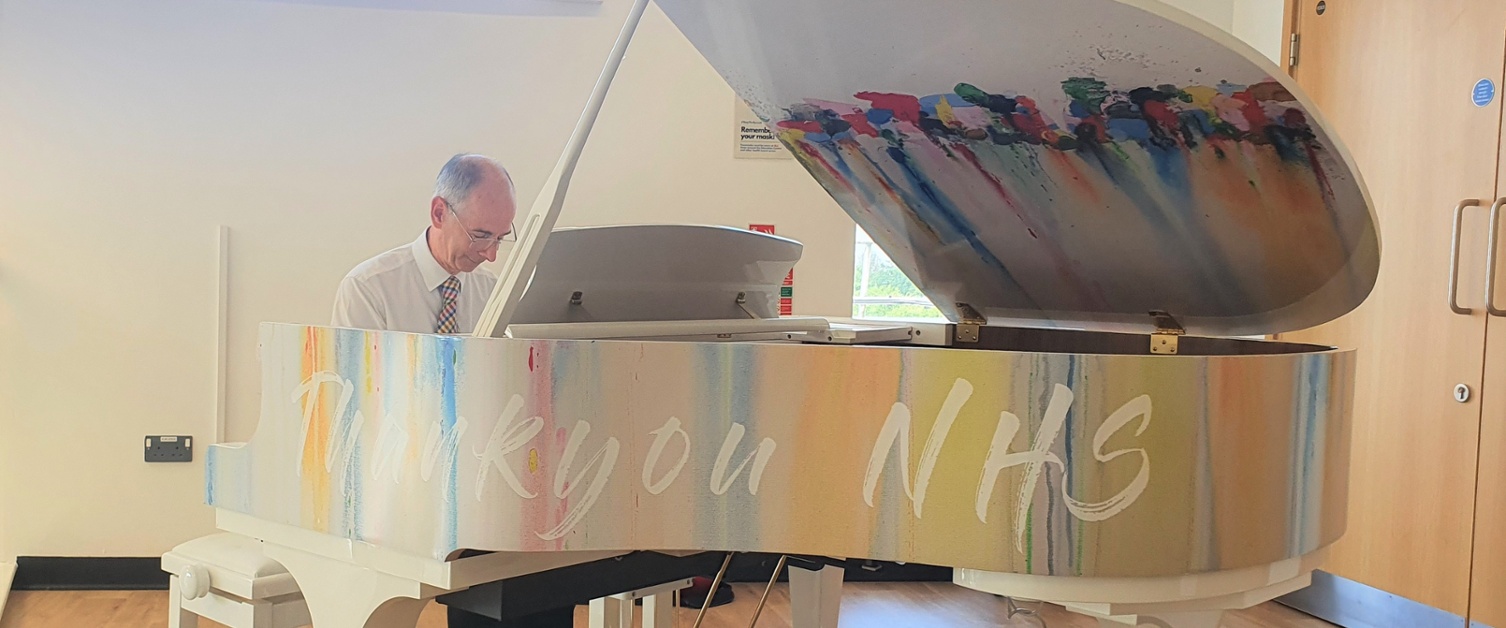 When it comes to overtures of appreciation they don't come much grander than this.
Swansea-based Coach House Pianos has installed a baby grand piano in Morriston Hospital as a thank you to the NHS for its dedication and hard work throughout the pandemic.
The piano, which has been emblazoned with a rainbow-coloured Thank You NHS, is being housed in the hospital's education centre with the aim of helping staff relax and unwind during their breaks.
And it doesn't matter if anyone is unable to play the piano as it can play itself with a catalogue of classical and jazz music.
Dr Mark Ramsey, Unit Medical Director for Morriston Hospital's management centre, welcomed the kind token of appreciation.
He said: "It's a family business and they contacted me to say that they appreciate the work that the NHS does, having benefitted from us as a family, and given that their instruments weren't being used at the moment, would we like to have a loan of a self-playing piano?
"Of course, we said yes.
"It's a very generous gesture by Coach House Pianos that has come without expense to the NHS and it's greatly appreciated amongst our staff.
"The real benefit is it is self-playing, it can play music while people have a bit of time to themselves and listen during their breaks."

Of its eye-catching décor he said: "It's rainbow-themed and is very cheerful, it's a fantastic piece of art and clearly bespoke for the NHS."
Dr Ramsey said that music had the power to lift our mood.
He said: "Music is a very powerful medium in terms of emotion, lots of music communicates to parts of the brain and affects our physiology.
"The scenes in films that we see would be very different if they didn't have music behind them, as it brings emotion.
"Music also helps prevent cognitive impairment over time as well. People who play music tend to retain better brain function with age."
A spokesperson for Coach House Pianos said: "Throughout the pandemic, we have been inspired by how these beautiful instruments have brought a ray of light into the lives of so many as a relief to the challenging circumstances we find ourselves in.
"The painting featured on the piano was done in-house by a member of our team, using the colours of the rainbow that have become a symbol of hope, and synonymous with our NHS heroes.
"We only thought it fitting that those who have arguably seen the worst of the pandemic should experience the same.
"To this end, we gifted our local hospital in Morriston with a self-playing grand piano on a long term loan.
"We did something similar for Guy's Hospital in London and it was well received. We hope the staff at Morriston derive similar enjoyment."