Patients benefit as new software unites nuclear medicine scanners across sites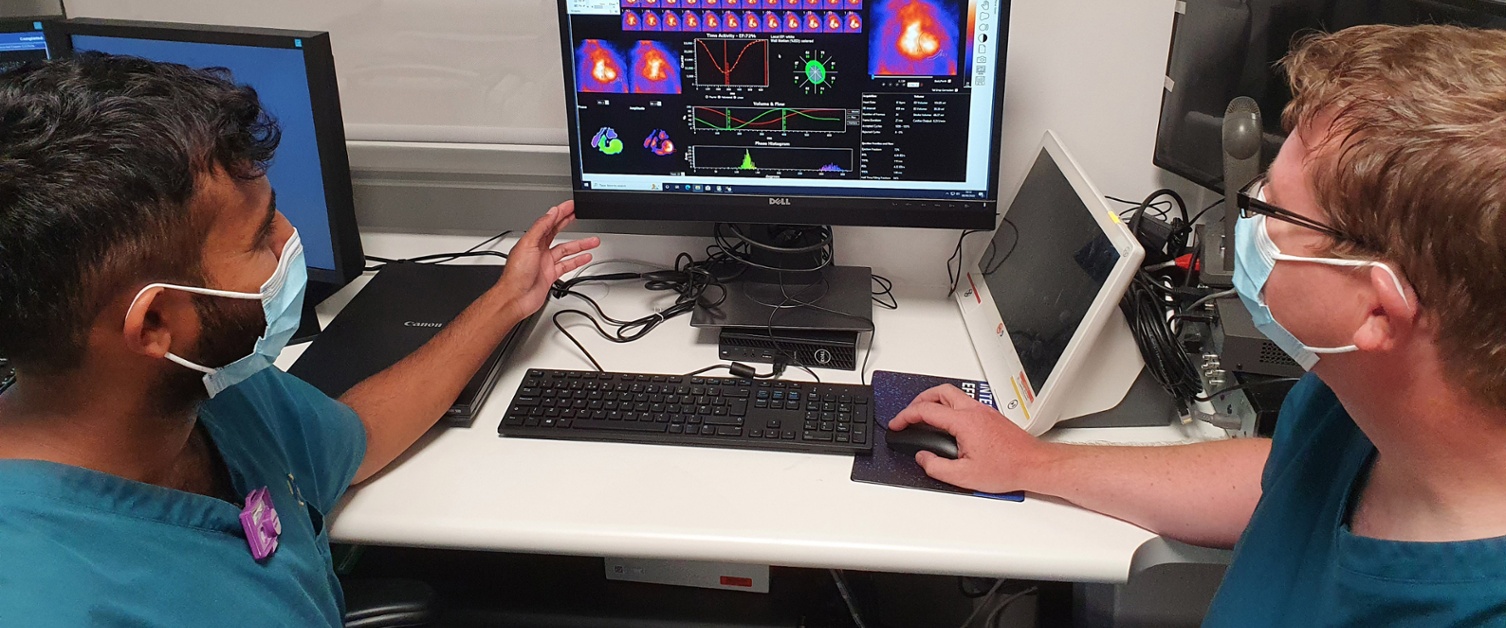 With hundreds of patients undergoing various diagnostic scans in Swansea Bay's hospitals every week, meticulous but timely planning is critical.
Each of these scans produces a huge volume of data which then has to be collected and analysed so treatment plans can be created without delay.
Main photo above: technologists Lakshan Chitrakumaran and Charles Willis demonstrate the new software
Now a significant investment in a new software suite called Hermia from Hermes Medical Solutions is helping to ensure this can be done as quickly and accurately as possible.
The Hermia software links nuclear medicine scanners from different manufacturers in the three main hospital sites.
This means specialists who analyse and interpret the data, and write the ensuing reports, can do so in the same way, whatever scanner was used, and wherever they are based – even from home.
Nuclear medicine is a medical specialty involving the use of radioactive substances (radiopharmaceuticals) to diagnose and treat a wide range of diseases such as cancer or heart conditions.
The Nuclear Medicine department at Singleton Hospital, which bought the software, has two new SPECT-CT scanners and one PET-CT scanner.
CT, or computerized tomography, scanners takes a series of X-ray images around the body and uses computer processing to create cross-sectional images – providing more detailed information than standard X-rays.
SPECT-CT and PET-CT scanners obtain a second set of images following an injection of a mildly radioactive pharmaceutical into the patient. They then combine both sets of images to give the best possible result.
"The scanners produce a huge amount of data, from which we form 3D pictures of the inside of the patient's body," explained Head of Nuclear Medicine, Professor Neil Hartman.
"That data has to be analysed and quite a lot of calculations done to get it in the best shape to share with the referring consultant.
"The Hermia software includes normal reference databases derived from many normal scans with which you can compare your findings.
"It also provides complex mathematical models and works seamlessly with Swansea Bay IT infrastructure to offer searchable storage for thousands of scans.
"Hermia allows you to manipulate data and save it in a way that makes the diagnostic judgement simple, and presented in such a way that you can then share it easily with colleagues."
Between 60 and 80 patients are scanned in Singleton's Nuclear Medicine department every day. But it does not end there.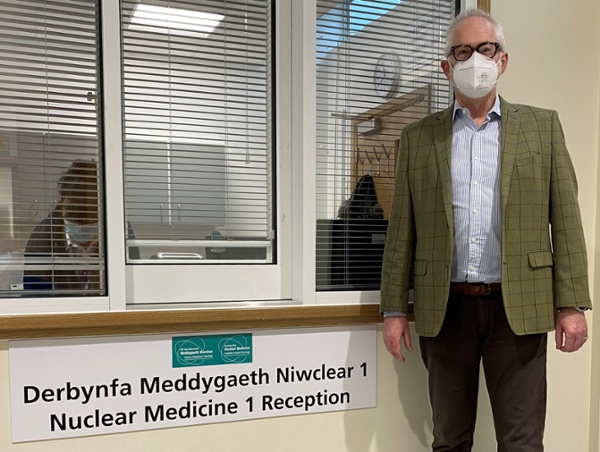 The Hermia software, also extends to Morriston and Neath Port Talbot's radiology departments, each of which currently has a SPECT scanner with no CT capability.
When consultants refer a patient for any nuclear medicine scan, that referral is checked by one of a four-strong team of specialist consultants who have been licensed by ARSAC (the Administration of Radioactive Substances Advisory Committee) to authorise the use of radioactive medicinal products (radiopharmaceuticals).
The same four consultants then analyse and interpret the data. They are radiologists Dr Alex Powles and Dr Victoria Trainer, cardiac consultant Professor Julian Halcox and cardiac associate specialist Dr Martyn Heatley.
Right: Professor Neil Hartman
Their reports go back to the original referring consultants who, often following discussion by a multidisciplinary team, will then determine the best course of treatment.
"One advantage of the new software is that it doesn't matter whether the patient was scanned at Neath Port Talbot, Morriston or Singleton," said Professor Hartman.
"All four of the consultants who read nuclear medicine scans can do so wherever they are located – even when working from home."
The software will also support another forthcoming development in Nuclear Medicine at Singleton.
Patients requiring a PET-CT scan previously had to travel to Cardiff. But in 2020, Swansea Bay obtained a mobile PET-CT scanner.
It is located outside Singleton Hospital and is used for patients not only from Swansea Bay but those from neighbouring Hywel Dda too.
"Within the next year or so, we hope to establish a new Swansea Bay static PET-CT Centre within the South West Wales Cancer Centre at Singleton," said Professor Hartman. "The new software will help us in that facility too."