Thursday, 14 March 2019
New mums and dads are being offered support to make lifestyle changes that will help their children maintain a healthy weight for life.
ABMU Health Board, with funding from ABM Local Public Health Team, has produced four videos which encourage new parents to adopt healthy habits and access local support for themselves and their new arrivals.
Developed by the public health team, midwives, health visitors and dieticians, the videos support the Ten Steps to a Healthy Weight Campaign, which highlights 10 activities that can help parents bring up happy and healthy children.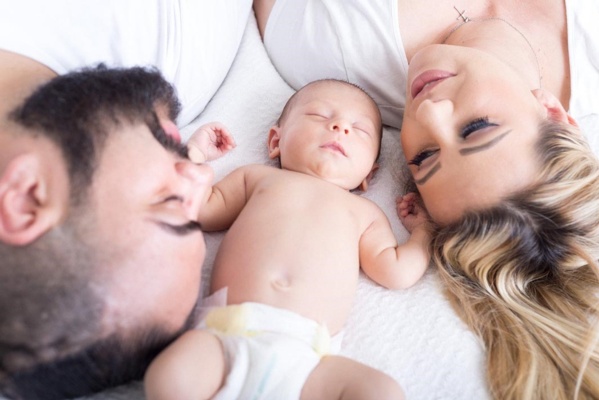 Left: Lifestyle changes can help parents to ensure their children are happy and healthy (pic posed by models)
Advice for parents includes being a healthy weight before starting a family, avoiding gaining too much weight during pregnancy and breastfeeding their baby.
Parents can also help their children by waiting six months before introducing solid foods, giving young children the chance to play outside and limiting screen time.
Other tips include offering fruit and vegetables every day, making sure their children sleep well and only offering milk and water as drinks.
Lead Health Visitor for Swansea and Public Health Paula Davies said: "Becoming a parent can be a key time to think about healthy lifestyles. It is important to help parents to become good role models for their children. This ABM children and young people's obesity prevention group are involved in helping parents to make healthy choices the easy choice."
Judith Tomlinson, Public Health Consultant with ABMU Public Health Team, highlighted the benefits of adopting a healthy lifestyle.
She said: "Obesity is a major public health concern. There are many benefits to being a healthy weight, which include reducing your risk of coronary heart disease, stroke, diabetes and some cancers."
The videos are available in English and Welsh and introduce local support available to parents.
They are titled: Aqua Fit (swimming and other exercises in water for pregnant women), Buggy Fit (walking and talking groups for parents), Breastfeeding (tips and tools to encourage mums to keep breastfeeding) and Weaning (ideas for introducing solid foods).
Aqua Fit promotes the benefits of regular exercise during pregnancy, particularly swimming. Supported sessions for mums to be are available at the Wales National Pool in Swansea, pictured right, as well as other venues.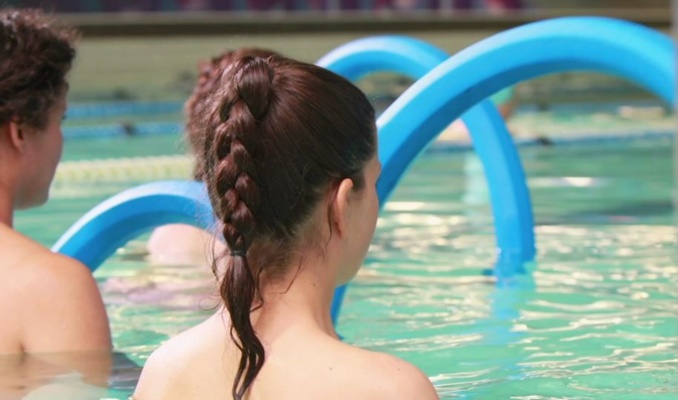 Swimming instructor Mike Dalling, who is featured in the video, said: "We've got a brand new aqua natal class starting here at the Welsh National Pool. We make it a fun and friendly session, and you're welcome to bring a friend or a family member for support."
Socialising, making new friends and sharing ideas to stay healthy post-pregnancy are featured in the Buggy Fit video.
Buggy Fit groups are open to everyone - mums, dads, grandparents and childminders are all welcome. They are held in various locations. Health visitors can give details on groups in their area.
Jo Edwards, a Flying Start Health Visitor, said: "We are here sun, wind and rain, we go on regardless, plus it is free of charge!"
One mother who enjoyed the group said: "The best thing about coming to this group is meeting new friends, coming down the beach and getting fit."
A parent's perspective of weaning is also looked at in one video, along with support and advice from ABMU's health visiting team.
Information is given on what cues to look out for when babies are ready to try their first solid food, what food to try and other sources of information and support.
In the video Clare Shears, Infant Feeding Coordinator, said: "Parents find introducing solid foods a really exciting time and a big step in a child's growth, but it can also be challenging and confusing too.
"Health visitors in your area can help to check if your child is ready and to decide what foods might be good to try first."
The breastfeeding video highlights the role of friends, family and the community in helping to support breastfeeding.
It also provides the links to the ABMU infant feeding coordinator, who can offer more support.
New dad Darios said: "Dads can help support breastfeeding by cuddling, bathing and walking baby. I was breastfed as a baby and it is something I would like to continue for my family."
ABMU Infant Feeding Co-ordinator Rebecca Smith said: "ABMU recognises that breast feeding is the best way to feed your baby. There are benefits for mum and baby. The close and loving relationship reduces mum's risk of cancers and lowers baby's risk of lots of different types of infection."
The Aqua Fit video is below
https://www.youtube.com/watch?v=s1jzZL3JluQ