New team provides support for Covid patients at home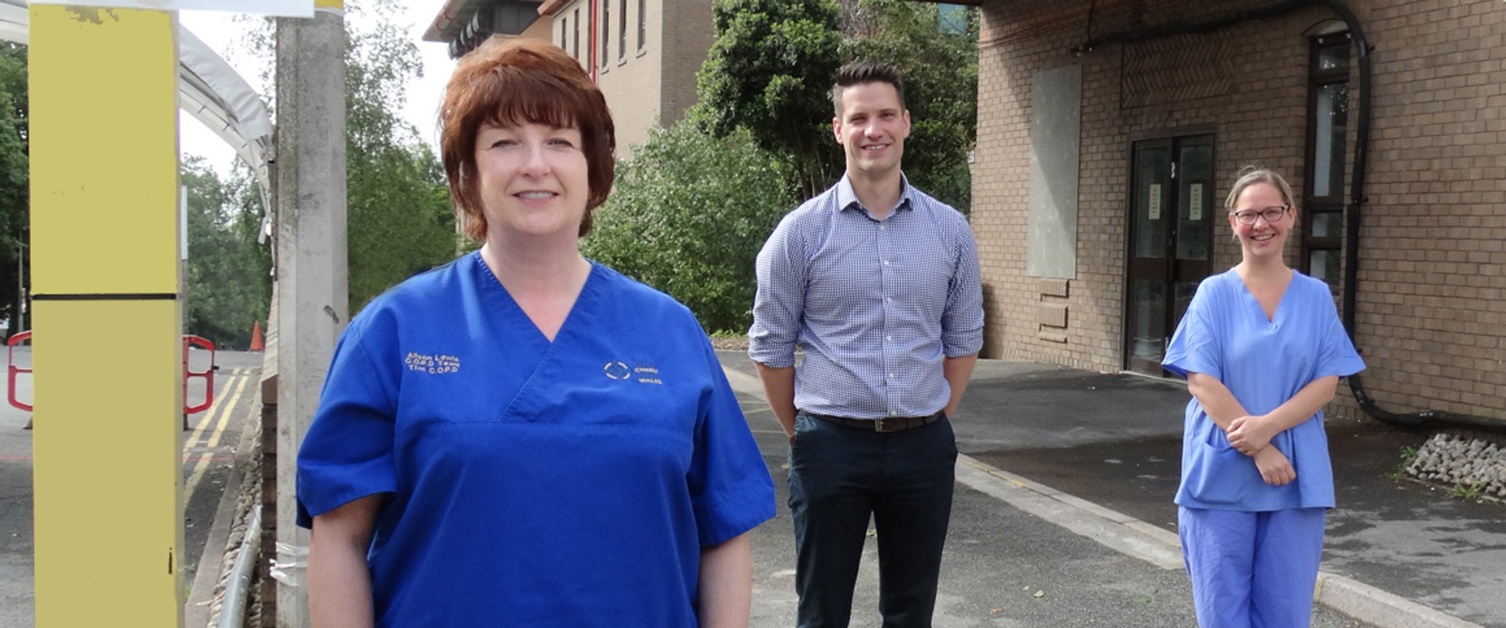 Being taken to hospital by ambulance, struggling for breath because of Covid-19, would be a terrifying experience for anyone.
That's the situation Sarah Williams found herself in last month, ending up in Morriston Hospital's new Respiratory Assessment Unit (RAU).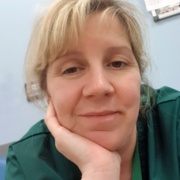 After chest X-rays came back clear Sarah went home the same day. But, like others who have been through the RAU or have existing lung conditions, she was not left unsupported.
As many such patients are shielding at home, it's not safe for staff to make house calls in the usual way.
Instead, the newly-formed Respiratory Support Team is monitoring and supporting them by phone – and with rapid access to hospital consultants if they need more specialist advice.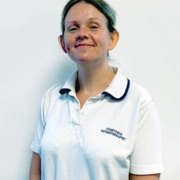 Sarah (left), a healthcare support worker at Morriston Hospital, said: "I was very ill. I had difficulty with my breathing.
"I have never had any problem with my lungs or any other pre-existing condition so it was a nasty shock.
"It really was awful. When it got worse I called 111 and they sent an ambulance to take me to the Respiratory Assessment Unit."
Since returning home, Sarah has been regularly monitored by senior respiratory physiotherapist and support team member Angharad Ladd (pictured right).
"Angharad has been great," said Sarah. "She has given me a lot of support, ringing me every other day and giving me some useful tips to help with my breathing.
"Being ill with the virus was scary but it really has helped, knowing Angharad is at the end of the phone."
The pandemic has brought numerous challenges but, as is so often the case in times of extreme adversity, creative solutions too.
Early in the outbreak, Morriston opened the RAU where people with suspected Covid-19 can be swabbed and either admitted to hospital or sent home if they are well enough.
Respiratory consultant Craig Dyer, the hospital's clinical lead for pulmonary fibrosis, designed and set up the RAU alongside Emergency Department consultant Dinendra Gill.
"One of the things we identified really early was that we were discharging quite a lot of patients but there wasn't a firm follow-up process in place," he said.
"That led to anxiety in patients in terms of knowing their swab results, managing their symptoms and knowing what to expect.
"In turn that led to a really high rate of re-admission, and often patients were presenting, having a second appointment on-site and then being discharged again."
The answer was to bring together a group of seven respiratory staff to provide the new support service, which runs from 9am-5pm seven days a week, as well as doing their day jobs.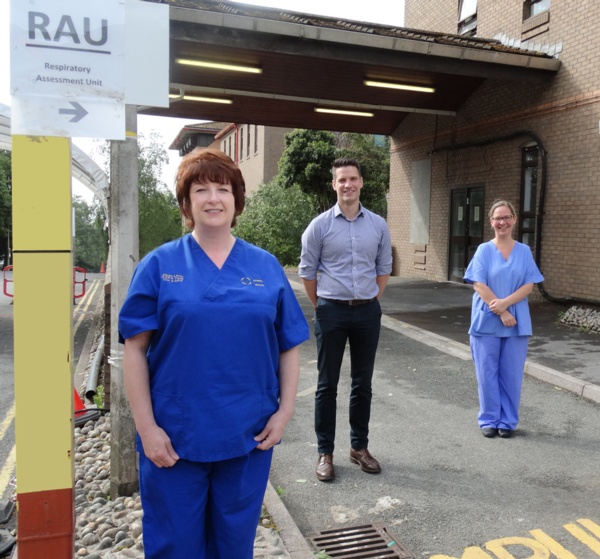 It includes members of the COPD (chronic obstructive pulmonary disorder) team set up to get COPD patients out of hospital as soon as possible, support them at home, and prevent re-admission.
L-r: Alison Lewis, Craig Dyer and RAU sister Carys Walters.
Clinical nurse specialist Alison Lewis, who leads the COPD and respiratory support teams, said the new service followed up patients who had come through the RAU as well as those with existing respiratory conditions.
"We follow the same ethos with patients discharged from the RAU as we do with those with COPD.
"We get them home as soon as we can, then follow them up to make sure they are recovering as well as they should, provide ongoing support and detect any deterioration to make sure they are readmitted appropriately and safely.
"We usually follow up patients quite intensely at home. That obviously isn't safe for us or the patients at the moment, so we have been mainly following them up by phone.
"We've had a couple of members of staff join the team who are working from home because they can't be patient-facing at the moment.
"So we are using digital technology to allow communication between the team. We use electronic notes. Everything is on a shared drive so we can all access it at the same time.
"As a COPD team we very much do that, as we work across Singleton and Morriston, but we've utilised those skills and those developments really to make the respiratory support team work."
Respiratory support team members have worked closely with hospital consultants, with GPs and other healthcare professionals.
And the teamwork approach has helped take some of the pressure off Morriston Hospital in terms of readmission or re-attendance.
Dr Dyer said: "We have recently looked at the numbers before Alison's team came on board and after, both those patients who were referred into her team and those who weren't.
"Of those people who weren't referred, we saw a readmission or re-attendance rate of around 40 per cent, with respiratory symptoms or ongoing Covid-like symptoms. With Alison's team, that's dropped to two per cent. So it's massive."
Eventually the team members will return to their original roles. But all involved agree that coming together during the crisis has helped them learn new skills and new ways of working, many of which will continue.
Dr Dyer said there had also been unanticipated benefits specifically for the pulmonary fibrosis service.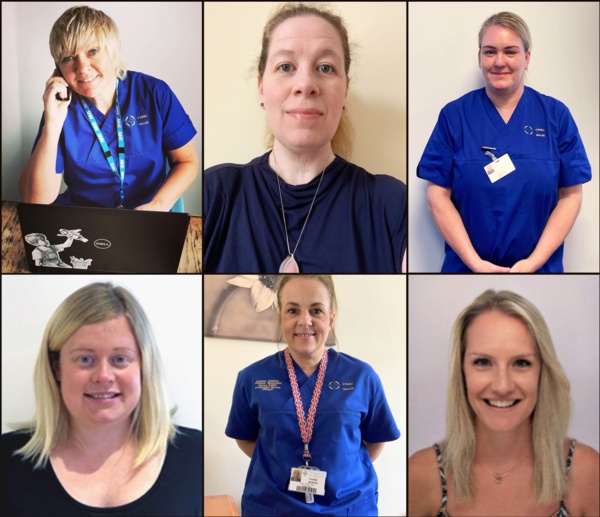 Many of its patients are shielding at home. But, Dr Dyer explained, being unable to physically attend hospital created a lot of anxiety as the patients felt distant.
(Clockwise from top left) Debs Ellingham, respiratory clinical nurse specialist; Lorna Rowe, physician associate; Sarah Griffin, respiratory clinical nurse specialist; Dr Maddie Carr; Louise Jenkins, respiratory clinical nurse specialist; Sara Davies, pleural disease advanced nurse practitioner.
"We've been actively using telephone consultations to provide support for them at home.
"Initially we thought that wasn't something that patients would respond very well to. Actually the converse has been true.
"It's something we're looking at using in the much longer term for patients for whom coming to the hospital is a big upheaval.
"They may have a long drive, then they have to park. Walking into the hospital can be really difficult for them too.
"So what we're looking at is developing virtual clinics using this technology that we've developed and become more accustomed to in the Covid era to benefit patients at home.
"And the message we're getting from patients is, that's the service they would actually prefer rather than the traditional model. So it has been a real learning curve for us."
Meanwhile, the feedback from patients supported by the respiratory assessment team has been hugely positive too.
Alison said: "They're so frightened, particularly when they suspect they have Covid or when they know they have.
"We just haven't had any negative feedback on that at all. Patients really appreciate the care they receive."