A new dental practice in Port Talbot is taking the pain out of finding a dentist, thanks to new funding from Swansea Bay University Health Board (SBUHB).
Dunes Dental Care - on Silver Avenue in Sandfields – has already helped put a smile on the faces of over 1,500 patients, despite only opening its doors last month.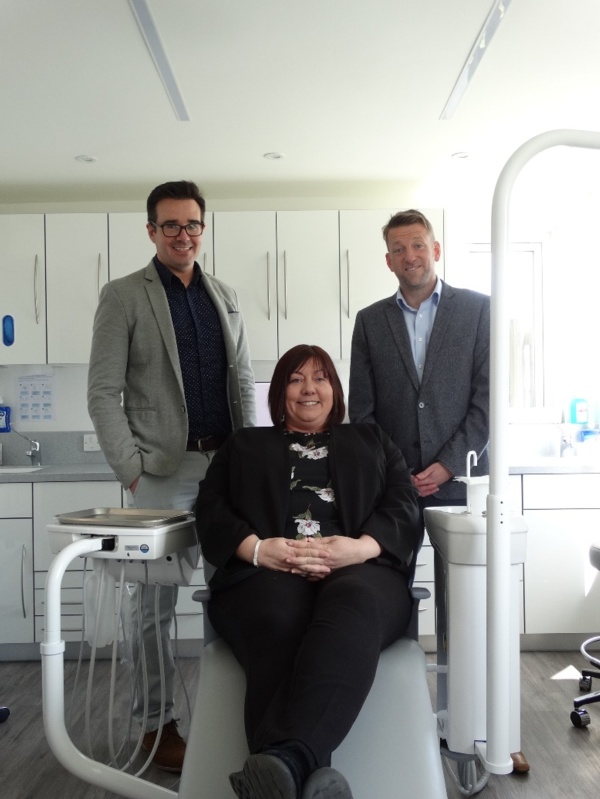 Caption: (from left to right) Osian Davies, Paul Fraser (Co-Directors) Zoe-marie Luxton (Practice Manager)
The good news for those living in Neath Port Talbot and Swansea Bay areas who are yet to contact the practice, it is still open to new patients.
The practice was established after its directors successfully completed a SBUHB NHS tender process, designed to increase NHS dental provision in the area.
Swansea Bay's Kim Dunn, Interim Head of Primary Care, said: "When this exciting opportunity came up to commission a new NHS dental practice, the priority for the Health Board was to set up a practice in an area of increasing demand to support current services. The practice will be supported to deliver care in line with Welsh Government's new framework with prevention and care customised to the specific needs of the patient. This practice will support the outstanding and continued work of all our dentists in SBUHB"
Paul Frazer, a qualified dentist and co-director, has worked in the Neath Port Talbot area since 2003, said: "We identified an area of increasing need in which to establish our practice and purchased the building; we renovated the existing premises with the support of a significant grant from the Health Board and recruited staff with a wide variety of clinical skills and experience. This enabled us to open our doors in April this year.
"There has not been a new NHS dental practice in the Neath Port Talbot area for many years, so to have a brand new building and surgeries like these is fairly unique. We feel proud and privileged to be able to open a dental practice that offers availability for all NHS patients."
Osian Davies, also a qualified dentist and co-director, added: "It's an exciting project when it comes to the NHS aspect of a dental practice and we have the potential to sign up to 4,000 patients to join our practice. We also have a strong support team in the form of two general dental practitioners, a practice manager, dental nurse and a receptionist which will provide patients with access to a variety of healthcare professionals."
The practice, which offers a full range of NHS dental treatment is also part of the dental National Contract Reform Programme, where staff provide treatment and advice, promote preventative dentistry and actively work with patients to improve their oral health.
Dr Davies said: "One of the things the new NHS contract is pushing strongly is that prevention is key to good dental health, so there is a very strong ethos and emphasis here at Dunes Dental Care to carry that out: prevention is better than cure."
Dunes Dental Care are now open 9am to 5pm Monday to Friday (closed for lunch between 1pm and 2pm) at Tŷ Arian, Silver Avenue, Sandfields SA12 7RX and can be contacted on 01639 323232.