New Lighthouse service steers families towards a healthier lifestyle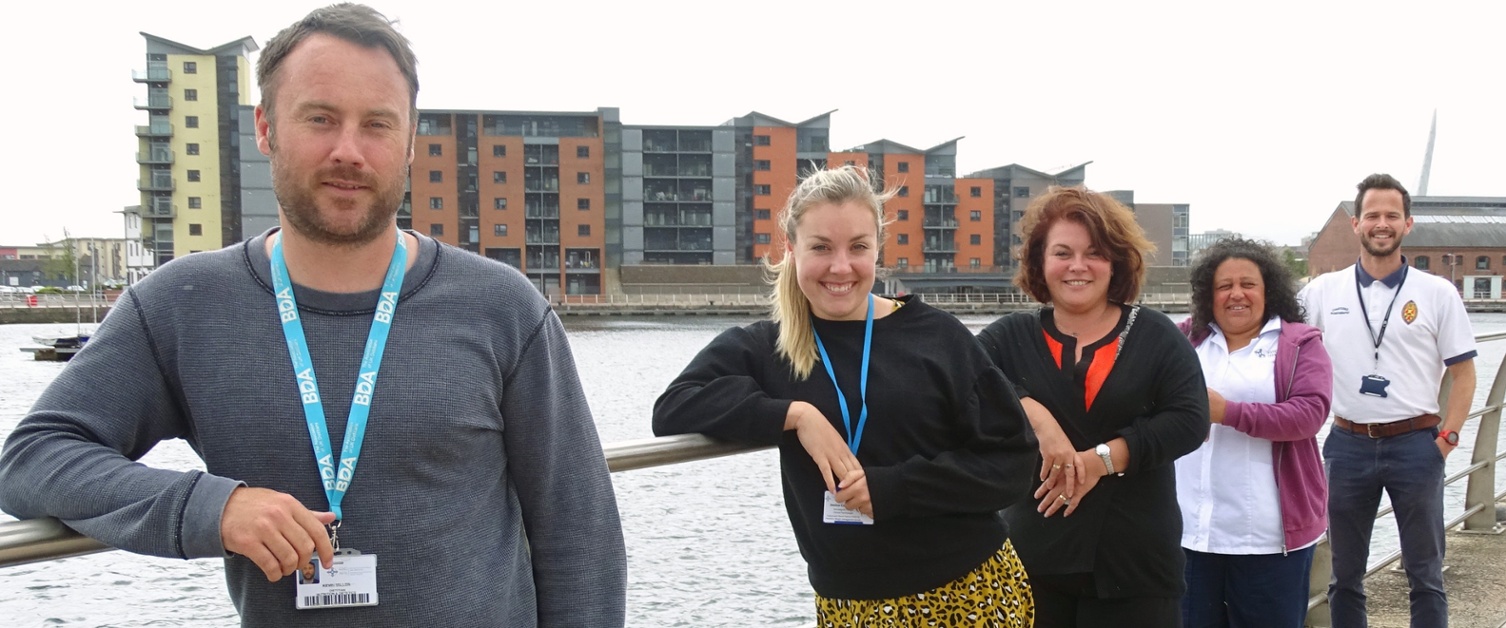 A lighthouse is shining across Swansea Bay to steer families away from the risks of being overweight and towards a healthier lifestyle.
The first phase of a weight management service for children and young people in Swansea and Neath Port Talbot has now gone live.
It has been funded by the Welsh Government as part of its 10-year Healthy Weight, Healthy Wales delivery plan.
Main photo above shows (l-r): Stuart Doyle, Cerys Thompson, Sijbrigje Hood, Jess Cartwright and Kevin Miller.
Swansea Bay is initially offering a level two, or community-based, service known as the Healthy Families programme.
This consists of an eight-week course which is aimed at parents, because they know their children best. It will be followed by practical sessions focusing on cookery skills and fun-filled physical activity sessions.
Later this year, Swansea Bay will launch a level three service for those who would benefit from more specialist interventions – making it the first health board in Wales to offer both levels.
The team comprises interim operational lead Sijbrigje Hood, clinical psychologist Jess Cartwright, paediatric clinical specialist dietitian Kevin Miller, paediatric clinical specialist physiotherapist Stuart Doyle and administrator Cerys Thompson.
It will soon be expanded, with a consultant and a nurse set to join, and support workers also being recruited – one with a youth-focused role.
Sijbrigje said: "We had our first group session this month. Our team will work closely with parents to explore the barriers that families often face when making lifestyle changes.
"We're inviting the adults from up to 16 families for each group, with a mixture of virtual and in-person sessions.
"We are trying to have different venues across the health board. We have one in Sandfields, Port Talbot, another in Penlan in Swansea and we are looking into other community venues.
"We will also be holding virtual groups to make the service accessible to users no matter where they live. That is something that is very much at the heart of the service."
Latest statistics show that around a third (34.5 per cent) of children aged four and five in the Swansea Bay area are either overweight (16.4 per cent) or obese (17.6 per cent; of which 6.6 per cent are classified as severely obese).
This has worrying consequences not only during their childhood but can affect their health and well-being later in life.
Non-medical causes of overweight and obesity are many and varied. They include food choices and eating patterns, health inequalities, societal influences, trauma, emotional well-being, and lack of access to play areas and open spaces for physical activity.
Sometimes one or both parents will have weight issues too.
There is no single solution so the programme, developed by Jess, Kevin and Stuart, takes a multi-disciplinary approach underpinned by a growing evidence base.
"It's coming from a psychological, dietetic and physiotherapy perspective," said psychologist Jess.
"We look at emotions, understanding children's behaviours and supporting parents with strategies to effectively manage them.
"Each session is like a piece of the jigsaw puzzle and at the end it all comes together. There's no single solution, and that reflects the complexity of weight and relationship with food.
"But hopefully, across the eight weeks, parents will be offered a number of solutions and strategies that they can draw upon and take back to their families."
Dietitian Kevin said parents would be educated on healthy eating through learning about food groups, snack swaps and body image – taking a holistic approach drawing on the team's specialist skills and knowledge.
But some skills could not be taught in a group education setting, so the service would provide more than just eight-week courses.
"From a dietetic perspective, we think about food literacy, which is having the knowledge to select healthy foods but also the skills to plan and prepare meals," Kevin said.
"Knowledge can be taught but, in a clinical or traditional group education environment, it is difficult to teach those skills.
"It's important to us that we cover those bases. As an add-on to the eight-week programme, there will be cooking skills sessions where parents will get into the kitchen and learn the basics.
"I am also developing an idea for a supermarket tour. It will involve looking at food labels, making the most of budgets, and the various sources of healthy foods.
"It will be a fun way to get out of the clinical setting and explore food in the real world."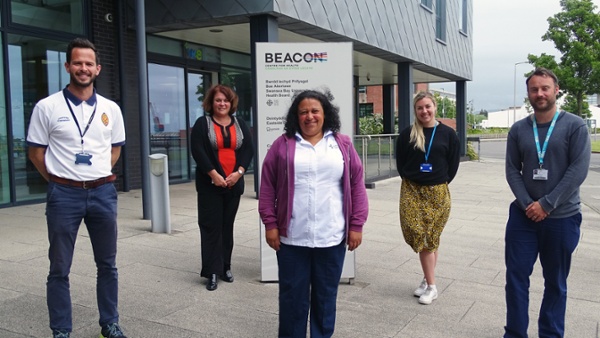 While Kevin focuses on the dietetics, Stuart will be showing families how physical activity can be a key factor in weight management.
He said: "We explore the negative impact of sedentary behaviour and physical inactivity on a child's health and well-being.
"We hope to support parents to identify and overcome the barriers to living a more active and healthy lifestyle."
Lighthouse does not operate in isolation, emphasising instead the importance of working in partnership with families, local authorities, and education and community groups.
Its aim is to tap into services that already exist and to add to them whenever possible.
The overall goal is for the lessons learned to extend far beyond the programme itself, hopefully giving families a brighter future for life.
"We don't want our intervention to be it," said Stuart.
"We want our families to recognise their strengths, to love physical activity, to love eating well and to enjoy better health and well-being long after us."
Speaking of bright, it was Stuart's 14-year-old son who came up with the Lighthouse name for the service.
Stuart explained: "I think it just reflects the vision we've all had, and Sijbrigje had before we all arrived, in terms of us being beacons within the local community.
"We see the Lighthouse as being that beacon that guides change, that families can turn to for support.
"We can't do it for them, but we will be part of their journey and support them to change in any way we can."
Families wanting to take part in one of the programmes can contact the team at SBU.Lighthouse@wales.nhs.uk.
"It's a rolling programme with new groups starting every few weeks in a number of locations across the Swansea and Neath Port Talbot areas, as well as online groups," said Sijbrigje.
"So there will be something accessible that is starting in a relatively short time after people sign up to the programme."