Motorcyclist paralysed in road accident collects clothing from fellow bikers to help emergency services training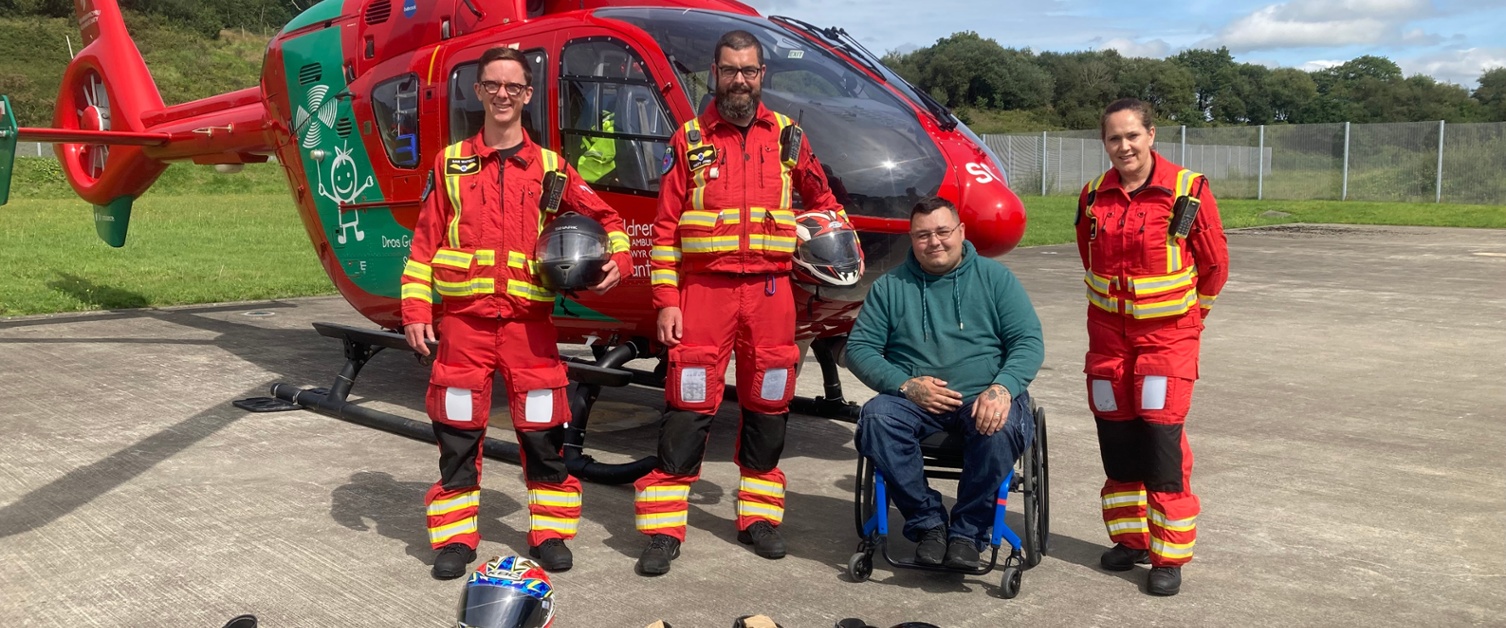 A man treated at Morriston Hospital after undergoing a life-changing motorcycle crash has found a novel way to say thank you to the NHS.
Kane Laville has recruited other bikers to help emergency services hone their training to respond to similar accidents, through donating their used helmets and motorcycle clothing.
Kane was left paralysed after his bike skidded on cow dung in Angle, Pembrokeshire in December 2011. He was thrown from his bike and broke his back in six places. He spent nine months in both Withybush and South Pembrokeshire Hospital, as well as visiting Morriston to undergo skin-grafts to his legs.
His experience left him determined to support the emergency services which helped him, and he became a regional representative of the Lids and Leathers Appeal. The charity collects old or damaged motorcycle helmets and clothing, which it donates to emergency services for use in mock staged accidents set up for training sessions.
The removal of clothing from a casualty following an accident has to be undertaken carefully so as not to exacerbate any injury. Heavy leather clothing and motorcycle helmets can make that even more challenging, so the donations allow emergency responders experience cutting through and removing thick leather and hard helmets in a simulated accident environment.
Recounting his life-changing accident, Kane, who lives with wife Ceri in Pembroke Dock, said: "Wales Air Ambulance sent a crew by road but I can't remember anything.
"I was in hospital for nine months and it was a difficult time as I also caught MRSA and ended up with septicaemia as well.
"Volunteering for Lids and Leathers has meant a lot to me, it's my way of thanking the emergency services who helped me.
"I put up a post on social media appealing for donations and we were inundated with offers after just a few days. I must have picked up 30 helmets in two days.
"I've had to rent a garage to store everything in because there is so much. I am using my own money to do so because this means so much to me."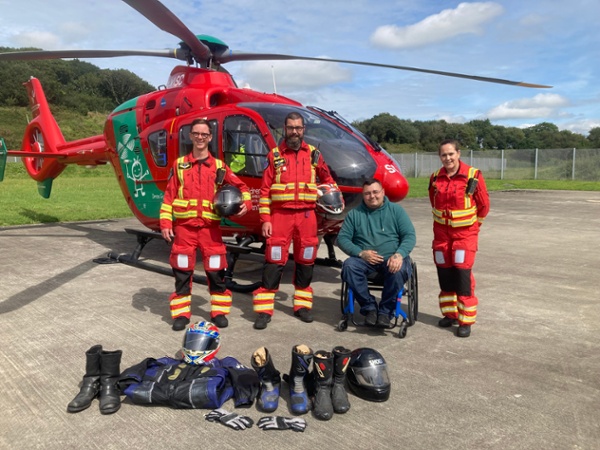 The air ambulance was called out to assist Kane's family once again earlier this year.
His father Allen suffered a heart attack while out working as a refuse collector in Broadhaven in May. Despite the best efforts of the Emergency Medical Retrieval and Transfer Service (EMRTS) crew, which bring the expertise of an ED department to the site of an emergency incident, the 63-year-old could not be revived.
Kane said: "I am so grateful to them. The crew did what they could to help dad but it wasn't to be.
"We are very lucky to have this service in Wales."
The donated helmets and leathers have been earmarked for use in simulation training in the near future by EMRTS consultants and Critical Care Practitioners.
EMRTS operations director Mark Winter added: "It was great to meet up with Kane and Ceri recently and for sharing these valuable contributions to support our high-fidelity training sessions.
"It is remarkable to see how Kane has turned his personal difficult circumstances into an opportunity to help others. We are extremely grateful for the hard work undertaken and the donations offered. Thank You."