Morriston marathon men are record breakers!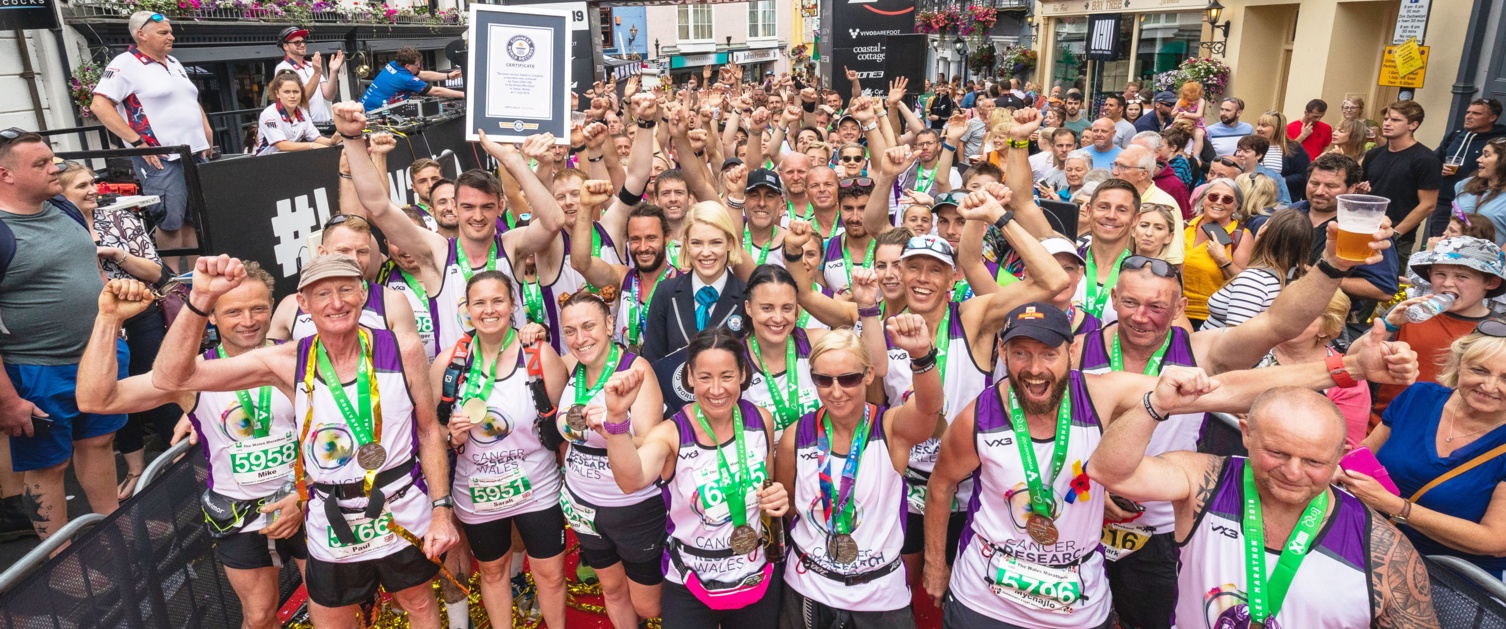 Morriston Hospital can now claim to have two world record breakers among its ranks.
Andrew Morris and Andrew Jones took part in the Wales Marathon in Tenby as part of a group of 122 people hoping to break the Guinness World Record for the most linked runners to complete a marathon.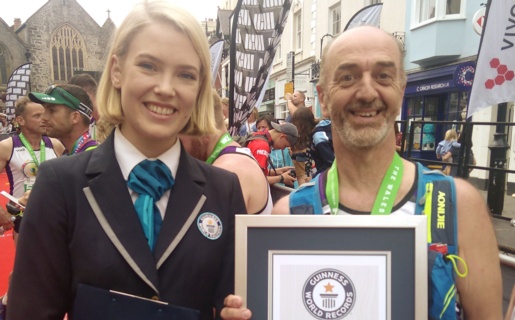 All were joined by a rope, belt and clips. And to beat the existing record of 112 runners joined together, set in Calgary, Canada, all 122 of them had to finish the race.
For the 26.2-mile course they were organised into 30 rows of four runners, with the two Andrews linked side-by-side.
Andrew Morris with Guinness World Records adjudicator Sofia Greenacre
And the Guinness World Record attempt, which took place on Sunday, July 7th, proved to be a successful one, with the last person in the group crossing the line in 6 hours and 47 minutes.
Andrew Morris said: "There were a few moments when we wondered if we all were going to get round especially after 18 miles when one or two were showing signs of faltering in the heat.
"But the team lifted each other and we pressed on and finished.
"Running for Cancer Research Wales, we were linked with more than just rope, with each of the runners having been affected by cancer in some way."
Andrew, who has worked in medical electronics in Morriston for 26 years, started running at the age of 57, and entered the Tenby event as his third marathon at the age of 59.
He said: "I saw the Guinness World Record attempt and decided that to run such a distance it would be wonderful to raise funds for Cancer Research Wales and also obtain a world record at the same time, so I joined the team.
"My mother had suffered from cancer and passed away.
"So I wanted to do something positive to fund vital research into the prevention, and treatment of cancer in patients and possible breakthroughs in eradicating the disease in Wales and beyond."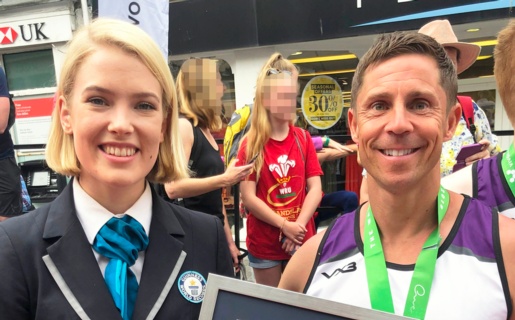 His co-runner Andrew Jones is an operating department practitioner in Morriston Hospital and a clinical tutor in Swansea University Medical School.
His passion is racing and anything outdoors. He got chatting to Andrew Morris at a Llanelli parkrun and decided the marathon challenge was a great idea.
Andrew (pictured right with Sofia Greenacre) had just completed the international Escape from Alcatraz Triathlon in San Francisco and fitted the marathon record attempt in the following week.
"Cancer Research Wales is an incredible charity. Almost everyone I know has been affected by the disease," he said.
It's hoped the funding raised will be in the region of £100,000. Currently the total is around £50,000 for Cancer Research Wales projects in Wales.
Dale Evans, Cancer Research Wales Events Manager, helped organise the attempt. He said: "As record-breaking participants we are still amazed by the camaraderie as a team encouraging one another to finish the race.
"It cannot be overstated what this group has achieved – to have so many runners of all ages and abilities coming together to run 26.2 miles is truly remarkable.
"Many of our runners have been affected cancer in some form. Hearing each person's reasons for running was incredibly inspiring and really did provide the motivation to dig deep."
Andrew Morris has currently raised over £330 in sponsorship for Cancer Research Wales thanks to staff at Morriston Hospital and over £40 on his Just Giving page.