Morriston ED staff's zero tolerance warning after violent incident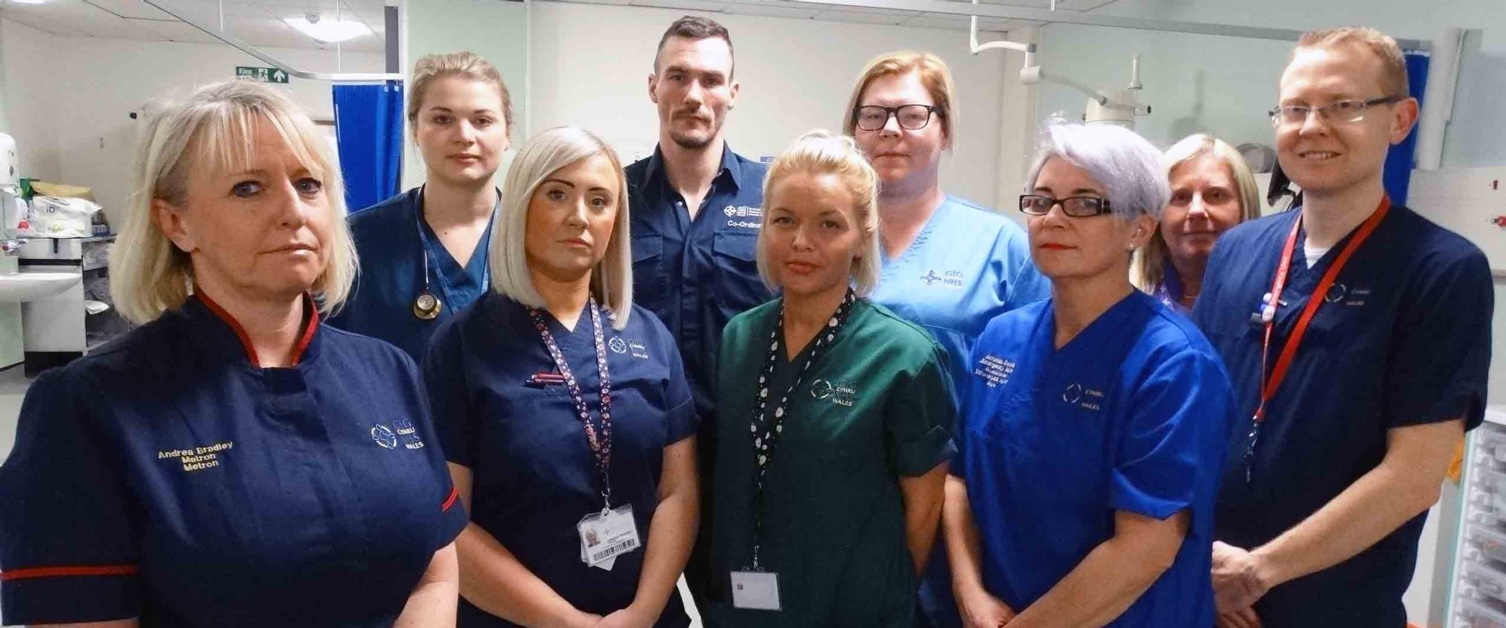 Friday, 8 February 2019
Emergency staff are making a zero tolerance stand against violence after a patient spat at and tried to bite them – and grabbed one by the throat.
The frightening incident at Morriston Hospital's Emergency Department resulted in 19-year-old William Kory Mayberry being given a custodial sentence by a district judge this week.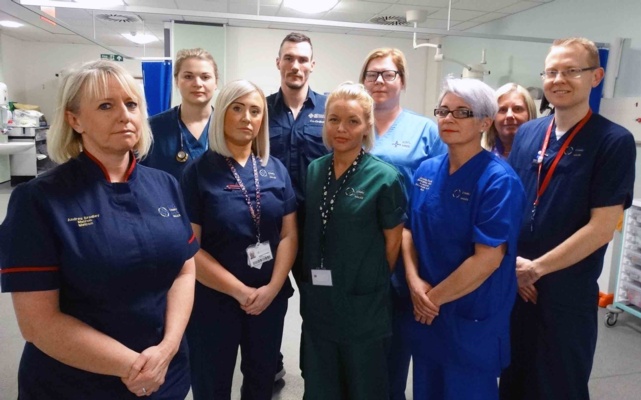 Emergency Department Matron Andrea Bradley (left) with ED colleagues Corrina Newman, Lydia Osborne, Ashleigh Jackson, Holly Birmingham, Claire Whittle, Amanda Davies, Lesley Caldwell and Kevin Thomas
Becky Gammon, Head Nurse at Morriston ED, said: "We have a zero tolerance to verbal and physical abuse.
"We are working closely with the police to ensure this sort of behaviour gets reported and individuals face the consequences of their actions."
Emergency Department Matron Andrea Bradley, who was involved in trying to calm Mayberry down, said it had been in the upper range of violence and aggression incidents staff were frequently confronted with.
"These incidents have become part of our role but they shouldn't," she said. "There is the likelihood of aggression every day. And it's not just how it affects us but other patients too.
"Nurses had to intervene to help stop this person from hurting staff, and that left other patients vulnerable.
"They were dealing with him instead of the elderly person in the next bed who was not receiving any care as a result."
Mayberry, of Ozanam Court, Blaenymaes, Swansea, pleaded guilty to three counts of assaulting an emergency worker, and to breaching a suspended sentence for previous, unrelated offences.
He was sentenced to a total of 40 weeks in a young offender institution.
During the case, it was stated that Mayberry was rushed to Morriston by ambulance after apparently suffering a heart attack.
However, while ED staff were treating him, Mayberry began struggling, shouting and swearing, tried to bite staff and spat at one of them before grabbing him by the throat.
The court heard he later told police he had drunk a litre of vodka that day and could remember nothing of what happened.
Mrs Bradley said the staff involved were all okay, and Mayberry's family had been very supportive of them.
"We know he has had his troubles but that doesn't mean you can try to bite someone or grab their throat or spit at them. We're there to help but we can't help someone who is trying to bite us."
Staff at Morriston Hospital have ASBO (Antisocial Behaviour Order) forms, which they will issue to people who are violent or aggressive.
Anyone receiving three ASBOs within six months is reported to police. However, more serious incidents result in police being called immediately.
ED Senior Sister Katrina Rees said staff were always encouraged to report incidents of violence and aggression.
"When someone is shouting and swearing, banging doors and so on, elderly patients, patients who are really ill and their relatives find it really intimidating and uncomfortable.
"It's a small group but they cause a disproportionate amount of trouble.
"We shouldn't have to put up with it – whether it is verbal abuse, slamming a door in your face, or effing and blinding while they're walking through a waiting room.
"A hospital is supposed to be a safe place.
"Fifteen years ago it wasn't like this. But now we have become a lot more used to it than we should have.
"It could be down to drink, drugs or mental health, but sometimes it's just the way some people behave."
Mrs Rees said even staff who had not been physically assaulted were left very upset by these incidents.
She added: "Staff morale is really low and this is one of the contributing factors.
"They come to work to care for people and look after people. They get verbally abused, shouted at, subjected to intimidating and threatening behaviour.
"That isn't something you'd expect or should have to put up with when you're a nurse."