Minister visits Morriston Hospital's high performing solar farm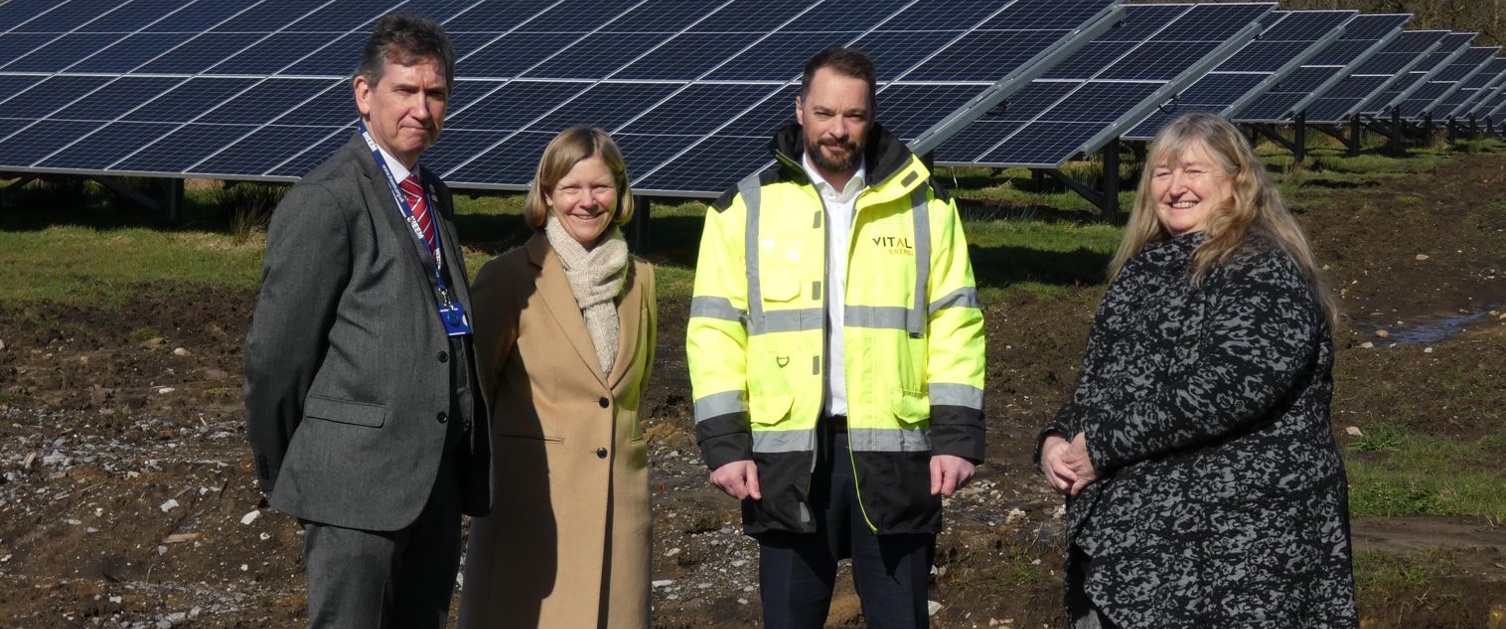 Caption: Des Keighan, Swansea Bay UHB Assistant Director, Estate, Swansea Bay UHB Chair, Emma Woollett, Scott Lutton, from Vital Energi and Welsh Government Minister for Climate Change, Julie James, at the Morriston Hospital solar farm.
The energy crisis means the UK's first direct wired solar farm developed to power a hospital will generate far greater savings than could have been predicted. It went live in October last year and is expected to produce a fifth of Morriston Hospital's energy consumption every year.
Even during the winter months there have been days when it has generated enough to power the entire hospital – and on occasions with electricity to spare to export to the National Grid. This is despite only operating during the shortest days of the year.
The £5.7m solar farm was built thanks to a loan scheme set up by the Welsh Government to decarbonise the public sector by 2030, and is repayable on an invest to save basis. It is estimated that the hospital has already saved an estimated £120,000 in electricity bills since it was switched on in November, and is projected to save 1000 tonnes of carbon and £500,000 per year in bills when fully operational. It has already produced 30,000 kWh surplus energy that's been sold back to the energy grid at a profit to the hospital.
Visiting the 4MW project on Brynwhillach Farm, which is linked to Morriston by a 3km private wire, Minister for Climate Change Julie James said:
"We want our energy to come from community owned and locally run renewable energy sources in Wales. This will ensure our supply is resilient, reliable and reasonable for both our planet and our pockets.
"We have bold ambitions to decarbonise the public sector by 2030. Morriston Hospital - which depends not only on the powers of its staff, but also the energy hungry machines to keep their patients alive and well - have blazed the trail in their switch to renewables, which makes sense both financially and to the health of the people of Wales.
"Our addiction to fossil fuels is proving harmful, volatile and no longer viable. In Wales we will continue to accelerate our investment in renewable energy and energy efficient measures such as those adopted at Morriston hospital, and call on the UK Government to support a socially just transition to Net Zero as we respond to the climate emergency.
"The IPCC have rung the clarion call for our planet, now we must listen and respond to the science."
Chair of Swansea University Health Board, Emma Woollett, said:
"I am delighted that the solar farm's performance has already exceeded our initial expectations. The health board's aim is to reduce its carbon footprint and maximise opportunities to use renewable energy sources.
"The solar farm will play an important part in achieving that aim, but there is also an additional benefit in terms of cost savings. It is not only lowering our electricity costs every day, but on some days covering 100% of our electricity needs.
"With the current volatile situation with energy prices, this really shows that the investment and the long-term thinking on behalf of the health board has paid off."
Since being switched on, the 10,000-panel solar farm has produced enough energy to power 190 three-bedroom houses for a year, or to boil almost 200,000 kettles.
The four megawatt farm was anticipated to reduce the hospital's electricity bill by around £500,000 a year. But with world energy prices spiralling, the actual savings could be almost double that figure.
A few years back, Swansea Bay University Health Board was awarded £13.6 million, on an invest-to-save basis, to bring down its energy costs and reduce its carbon footprint by around 5,000 tonnes a year. The money was awarded through Re:Fit, a national programme, supported by the Welsh Government. Following an extensive selection process, the health board selected Vital Energi as its partner.
Phase one, a range of energy conservation measures at Morriston and Singleton hospitals and other health board premises, was completed last year at a cost of £7.7 million. The solar farm, developed on a 14-hectare site at a cost of £5.9 million, comprised the second phase.
Swansea Bay's Assistant Director of Operations, Des Keighan, said the hospital previously used around 20 gigawatts of electricity a year.
"The first phase of energy saving measures reduced the hospital energy demand to 16 gigawatts a year," he said.
"The solar farm will reduce the need to import energy from the grid by a further four gigawatts over the course of a year.
"It was expected that over the winter months the solar farm would contribute electricity, but that the hospital would still need to continue to buy power from the grid every day. What has come as a pleasant surprise is that for a total of 50 hours, the hospital has been entirely powered by the solar farm, and nearly 30,000 kilowatts sold back to the National Grid. This is despite the fact that the solar farm hasn't been operating continually over the winter.
"It has still been undergoing tests and fine-tuning, and is not due to be completely finished until the end of March. So this additional performance has been even more of a bonus."
Since October, the solar farm has produced 598,000 kWh (kilowatts an hour) of energy. That is enough to:
Power 190 three-bedroom houses for a year;
Boil 196,333 kettles;
Power 4,496 55-inch TVs or 196 washing machines for a year;
Drive a Tesla Model Y car 2,103,571 miles.
But it doesn't end there. Factor in the first phase energy saving measures and the overall drop in electricity demand from October until February at Morriston is nearly 1.5 million kilowatts. That is sufficient to:
Power 484 three-bedroom houses for a year;
Boil 500,000 kettles, power 11,450 TVs or 500 washing machines for a year;
Drive the same Tesla car 5,357,143 miles.
Mr Keighan said the value of the savings was also expected to be considerably higher than expected because the world situation meant energy prices were increasingly so rapidly.
"When this started, electrical prices were around 13p per kilowatt hour (kWh) from the Grid," he said.
"This morning it was 25p per kWh. That's not far off doubled, with prices expected to increase over the coming weeks.
"We want to extend the solar farm by installing another 1MW of solar panelling and also install 2MWh battery for storage
"We get two to three pence per kW if we export. And at the moment electricity from the Grid is costing us around 25p a KWh and from April that could be as high as 50p. So using it ourselves makes far more sense and we are trying to secure funding for that, and we hope that will be the next stage."
Additionally, the solar farm will save around 1,000 tonnes of carbon a year, on top of the 4,000 tonnes saved by the first phase.