Meet one of the nurses who talks to families on the 'most difficult days of their lives'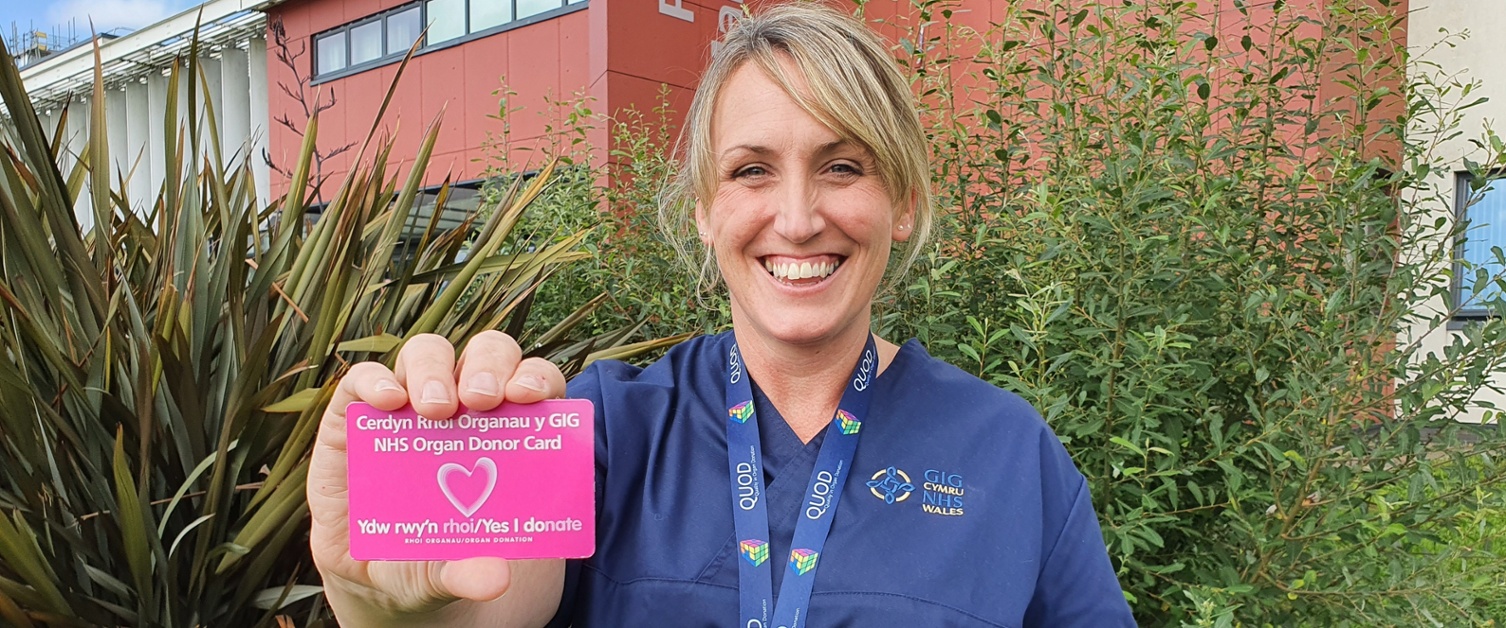 An important part of Kathryn Gooding's job is to help save lives by having difficult conversations many of us would rather shy away from.
As a specialist nurse for organ donation, she is tasked with liaising with families and loved ones of patients, who have been identified as potential organ donors, to broach the delicate topic of helping others through donating their organs once they have died.
Kathryn (Pictured above), who joined fellow specialist nurses Michael Tobin and Erika Wood at Morriston Hospital in March of this year, is keen to talk about her role ahead of Organ Donation Week (20-26 September 2021) in a bid to ignite conversations across generations about end of life care and organ donation.
She said: "The focus for Organ Donation Week 2021 is to inspire family conversations and registrations for organ and tissue donation, by putting children and young people at the heart of our message.
"The legislation changed in Wales in 2015 when we moved to 'deemed consent'. This means that if you haven't registered an organ and tissue donation decision (opt in or opt out), you will be considered to have no objection to becoming a donor.
"You can still opt in on the register if you want to do so, but it is not required in order to give consent for donation. You can also nominate up to two representatives to make the decision for you. These could be family members, friends, or other people you trust. The most important bit is to tell your family and friends so that they can support your decision."
Kathryn, who has previous experience of working in emergency departments and paediatrics, explained that referrals to the Organ Donation Team are made by the critical care departments when, despite their best efforts, death is inevitable. Only when end of life care planning is started is the NHS Organ Donor Register accessed by a specialist nurse for organ donation and the possibility of organ donation discussed with families.
She said: "The number of referrals from Morriston and Singleton varies from month to month. Only about one in 100 people who die in the UK are usually able to be donors. Donors are typically those who have died in a hospital intensive care unit or emergency department. These times are so incredibly hard for families and loved ones, making it all the more important that we 'leave them certain' and have that donation discussion enabling us to carry out a decision that you make in life, in death."
On meeting a family the Organ Donation Team work closely with the nurses and medics caring for the patient. The specialist nurses support families and loved ones through the organ and tissue donation process, maintaining dignity and respect. It is their role to explain, support and organise each step. After donation the Donor Family Care Service take over, providing a range of support from outcome letters for families who have requested them, to invitations to remembrance services.
Kathryn admits that it may not be the kind of conversation some would chose to initiate.
She said: "I am new to the role, and to begin with I was very nervous about saying the wrong thing or causing further upset to families and loved ones. However, I began to think of each conversation as one with my own family. I would want someone to approach me about organ and tissue donation for my family.
"The way I think about it is that organ and tissue donation can not only save or improve the life of someone who needs it, but it can leave their loved ones their loved ones a legacy of love and giving."
And it is the response of the vast majority of families that makes her role so fulfilling.
Kathryn said: "I'm still in awe, every day, of the families that we meet, and how they can think of other people at such a terrible time.
"The best part of my job is working as a team to support the families we have the privilege of meeting through organ donation. It may be over a very short period of time, but, nevertheless, they are never forgotten."
"If a family or loved ones decide that they do not want to move forward with organ donation, we ensure that have received all the information they want on the subject, answer any questions they might have, and respect their decision."
The job is far from being over once consent has been granted.
Kathryn said: "The organ donation process can take in the region of 24 hours. It is the role of the specialist nurse to assess each case, exploring all past medical history in order to give all information available to the transplant surgeons who ultimately decide which organs are suitable. When all organs suitable are placed and a specialist surgical team are mobilised. One of the specialist nurses stays with the patient for the entire process, delivering care and support alongside experienced intensive care and theatre staff."
One of the biggest privileges of her role has been seeing the gift of life brought about through organ donation.
Kathryn said: "During my training I have had the opportunity to observe a kidney transplant- it was absolutely amazing. I was made aware of the patient's poor quality of life prior to transplant and witnessed the donor kidney being transplanted and beginning to work whilst we were still in theatre -a gift that will completely change a life."
As difficult as those conversations are – for Kathryn and her colleagues and the family and loved ones alike – there are more to be gained further down the road.
Kathryn explained: "Perhaps not straight away, but in time, we know our donation families will find comfort and pride in the extraordinary thing their loved one has been able to do for someone else."
To find out more about organ and tissue donation and Organ Donation Week 2021 visit the NHS Blood and Transplant website here - Organ Donation.