Championing patients with multiple sclerosis is not just a job for Leanne Walters – it means so much more to her than that.
Leanne is just the second Advanced MS Champion to be appointed in the UK and the only one in Wales.
It's the next stage of a career spanning 18 years, and involves her working closely with people with MS – a progressive neurological disorder of the brain and spinal cord.
Her role ranges from visiting them on the wards to carrying out their annual reviews and meeting whatever needs they may have.
And Leanne is giving it her all, because she understands what people with MS are going through.
"I feel I'm a good person to represent them.
"I don't just sympathise with them, I can empathise with them and give them advice personally," said Leanne, who is based at Morriston Hospital.
"That's because I've had a chronic ill-health condition, type one brittle control diabetes, for the last 29 years. I know how it feels to be good one day, and then the next day not so good.
"I also suffered a heart attack two years ago. I was bedridden for a while and really struggled with daily tasks and mobility.
"The mental health side of it kicks in when you experience something as traumatic as that.
"That's why I feel I can represent these people like a true champion should, to give them hope that there is a life out there even with a chronic condition, and help them in any way I can."
Leanne joined the NHS in 2001 as a physiotherapy assistant and technical instructor with Hywel Dda University Health Board.
She then studied for a physiotherapy degree in Cardiff University, graduating in 2009.
Leanne returned to Hywel Dda for a year before starting work in the Neath Port Talbot area as a physiotherapist with the palliative care and continuing healthcare teams.
After that she joined the community reablement team, and operationally managed a residential reablement unit in Plas Bryn Rhosyn, Neath.
Over the years Leanne has worked with colleagues in the health board, council and third sector, as well as with families.
Now she is bringing all her skills, experience and contacts to her role of Advanced MS Champion.
This is based with the neuro-inflammatory team at Morriston Hospital, which looks after around 1,900 patients in the Swansea Bay and Hywel Dda areas.
"There are disease modifying therapies available for many MS patients, and that involves a lot of monitoring by the team.
"Also, if any patients become acutely unwell with a relapse, then the team has to manage their symptoms," said Leanne.
"This can mean people with advanced MS missing their annual review, which in turn could lead to hospital admission."
Part of Leanne's work involves making sure these reviews are done, then using them to identify what she may be able to do to help.
"If a patient is acutely unwell in the community, I can liaise with community services, work with social workers on care packages, educate carers and refer for equipment.
"This can prevent hospital admission in the first place.
"If we have MS patients in hospital, the ward can contact me and I will go to see the patient to find out if I can help get them discharged more quickly."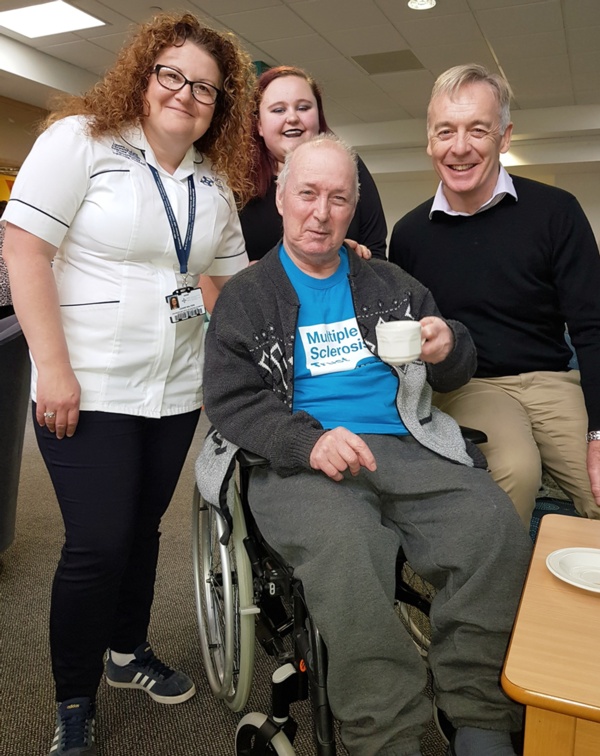 Her role of Advanced MS Champion is 90 per cent funded by the Multiple Sclerosis Trust, with the rest by Swansea Bay University Health Board. Leanne is one of just six champions working in the UK.
Last autumn she hosted a visit by MS Trust Chief Executive David Martin, who "shadowed" her for a day.
"It's an exciting post, everything I hoped it would be," said Leanne.
"It's full of variety. I go to clinics with the consultants, I'm out and about in the community and I'm on the wards seeing patients.
"I coordinate the various referrals and work closely with the inpatient and community teams. So I'm the constant for the patients, providing a seamless service.
"I love being able to make a real difference to their lives."
Leanne is pictured with one of her MS patients, Brian Riddell and MS Trust CEO David Martin (right). Also in the photo is Jodie Riddell, a pupil at Llangatwg Community School, who organised a fundraising Halloween cuppa and cake fete.
Morriston Hospital consultant neurologist Owen Pearson said the rapid development of disease modifying treatments meant teams around the UK concentrated on early MS.
"This early disease focus has meant that individuals with more advanced MS have received care that is not as good as we would wish," added Dr Pearson, clinical lead for MS.
"The Advanced MS Champion is a role that is seeking to re-balance this inequity.
"Leanne's role aims to be both proactive in reducing complications and admissions, and reactive in responding quickly to improve discharge.
"As only the second Advanced MS Champion in the UK, we are excited to see her enthusiasm for improving care to patients with complex disability."