Latest recruits arrive as health board aims to more than double workforce of new nurses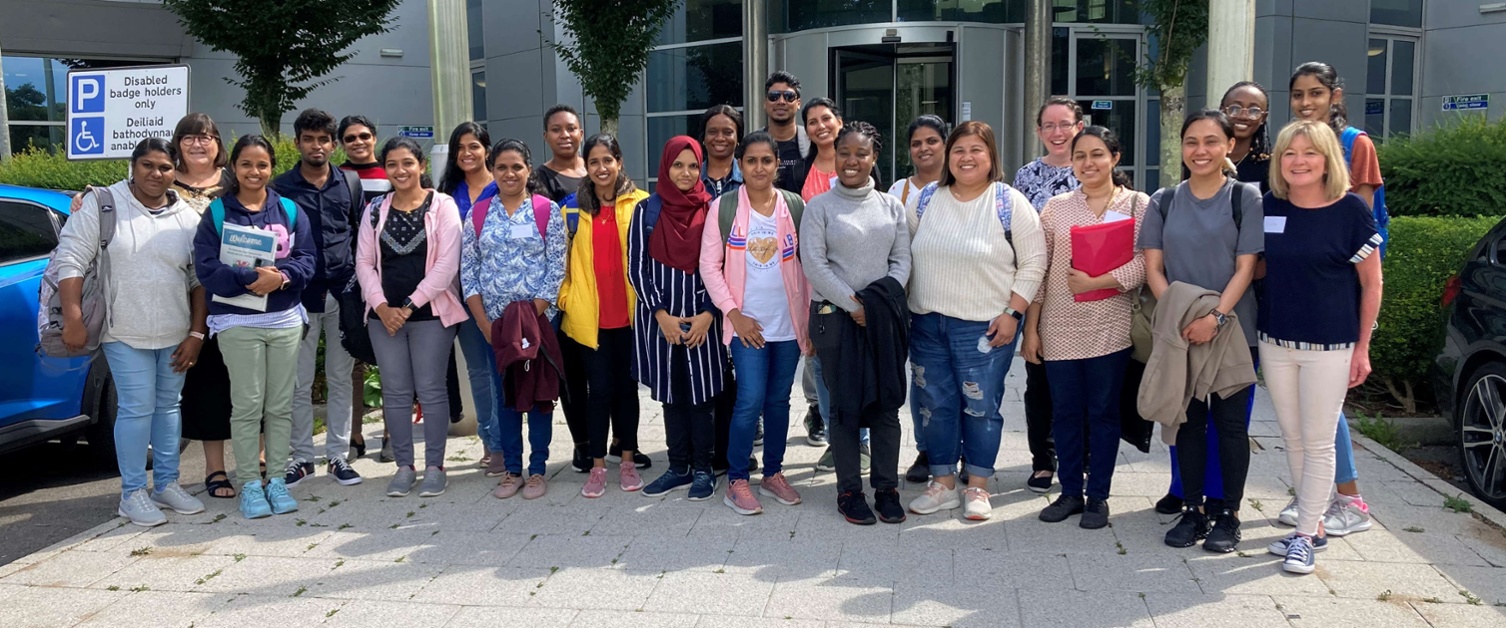 A group of international nurses who are starting a new chapter in their careers in Swansea Bay are getting ready to join our wards at a new training centre in the health board's HQ.
The health board is bolstering staffing levels by recruiting international nurses.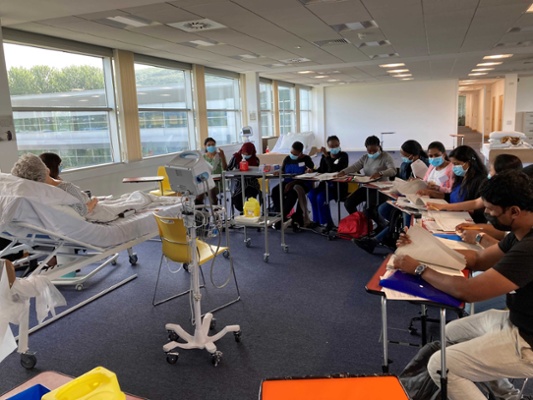 The most recent cohort of 20 includes nurses who have arrived from the Philippines, Jamaica and India who are looking to develop their careers further in Swansea Bay.
For Bethany Romano, a nurse who qualified in the Philippines before working for nine years in Kuwait, the moves allows her to reunite with family.
"I travelled on my own, but I have a cousin who works in Morriston Hospital," she said.
"It's one of the reasons I chose to come here because I have family in the area and she can help me settle.
"She works in ITU and has been here for over 20 years so she's told me plenty of good things about the health board and the city."
Bethany and her 19 fellow nurses are currently undergoing extra training in the health board's headquarters in Baglan.
In a dedicated area set out like a ward, they are taught assessment, planning, implementation and evaluation of a patient through a number of workshops. These look at areas like wound dressings, injections and inserting a nasogastric tube.
Following the training, they will then sit an OSCE (Objective Structured Clinical Examination) exam in Oxford which allows them to become a registered nurse within the UK.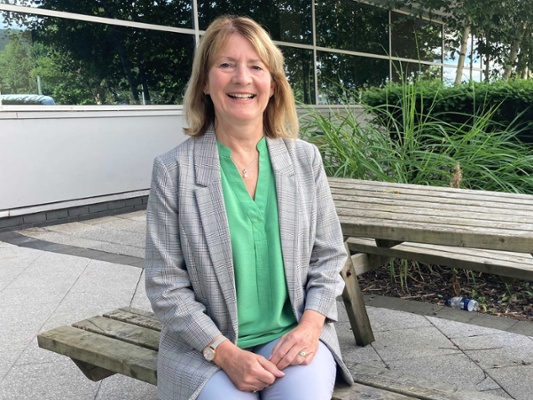 Lynne Jones, Head of Nursing Education and Recruitment, said: "We are delighted to be delivering our OSCE programme to the overseas nurses in the new Nurse Education Training Suite at our Baglan HQ.
"We know that a good quality learning environment is crucial to ensuring a high success rate at the exam.
"The nurses are skilled and experienced registered nurses in their own countries but to gain UK NMC (Nursing and Midwifery Council) registration they have to undergo a rigorous assessment process.
"The OSCE is the final stage in that process and we are very proud to be delivering an excellent programme here in our health board with a 100 per cent pass rate."
PICTURED: Lynne Jones has been integral in recruiting international nurses.
The recruitment drive hopes to more than double the amount of new nurses coming to Swansea Bay to work.
The health board is encouraging healthcare support workers to up-skill and expand their roles, but the recruitment of nurses from overseas is a key part of recruitment and retention.
With 140 nurses recruited from abroad last year, the health board is targeting 60 more with a potential increase to 350 by the end of the financial year.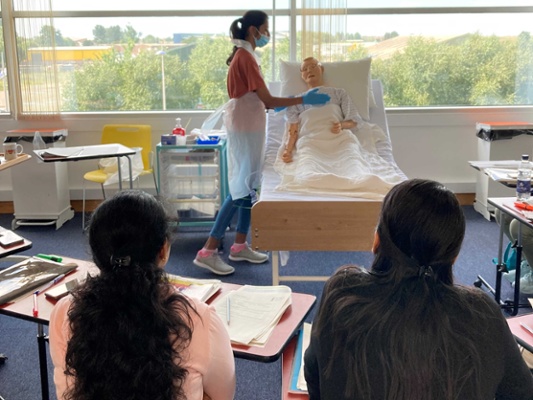 Karen Williams, Practice Development Nurse, said: "We have a new cohort here every five to six weeks, but we are hoping to extend the numbers from 20 to 35 with new trainers joining the team.
"The nurses currently being trained have moved halfway around the world to be here. It's an honour to work with them.
"We are training 20-30 people every four or five weeks and they are going on to look after 30, 40 or 50 people a week.
"They bring so much experience to the health board – some of them have 17 years of experience."
PICTURED: One of the international nurses goes through one of the work stations set up in the health board's Baglan HQ.
For Ashna George, it is a big step into the unknown but hopes to make Swansea Bay her permanent home after moving from India.
"I was a registered nurse back home – I worked in Neonatal Intensive Care Unit for three years," she said.
"I am looking forward to working here. The equipment, I am told, is a lot more advanced and I think that will help patients in terms of their care and staff in their development.
"My family is still in India, so I have come here on my own. But if everything goes well then I plan to settle here.
"Once I settle properly, I am planning to qualify further in NICU and Paediatrics."
Julie Barnes, Practice Development Nurse, delivers the extra training received by international nurses.
She has seen the impact made by nurses who have come from overseas and obtained their NMC registration.
PICTURED: Ashna George receives training from Practice Development Nurse Lora Alexander.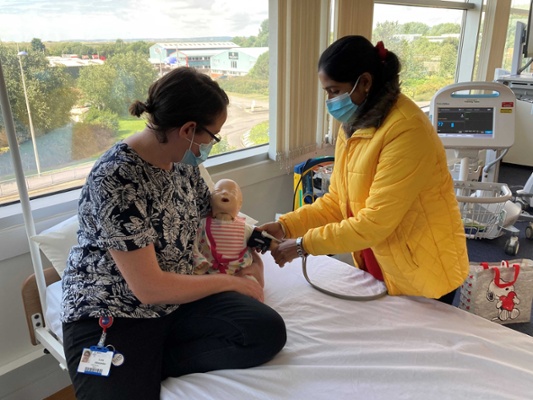 She said: "We are proud to be a diverse work force, and by having international nurses we have new ways of looking at things, more skills and extra experience.
"More and more people are being trained in Swansea University, but we have a shortfall in numbers due to the amount of staff that are either retiring, reducing hours or leaving the health board.
"So the international nurses are crucial in terms of our staff levels and patient care.
"They are fantastic to work with. They are very enthusiastic, knowledgeable and very keen to make a difference here.
"It's a massive move for them in terms of their personal life, and we do our best to help them in that respect as they're giving up a lot – some have left their families behind to come here to work and live."
Jorelyn Balbin (pictured below), however, has made the trip with her family.
Joined by her husband and two children, aged two and eight, she brings a wealth of experience to the health board.
Originally from the Philippines, she has also worked in Saudi Arabia and Oman in ICU (Intensive Care Unit).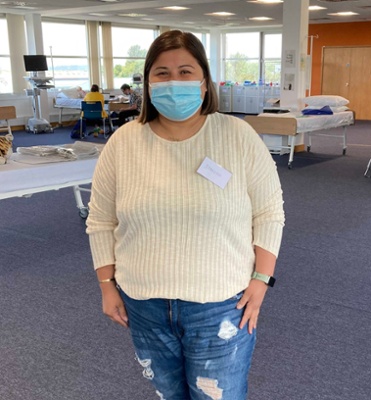 She said: "It was a big decision to make, but the health board has been so helpful.
"It was very busy and expensive in Oman, and very hot too. But I did some research and discovered that Swansea is a good place to live with its beaches and mountains. The people are lovely too.
"We are really enjoying Swansea so far. It's a lovely place to explore, and we've enjoyed the markets in the city centre.
"My son is eight and he was really looking forward to starting school in September, so that was a good sign!
"In terms of my work, the good thing here is that we know exactly what to expect when we are exposed to a clinical area.
"The training we are having prepares us for that, and that's also important for the patients.
"I'm really looking forward to starting work here."