Heavens above – Lymphoedema award is out of this world!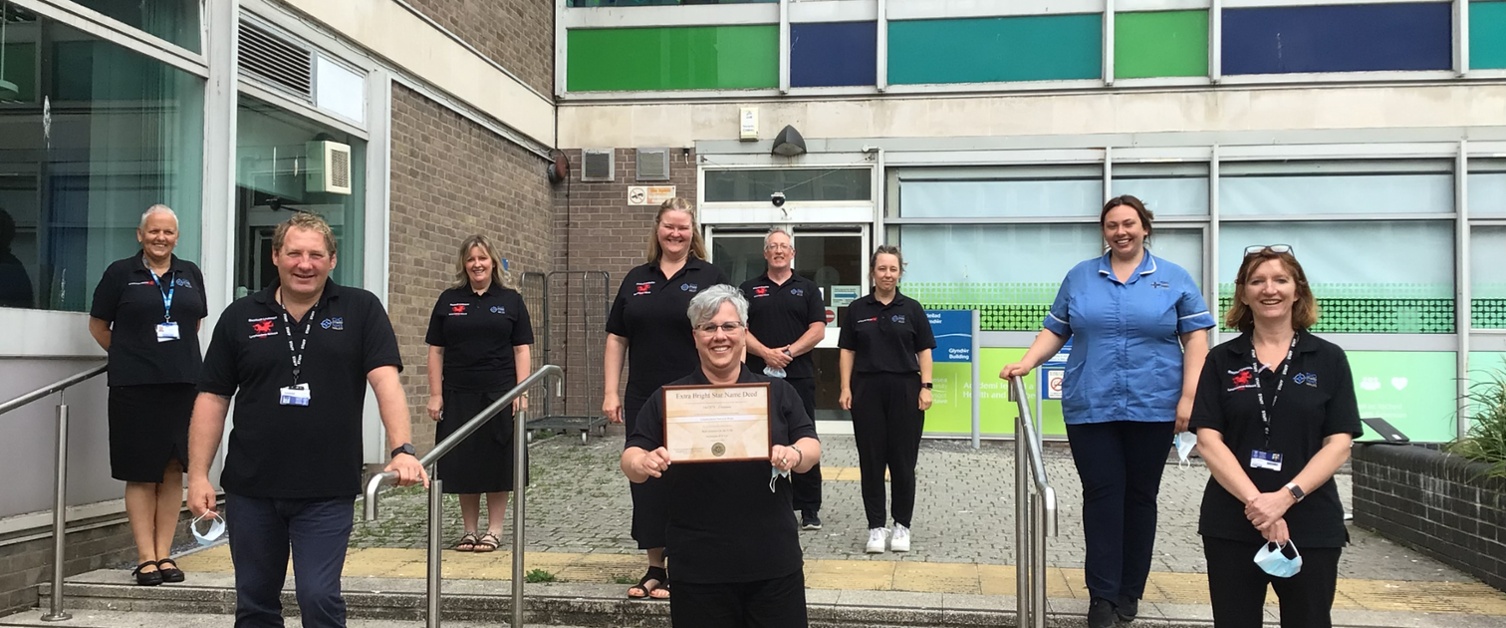 A Swansea Bay University Health Board team is celebrating an astronomical achievement.
The National Lymphoedema team, which is hosted by Swansea Bay UHB, has had a star named after it as recognition for its work during the Covid-19 pandemic.
(Pictured above: The National Lymphoedema team)
The Lymphoedema Network Wales star award was given to the team which is based in Cimla Health and Social Care centre, and the Health and Wellbeing centre at Swansea University - for how their staff continued to treat patients and support other services despite the challenges of Covid-19.
The team treats patients with lymphoedema and chronic oedema which cause swellings in the body tissues.
These can affect any part of the body but usually develop in arms or legs when the lymphatic system doesn't work properly.
Although there's no cure for lymphoedema, it's usually possible to control the main symptoms and minimise fluid build-up such as wearing compression garments.
Karen Morgan, National Lymphoedema Education and Research Lead in Wales, nominated the team for the Journal of Community Nursing's 'Nursing Star' award which is sponsored by the wound care company Juzo.
She said: "Everyone feels over the moon to be recognised.
"It was difficult to single anyone out because everyone has been brilliant, so I nominated them all.
"So now we have a star named after us which is quite crazy, quite literally out of this world."
The team now has further reason to have stars in their eyes after being shortlisted for this year's prestigious Royal College of Nursing award in the Community and General Practice category.
The shortlisting panel said: "Lymphoedema Network Wales (LNW) team set about improving the clinical competence and confidence of 51 community and wound care nurses to deal with lower leg wounds appropriately and this has resulted in different compression approaches for 80% of the 266 patients being managed in the community.
"Within the first four months of this initiative, 30% of the patients' leg wounds healed."
At the start of the pandemic some staff were redeployed to other services but, Karen said, they still kept the full service going.
She said: "We worked in the community to support community nursing services to deliver care at home, trying to ensure that patients were still being seen but supporting other services where we could.
"Some team members were also deployed to areas which were completely unfamiliar to them but they provided valuable support there too - I am extremely proud of them all!"
Despite the star rating, team members are keeping their feet firmly on the ground.
Winning the star award and being shortlisted, Karen said, has put a big smile on everyone's faces.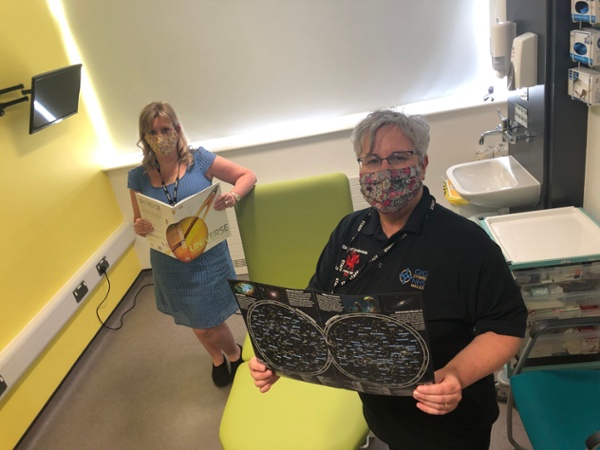 She added: "Considering what everyone has gone through, it's so lovely to have received this award.
"Covid-19 has been hard for everyone.
"Going forward, it gives you a sense of pride and to be recognised for the quality of work you continued to do.
"Although it may not be the catchiest name for a star, it is who we are and the recognition for what we have done will still be there long after we're gone!"
(Pictured left: Dr Mel Thomas and Karen Morgan study their star maps)
Dr. Melanie Thomas, National Clinical Lead for Lymphoedema in Wales said: "What fantastic accolades for all the hard work over the pandemic.
"We are so lucky that we have a wonderful team who always try their best to put patients first in everything they do and being recognised in this way is so positive.
"Not only to have a star named after the team but to also reach the shortlist from 550 entries for the Royal College of Nursing award are tremendous and well-deserved achievements for the team."
The 'Lymphoedema Network Wales' star can be seen low in the southern sky in the constellation Eridanus.
It was first listed in the second century by the astronomer Ptolemy and is represented as a river.
For those with keen interest in astronomy, the co-ordinates are: Right ascension 4h 2m 19.29s; Declination 0º 4' 2.91.