Heartfelt messages from NHS and Army family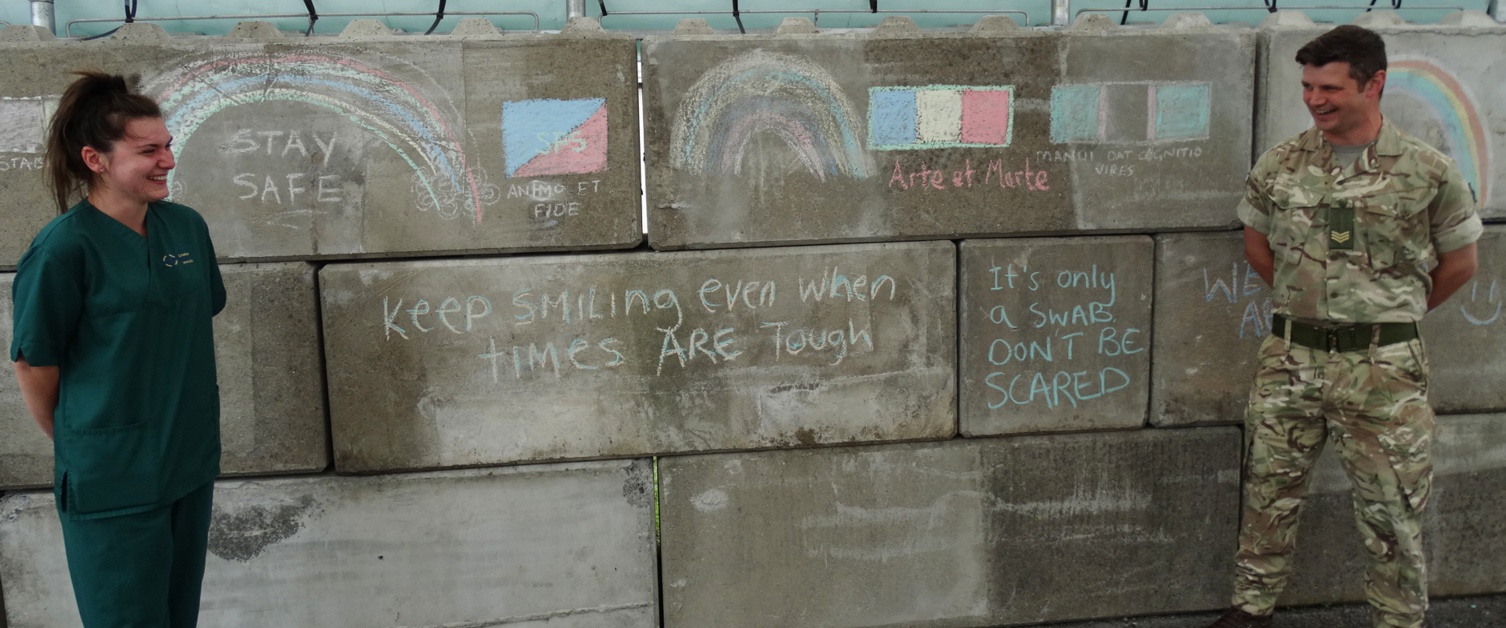 Main image: Healthcare support worker Melissa Hughes and Sgt Tom Ratcliffe, 14th Signal Regiment (Electronic Warfare), at the Margam testing facility
These are the heartfelt messages of hope drawn on the walls of a Covid-19 testing centre to cheer patients up.
NHS staff and soldiers running the drive-through facility in Margam chalked pictures of rainbows and inspirational mottos onto the austere concrete block walls of the testing tunnel.
"We've all been swabbed and we know it's not a pleasant experience, so we are just trying to make it as best as we can for everyone," said Staff Sergeant Rob Bromwich of West Wales-based 14th Signal Regiment (Electronic Warfare).
"It brings a bit of sunshine to what has been quite a gloomy thing."
Healthcare support worker Melissa Hughes said: "We have had a lot of children come through here, so it's lovely for them."
The Margam centre is one of two drive-through testing units in the Swansea Bay University Health Board area. The other is at the Liberty Stadium in Swansea.
They have processed more than 15,000 people for antigen testing - where a throat swab is taken and sent off to a lab to find out if the patient currently has Covid-19 - since they fully opened in early May.
14th Signal Regiment (Electronic Warfare), based at Brawdy in Haverfordwest, have been praised for their "unwavering support" to the NHS as the regiment's deployment at the sites comes to an end.
As well as joining Team Swansea Bay, 14th Signal Regiment (Electronic Warfare) have undertaken a variety of roles across the NHS since April, including the driving and decontamination of ambulances, for which the Welsh Ambulance Service has awarded them a certificate of commendation for outstanding and invaluable service.
Swansea Bay's testing centres will remain open, with the current military team being relieved by Armed Forces colleagues ahead of a handover to civilian contractors by the end of August.
Members of 14th Signal Regiment (Electronic Warfare) were presented with certificates by Chief Executive Tracy Myhill at a special ceremony at the health board's Baglan headquarters on Friday, July 31st. And Sergeant Ricky Scarborough presented Tracy with a plaque.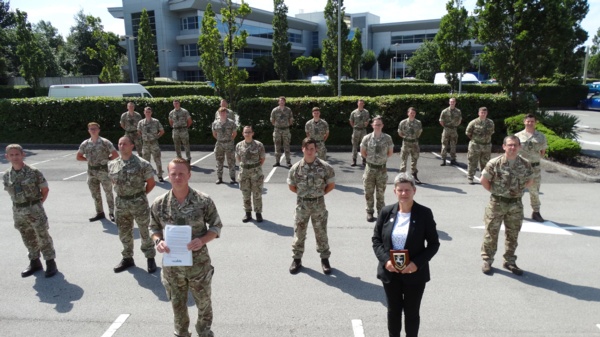 Members of 14th Signal Regiment (Electronic Warfare) were presented with certificates of thanks by Chief Executive Tracy Myhill, pictured front right, at a special ceremony at the health board's Baglan headquarters on Friday. And Sergeant Ricky Scarborough, front left, presented Tracy with a regimental plaque. Credit: SBUHB
Tracy said the regiment's help under Operation Rescript, the UK military response to Covid-19, had helped deliver mass testing capability to communities, including supporting mobile testing units in visiting 125 separate care home sites.
"The teams have been instrumental in the development of the testing units, streamlining the process, providing administration and logistical support and undertaking many other support roles which have allowed NHS staff within the units to focus on patients," she said.
"I have been immensely impressed by the dedication, flexibility, unwavering support and learning provided to the health board by the military during these unprecedented times.
"They have all worked incredibly long days and provided us with good counsel, friendship and all important humour during these most challenging of times.
"Working with the military has been a great experience for all of us in the NHS and it's something I would like to see continue."
The chalk graffiti gallery at Margam, which includes the sayings; It's only a swab, don't be scared and keep smiling even when times are tough, is indicative of the warmth and respect which has grown between the military and NHS personnel, their patients and the wider community.
The gallery includes the blue and white flash of the Royal Signals badge and their corps motto Certa Cito, meaning Swift and Sure.
The badges and mottos of other British Army units which have supported the testing facility including SPS (Staff and Personnel Support), REME (Royal Electrical and Mechanical Engineers, the Intelligence Corps and the Royal Logistic Corps are also in the gallery, as are the lyrics of a specially written song which tells patients:
If you're feeling rough
And you're out of puff
You must come and see us here.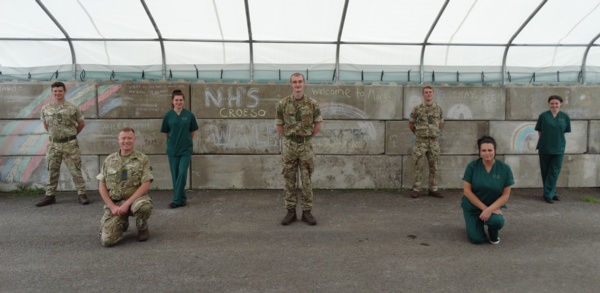 Left to right: Sgt Tom Ratcliffe, SSgt Rob Bromwich, healthcare support worker (HCSW) Melissa Hughes, Sig Ryan Benson, Cpl Dave McShane, HCSW Denika Williams and HCSW Jordan Latham at the Margam testing centre
Credit: SBUHB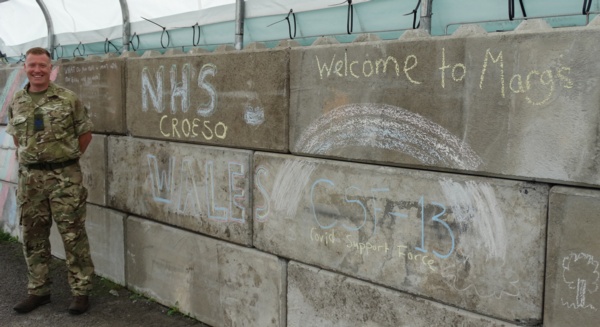 Welcome to Margs', the affectionate name the team has for the testing centre, with SSgt Rob Bromwich
Credit: SBUHB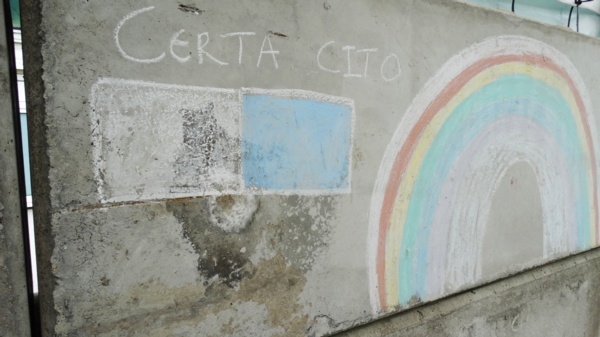 The badge of the Royal Signals
Credit: SBUHB
At the Liberty Stadium testing centre, local residents, schools and restaurateurs have left staff in no doubt of their gratitude for the work they have been doing.
"One thing I would like to take away from this experience is the community spirit we have seen," said Corporal Michael Himfen.
"Given the stress of the situation in terms of isolation, it's incredible that people have been so pleasant.
"On hot days the local ice cream parlours would turn up, we've had cooked dinners brought to us by restaurants and cards from schools, which we have replied to."
Sgt Ricky Scarborough, in charge of both testing centres, said soldiers have found themselves in a public-facing customer service role for the first time in their careers.
"This does present many challenges," he said.
"But it's been good to see how adaptable the soldiers have been and it's been quite impressive how easily they have taken to the role."
The streamlined system at the sites is designed to ensure patients spend a maximum of five minutes there, so they will have little idea of the enormous amount of work that goes into operating them.
Soldiers rotate through a variety of roles including those that are public facing; security, stewarding of traffic, handing out the pre-packaged testing kits, buddying with nurses to ensure the integrity of tests is maintained, to behind the scenes roles including site maintenance and management, deliveries, quartermaster checks, keeping the generators running, administration and liaising with contractors.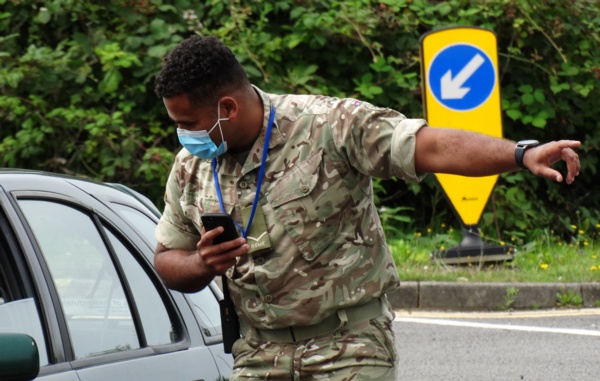 LCpl Tony Steiner of REME greets patients at the Liberty Stadium and ensures they know where they are going
Credit: SBUHB
"It's been quite full on," said Lance Corporal Cameron Pearce, who is on his first deployment.
"We are not used to being on show to the public so it's been different from our day to day job."
But despite the challenges posed by this unprecedented pandemic role, Sgt Scarborough said they have bonded well with NHS staff.
"We are all one team working towards a common goal," he said.
"There's no NHS or Army here, we are one big team. It's been a really easy transition for us."
At Margam, healthcare support worker Melissa Hughes has made sure their patients know this super team has their best interests at heart.
One of her contributions to the chalk art gallery is colourful stick figures drawn above the message: Big love from our NHS Army family.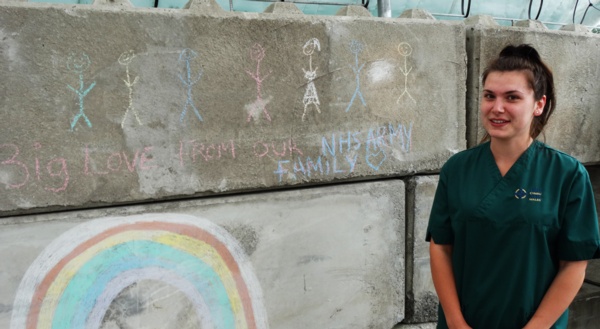 HCSW Melissa Hughes with her special message Credit: SBUHB