Heartbreak and joy for frontline nurses in Morriston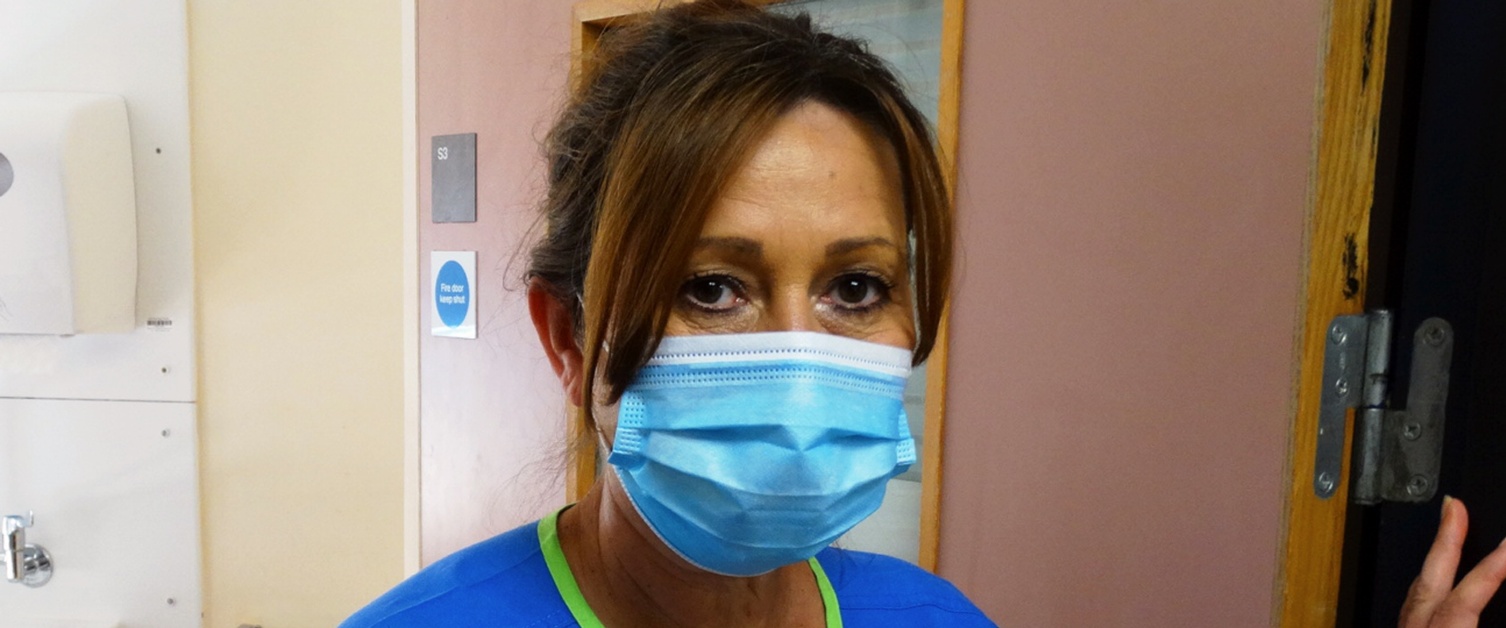 Nurses who were among the first into action during the pandemic have given a harrowing yet uplifting insight into their lives on the frontline.
They have shared anxieties, uncertainty and fear as the long weeks caring for COVID-19 patients took its inexorable toll on their emotions.
Main pic above: Mel Hall
Many have had to send their children to stay with relatives, so don't have the comfort of seeing them when they finish their shifts.
But for staff on Ward S at Morriston there have been moments of elation too, and an overwhelming sense of camaraderie right from the outset.
Before the outbreak it was a mixed gastroenterology and medical ward, with facilities including a negative pressure room, used to isolate patients with or suspected to have infectious diseases.
Because of this it became the first in Swansea Bay and one of the first in Wales to take only patients with confirmed or suspected Coronavirus.
"We had a bit of a shock really," admitted Mel Hall, a nurse on Ward S for 26 years.
"We came into work one day and they announced we were going to be the Covid ward. Initially all the staff were terrified.
"But we're such a good team that we all supported each other and we calmed down a bit and collected our thoughts and basically we just got on with it."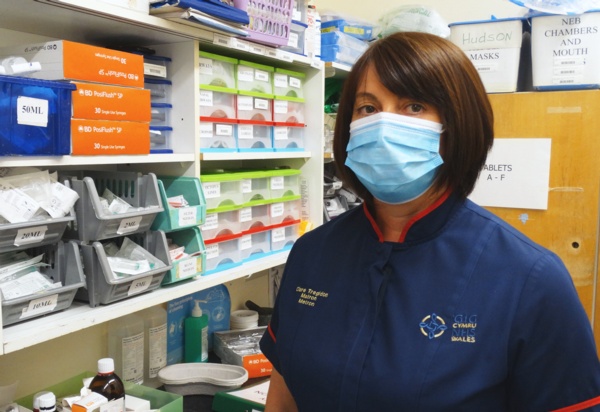 They may have got on with it, but that is not to say they found it easy, as matron Clare Tregidon (right) explained.
"At the beginning we had a lot of patients pass away on the ward, some of them quite suddenly. We had no visiting at the time as well.
"That was really difficult for the nurses. They were speaking to the relatives on the phone and trying to help them through it, but also nursing these patients."
Ward sister Louise Evans said the no-visitors rule, introduced in line with national guidelines, had hit staff.
It mean they had to comfort a lot of relatives over the phone – which was not some something they were used to.
"We're used to inviting relatives in, being able to sit with them, even offering a cup of tea, just for reassurance," said Louise.
"That's something we haven't been able to do since the Covid outbreak.
"But we have managed to reassure a lot of relatives over the telephone that their relatives have been cared for appropriately and we've had a lot of good feedback."
With relatives not being able to sit with patients who were dying or distressed, the nurses have taken on that role themselves. But while that is something they want to do, it comes with its own emotional cost.
"You can't get close to people," said Mel Hall. "You feel sad that patients can't even see our faces.
"They've just got this figure going up to them with masks and visors so that's all we can do is use our voices and we can use a gloved hand to comfort the patients.
"But when you're leaving here, you come over with a flood of emotions and it tends to go in waves. One minute you're fine. You're laughing, you're joking.
"And then all of a sudden you just get this overwhelming feeling of…I don't know how to describe it, really. Not despair.
"Because none of us have been through anything like this before, you find it's difficult to even put into words how we feel. But we are such a good team on the ward and we're all there for each other.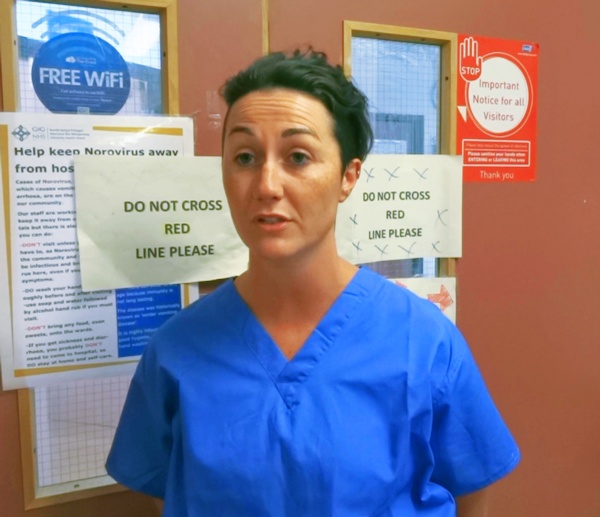 "Numerous staff have just gone into floods of tears while they've been in the staff room. Some staff have had to go home because they've become overwhelmed with the emotion."
Left: Charly Hunter, being interviewed outside Ward S.
Talk to any nurse on the ward and there's no mistaking the importance of team work in getting them through these darkest of times.
Charly Hunter, who has worked as an agency nurse on Ward S for six years, said it had been challenging and very difficult.
"A lot of my colleagues have had to send their children off to family members, so that's been quite emotional.
"We have a fantastic team here. We've been very lucky in that we've got good support.
"We've been challenged but we've done it together. I think that's the most important thing throughout this all, we've had each other."
Nurses have been making use of the support and well-being services the health board provides for all its staff. And amid all the heartbreak and anxieties, there have been moments of great joy too – not least seeing patients well enough to go home.
Sister Louise said there had been many sad stories.
"But we're seeing a lot of patients recovering and it has boosted morale for the nursing staff and everybody.
"We clap every patient that's discharged.
"They love it, we love it, and it brings out the happy side of nursing from this side of it, nursing in the pandemic.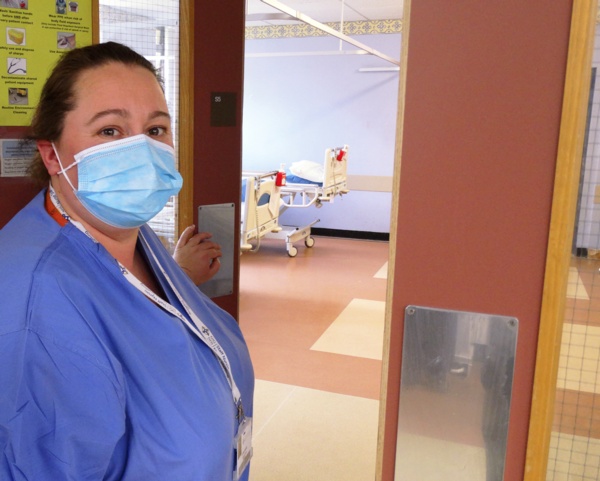 "It's really lovely to watch people walk out."
Thankfully there has been a decline in the number of admissions. What the nurses really don't want to see is an upsurge through people getting complacent around the lockdown rules.
Right: Sister Louise Evans
Matron Clare said nurses had seen people going out and about for non-essential reasons increasingly during the day, and that hit them hard.
"They're working really hard here. Some of them have sent their children away to live with relatives. They haven't seen them for weeks and weeks. That's really tough for them.
"To see that, knowing that that potentially is going to cause a second wave…
"At the moment our numbers have reduced, we have empty beds in this ward today.
"But we know that, as we see people going about more and more outside, those beds are going to be full and we're going to be busy again."
Mel Hall added: "I'd like them to come to the ward to see what the patients and the staff are going through. I think people would want to stay at home if they could see what we are seeing.
"People are becoming complacent and until it's one of their relatives or one of their neighbours, that ends up being nursed in hospital for Covid, then they wouldn't want to bend the rules to suit themselves.
"So my message would be stay at home and stay safe."