Health Minister in primary care check up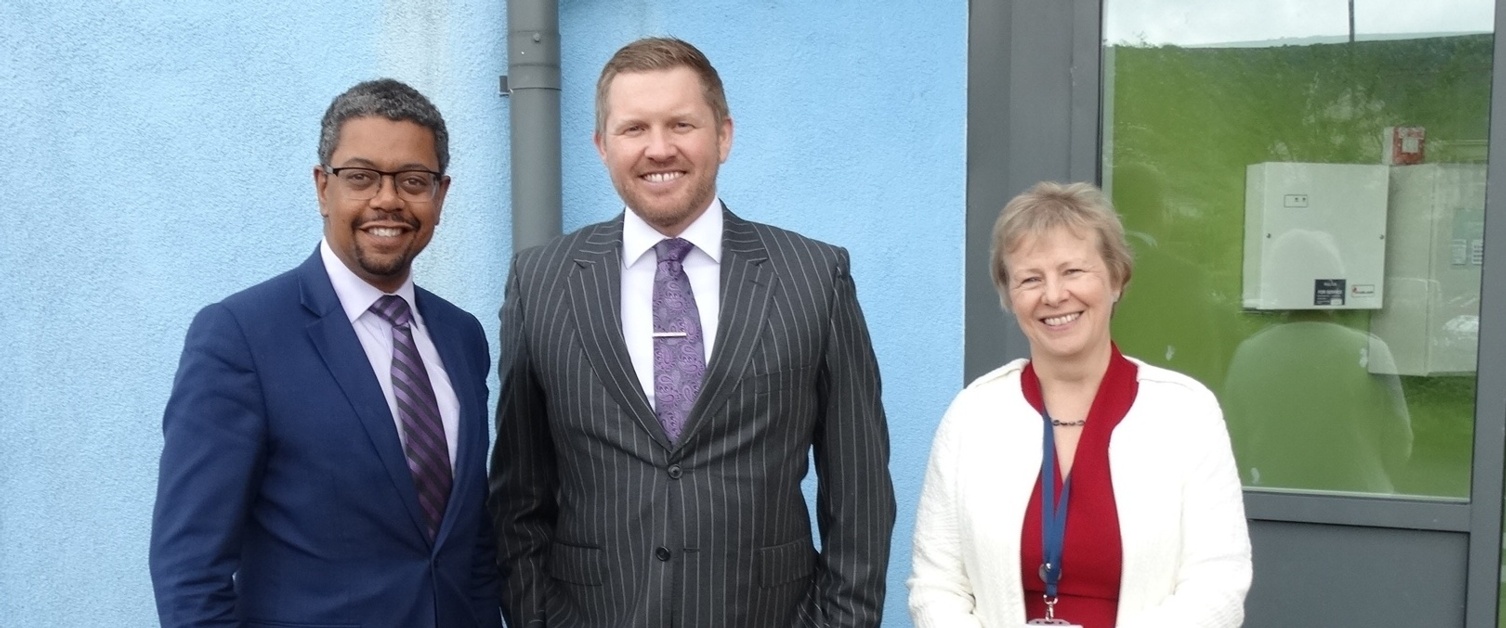 Health Minister Vaughan Gething has paid a visit to the Lower Swansea Valley to see how a blueprint for the future of health and social care in Wales is evolving.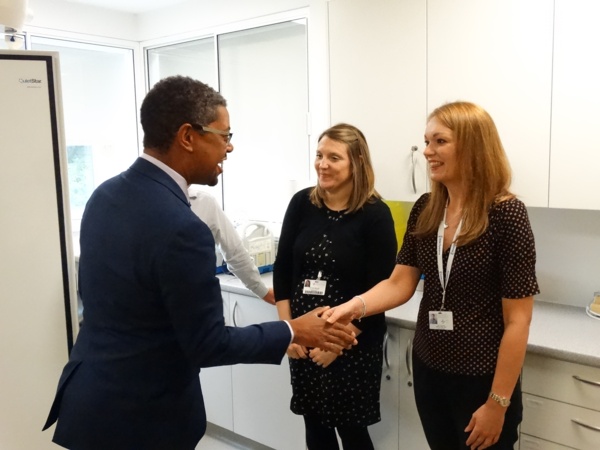 The Cwmtawe Cluster Network - a group of three GP practices and healthcare professionals, including dentists and pharmacists, working together with the voluntary sector and social services partners to improve patient services - was handed £1.7 million last year to develop new models of keeping people fit and well and treating them when they aren't, as set out by the Welsh Government in its A Healthier Wales publication.
Left: Vaughan Gething meets members of the audiology team
Amongst the changes, Cwmtawe Cluster patients will see a new community audiology service, which will mean they no longer have to make the journey to Singleton Hospital, a phlebotomy service, which will again prevent the need to travel to a hospital, and a new community based glaucoma clinic.
There will also be greater support for young carers, improved provision to promote mental health and wellbeing, increased opportunities to lead a more active lifestyle and steps taken to tackle social isolation, amongst other innovations.
The minister paid a visit to the Cwmtawe Medical Group, in Clydach, to meet representatives of many of the different organisations involved in the project and to speak to patients to find out how the cluster is progressing for himself.
Explaining the nature of the visit Sharon Miller, Head of Primary Care at Swansea Bay University Health Board, said: "We were really pleased that the minister asked to visit the Cwmtawe Cluster to check on progress for the transformation, and hopefully we were able to show him that there has been excellent progress over the last three to four months.
"It was really good that the patients he spoke to directly said it was really making a positive change to the services they were able to access and the care they were having."
Mr Gething said: "It was really great to see how the Cwmtawe Cluster has developed since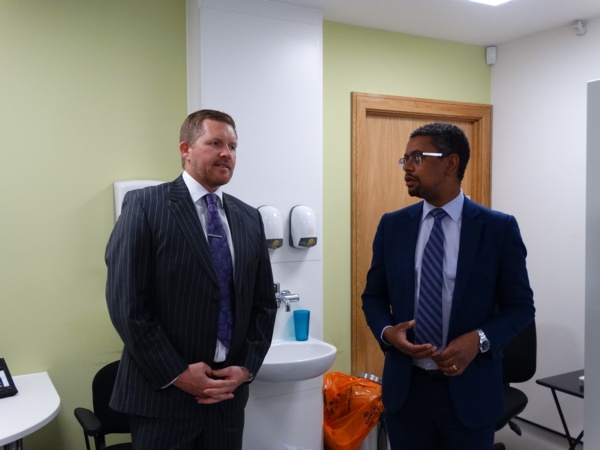 receiving money from the Transformation Fund. To meet the future demand on health and social services in wales, we need to create new ways of working and deliver services closer to home to reduce pressure on hospitals. The Cwmtawe collaboration between the healthcare workforce, patients and carers continues to build on our plans for A Healthier Wales."
Right: Dr Iestyn Davies talks to Mr Gething
Dr Iestyn Davies, the Cwmtawe Cluster Lead, said: "It's very reassuring when a health minister gets to visit the cluster and has a first-hand sample of the services we offer. He seemed to be very impressed by what we currently offer and the momentum we are gaining with other services.
"I'm hoping that over the next 12 months the momentum can be continued and we can get this information out to patients and actually show them what is going on, as a cluster, and the services they can access.
"This is an ongoing process. When we were given the £1.7 million, the project started, and, as you can imagine, it does take time to get things going but I think that we have moved at pace, with the audiology service, the phlebotomy service, the extended medical health teams, we have made good ground in a short period of time."
While admitting that there were still plenty of challenges ahead, Dr Davies praised the work the cluster has done, in so short a period of time, to date
He said: "I think Mr Gething was very impressed with the speed at which we worked. We are all working practitioners and we all have other jobs to do, so to be doing it at such a pace is a testament to how everyone has come together and worked closely to achieve this.
"We need to continue with this momentum over the next 12 months, we need to get the services that we have proposed in place, so that we can evaluate and see if they are of benefit to the community."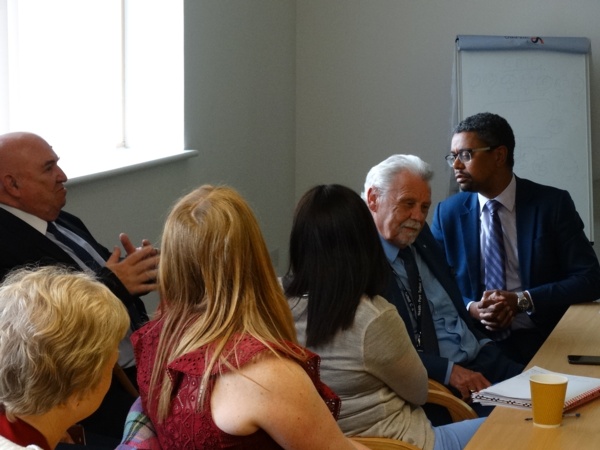 Hilary Dover, Director of Primary and Community Services Swansea Bay University Health Board SBUHB, said: "I think the minister was pleased with what the cluster has achieved so far with use of the transformation funding from Welsh Government.
"He spoke to patients first-hand and was able to hear how they felt services have changed for the better, not just for them, but their families as well."
Ms Dover put the progress down to good local leadership saying: "It certainly helped that the cluster leadership has a clinical focus but also a wider focus which has enabled it to engage the third sector, the local authority and wider health services as well.
"It has been based upon what the patients need - listening and going back to the patients to understand what is needed."
Mr Gething talks to a patient
She added that the good work being carried out in the Lower Swansea Valley would benefit the rest of Wales.
She said: "What we have done now, is to start to expand. Neath cluster started in April, Llwchwr and Upper valleys are starting in July, and another four clusters after that, but they will all be learning from the work of the Cwmtawe Cluster, which is very much pioneering for Wales.
"The other clusters can only benefit from that, not just the eight in the Swansea Bay University Health Board area, but the 64 across the whole of Wales."