Health board training staff thank stadium for pitching in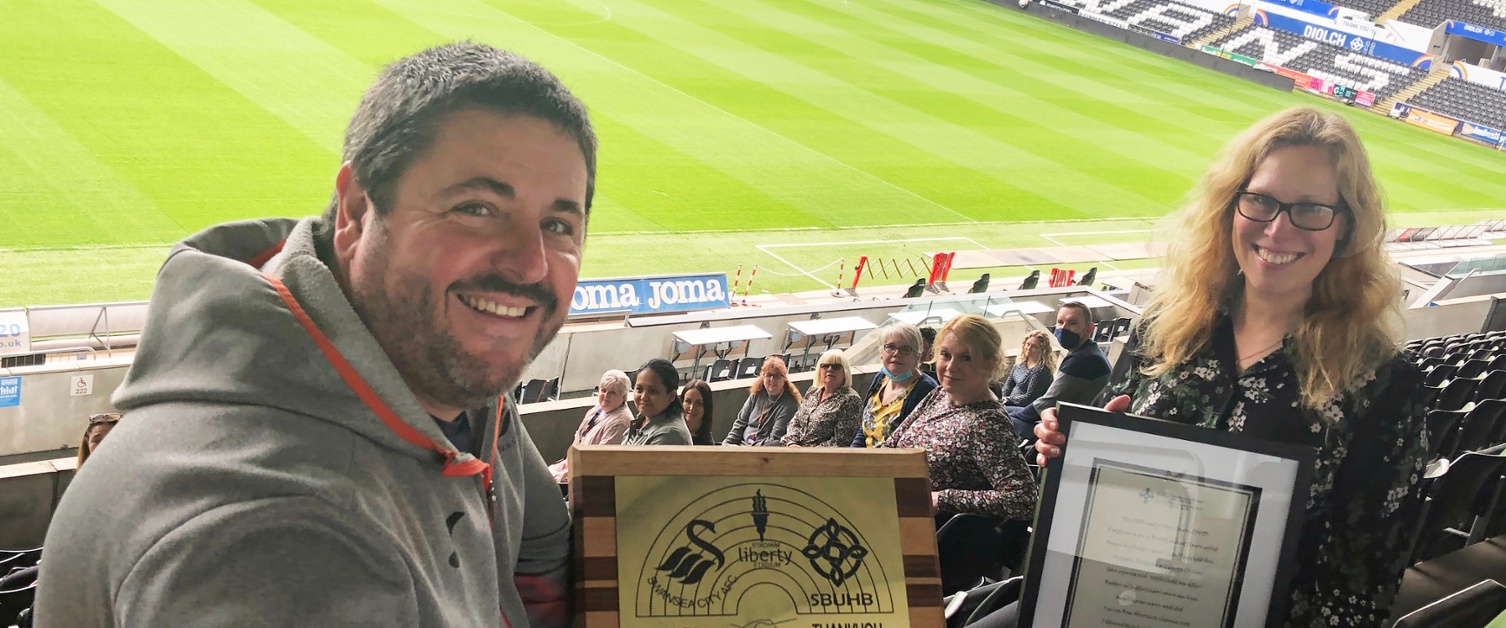 Health board staff have thanked the Liberty Stadium management for pitching in to provide essential nurse training facilities during the pandemic.
The Nurse Education team in the health board needed larger than usual training facilities to accommodate large numbers of staff who required induction training and refresher training whilst also maintaining social distancing.
The stadium's management were approached and they didn't hesitate to offer their conference rooms, showing tremendous team spirit and commitment to their community.
Above: Gordon David, Liberty Stadium's Building Facilities Manager, and Miranda Williams.
Miranda Williams, Lead Nurse Education said: "When the pandemic started, to comply with social distancing rules, we needed to reduce footfall at our hospitals.
"Myself and my team had to look for an external facility where we could provide essential induction and update training to registered and student nurses, health care support workers and support staff as well as provide wellbeing support to our existing staff.
"We needed training facilities that would accommodate up to 50 people at a time who were also having to keep two metres apart – so we needed bigger than average room sizes.
"We approached the Liberty Stadium and they immediately agreed to help us out and have provided their facilities free of charge.
"Due to the volume of staff that were required to attend we have been using up to seven of their conference rooms and we moved in lock, stock and barrel."
The stadium facilities have proven to be so successful that the arrangement has lasted longer than first anticipated.
Miranda said they initially thought they would be there for just six weeks but eventually ended up staying for 14 months.
Even after the football restarted, she added, the stadium staff still accommodated them.
"They have been there for us every step of the way, providing parking, all the cleaning and introducing measures and procedures to ensure that all our staff were kept safe," Miranda said.
"The Liberty staff were always very polite and friendly and became part of our team.
"Because of their help, we have been able to train more than 4,500 staff from all disciplines but mainly nursing staff who are now out there providing safe, high quality care for patients."
Miranda said that, without the stadium's help, it would have been very difficult for them to have found the facilities to accommodate the volume of people who needed to get through training.
She thanked Matthew Daniel, Operations Manager, Gordon David, Building Facilities Manager, and their team.
"They really stepped up to the mark in the true spirit of co-operation to do their bit for their community," Miranda added.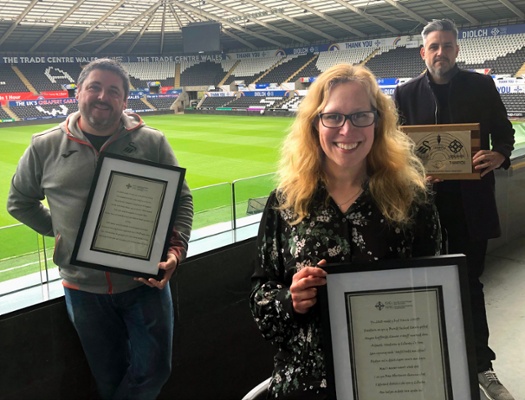 "We and the public owe them a huge debt of gratitude and we couldn't have done it without them."
Left: Gordon David, Liberty Stadium; Miranda Williams, SBUHB; Matthew Daniel, Liberty Stadium.
Matthew Daniel, Liberty Stadium's Operations Manager said: "The nurse training team have played a key role in what has been a very difficult 15 months for everyone.
"The effects of the coronavirus will never be underestimated, and the community of Swansea has rallied throughout the pandemic.
"The Liberty Stadium has been a safe place for more than 4,500 nurses to train since the first lockdown began in March 2020 and they have all gone on to help those in need.
"Everyone here would like to thank them for their professionalism and their efforts during a very testing time."