Green zone created outside Morriston Hospital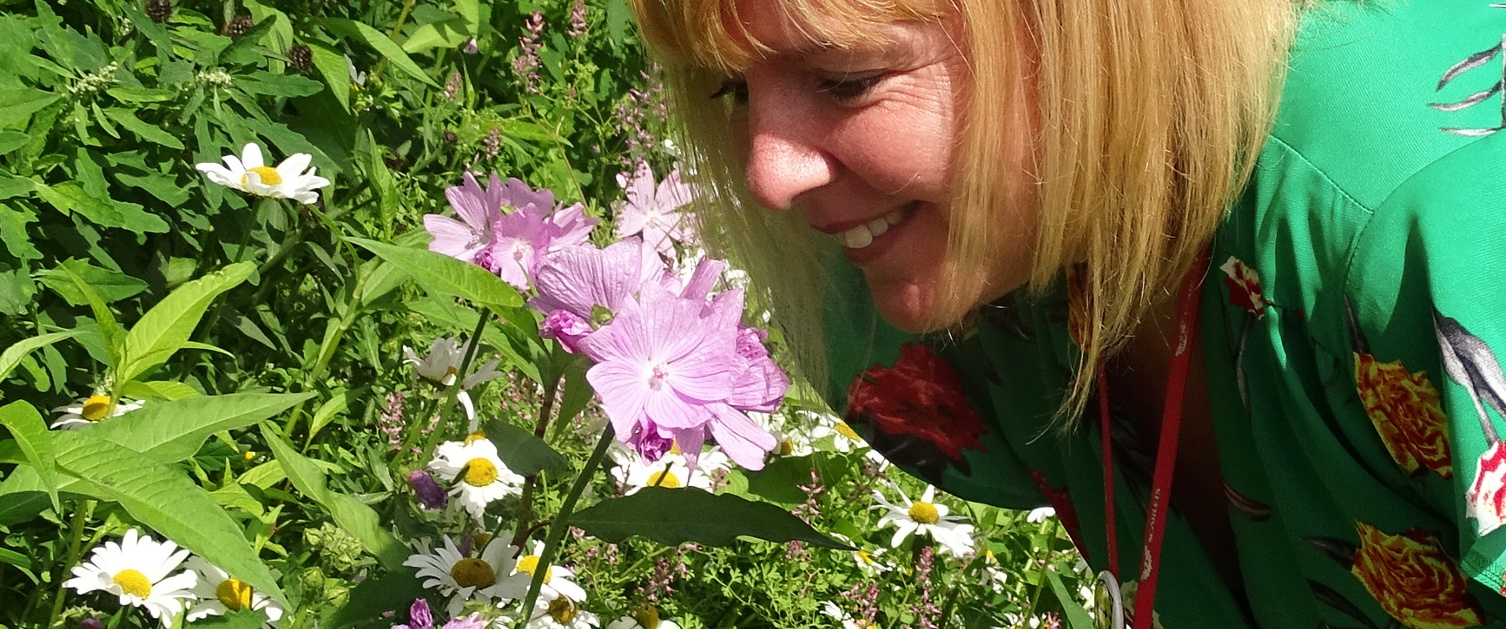 A green oasis giving staff, patients and visitors a chance to escape to the country has been unveiled in the grounds of Morriston Hospital.
What was previously an unremarkable grass verge has been transformed into an amazing space with a grass-roofed roundhouse at its heart.
It opens on to a wildflower-lined, open-air corridor with seating where people can enjoy some precious moments of tranquillity.
Main photo above Morriston Hospital Service Director Deb Lewis enjoys the scent of some of the newly-planted wild flowers
Similar greening initiatives are taking place across Swansea Bay hospitals and dozens of other health board sites at a cost of £1.28 million – the majority of it funded by the Welsh Government.
It's all thanks to Biophilic Wales, a collaboration headed by the National Botanic Garden of Wales, with Swansea Bay University Health Board, Swansea University and Natural Resources Wales.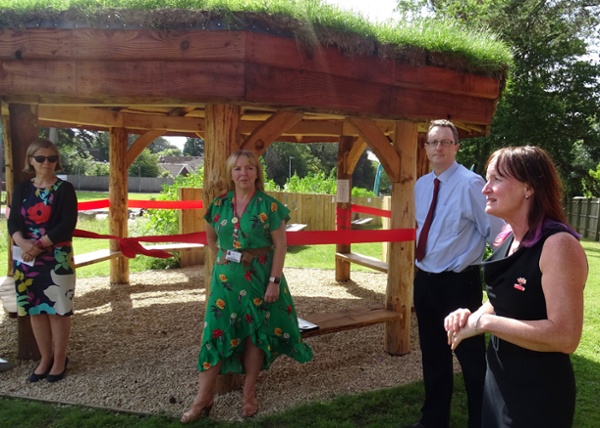 Biophilic Wales has three main themes; Grasslands for Life, Plants for People, and Inspiring Spaces.
Swansea Bay's involvement has been with Inspiring Spaces, which uses sites owned by the health board as focal points for green projects which have been co-developed with the local community.
Officially opening the new roundhouse: l-r Swansea Bay UHB Chair Emma Woollett, Deb Lewis, National Botanic Garden of Wales Director Huw Francis and Biophilic Wales Project Manager Kathryn Thomas
Des Keighan, the health board's Assistant Director of Operations, Estates, said there were spaces available that had not been used effectively.
"During the pandemic staff didn't want to go to the break-out spaces provided because of the restrictions," he said.
"Having somewhere in the grounds were they can sit and reflect away from the hurly-burly of the hospital is a big improvement for them but also gives patients somewhere to sit and reflect too."
The roundhouse is a large gazebo made of solid wood with a grass roof and benches where people can sit if it's raining.
It's located to the left of the road leading up from the hospital lower entrance to the multi-storey car park.
There is also a walkway heading downhill, bordered on each side by railway sleepers with benches in.
"People can sit inside there and it almost forms a tunnel effect with either side having soil banks that have been planted with wild flowers," said Mr Keighan.
"When you're sat in the seat, you're screened from the hospital and the noise of the road.
"It's not fully grown yet and there will be hedges along the top of the sleepers as well to protect people. So it's a space away from the hospital that allows you to feel a bit closer to nature."
Morriston Hospital Service Director Deb Lewis said it had been difficult a year ago to envisage what it would look like.
The end result, she said, was absolutely phenomenal.
"Those of us who have worked in Morriston over the last 18 months know the challenges we faced providing staff and patients with break-out areas," Mrs Lewis added.
"Social distancing has been hugely challenging in the areas that we did have.
"Providing a space like this is fantastic. I know it will be really appreciated by staff and patients."
Biophilic Wales is funded by the Welsh Government, which awarded a grant of just under £1 million for the Swansea Bay project.
This was match-funded by staff time donated by the health board, the university and Natural Resources Wales, as well as the time donated by a small army of local volunteers who undertook the work.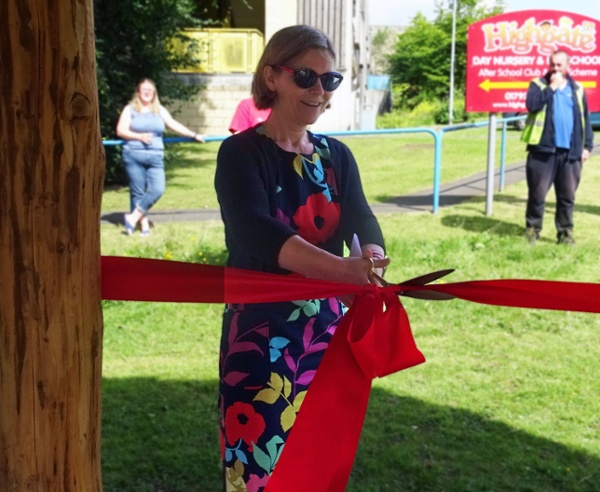 They, along with Swansea Bay UHB's gardening and environment teams, were thanked during the official launch of the green space there.
Health Board Chair, Emma Woollett (left) praised them for the imaginative way they had brought the project – the first of its kind in Wales – to life.
"Supporting well-being is absolutely fundamental to our staff and the patients that visit. It is also a positive experience for those who are involved in projects like this across our sites.
"This is all really important for us. It's such an exciting project so thank you all very much indeed."
The project, led by Dr Natasha de Vere, Head of Science at the National Botanic Garden of Wales, is serving as a pilot study that will help develop models that can be applied throughout Wales.
National Botanic Garden of Wales Director Huw Francis said it had been a real privilege to work on it.
"The importance to health and well-being of green spaces is increasingly recognised," he said.
"The development of this area and the other green spaces the project has worked on will hopefully provide valuable places for respite, rehabilitation and recuperation for the staff of the NHS, the patients they care for and the family and friends who visit.
"We sincerely hope the green spaces that have been created will enhance the health and well-being of everyone who can make use of them, and support NHS staff as they undertake their essential and much-appreciated work."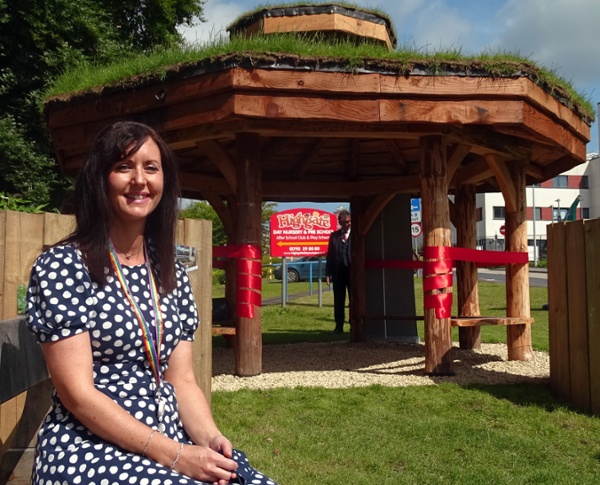 Green spaces large and small are being developed on a total of 40 health board sites across Swansea and Neath Port Talbot.
Right: Swansea Bay Staff Experience and Organisational Development Manager Julie Lloyd was among the guests at the launch
Biophilic Wales Project Manager Kathryn Thomas said every day she and the volunteers went out was an absolute pleasure.
"What we're doing is just reinforcing that people are happier and healthier when they're outside and working with nature. It's been a privilege and a pleasure to create these sites."
The health board is already developing a full-scale solar farm to supply almost a quarter of Morriston Hospital's power, cutting the electricity bill by around £500,000 a year and significantly reducing carbon emissions.
This is part of a £13.5 million investment in energy-saving and carbon-reduction measures across the health board estate.
Mr Keighan said: "It's all part of the Future Generations Act, looking at how health interacts with the wider community and trying to make the space that we do have more useful.
"Where the roundhouse is located was just a green area that people drove past and didn't think anything of.
"Now, it's a space where staff and patients can retreat to and just have that little bit of stillness in what can be a very busy life."
*Biophilic Wales will host a Bioblitz, a science race against the clock to record all the living things that be seen nearby, at the Morriston roundhouse on Saturday 24th July and at Gorseinon Hospital on Tuesday 27th July, both from 10am-3pm. They offer a great day for all the family and will also include a simple wildlife bingo game designed just for little ones.