First Minister hails Swansea Bay's Apprentice Academy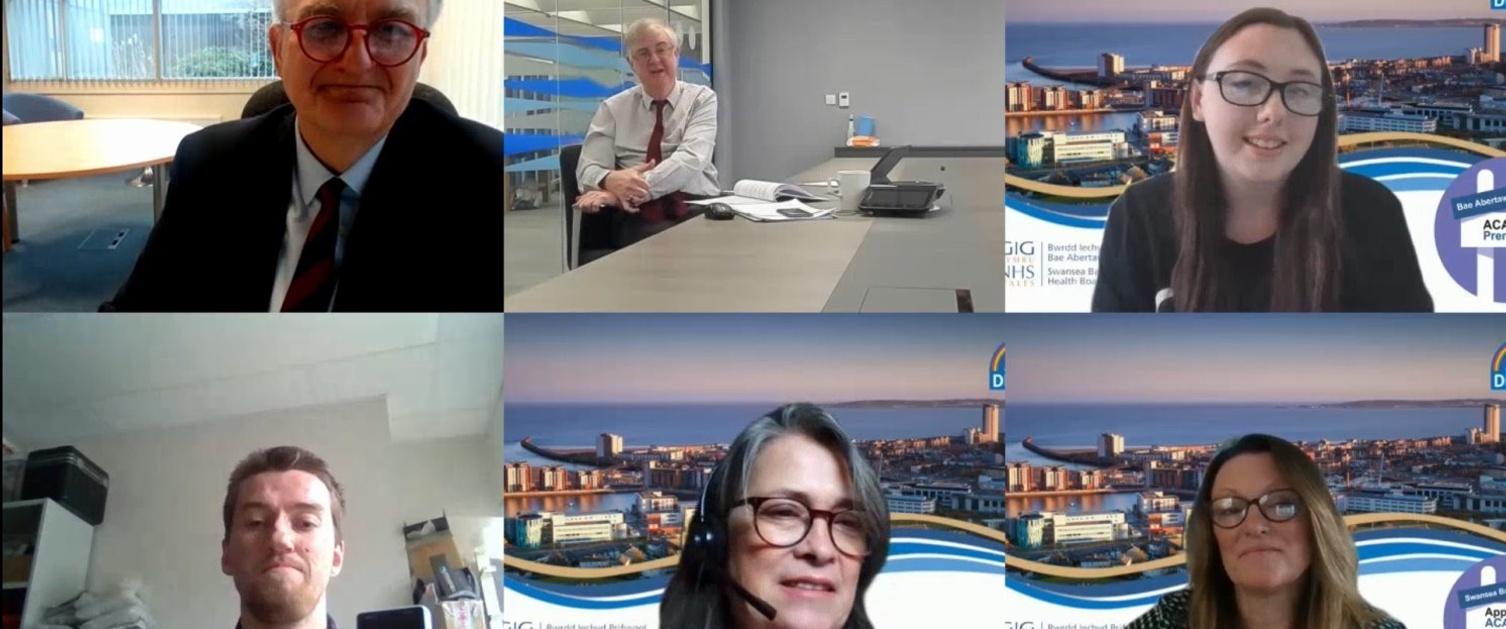 Left to right top row: Mark Hackett (CEO SBUHB), Mark Drakeford (First Minister) and Seren Jenkins (apprentice Welsh translator) Bottom row: Jamie Cameron (higher apprentice), - Kathryn Jones (Executive Director of Workforce and Organisational Development) and - Ruth Gates (Apprentice Academy Manager)
The First Minister has praised the role of Swansea Bay's Apprentice Academy in helping ensure the NHS in Wales is in safe hands heading into the future.
Mark Drakeford was invited to join a virtual meeting alongside Swansea Bay University Health Board CEO, Mark Hackett, and several apprentices currently learning new skills within the health board, as part of National Apprenticeship Week.
Mr Drakeford chatted to apprentices in a range of roles and was told of their progress.
Amongst those to share their stories was 17-year-old business admin apprentice, Millie Jones, who has progressed into a band 3 position within radiology just 7 months into her apprenticeship.
Millie, who was congratulated by Mr Drakeford on having her first promotion so quickly, said: "I'm really enjoying the apprenticeship – I'm working as well as learning. I'm gaining new skills and experience."
Apprentice Welsh language translator, 21-year-old Seren Jenkins, explained how she is the first to do her apprenticeship framework in Wales and how she really enjoys putting together materials to help others use the Welsh language more in daily life.
She said: "An apprenticeship has been really, really good for me. I've been able to learn as I go. I've had really great support and have been offered a permanent role when I finish."
Higher apprentice Jamie Cameron, aged 22, who is working towards Level 4 in electronic engineering, said: "Being an apprentice allows someone to build their principles, build their foundations and simple things such as punctuality, conscientiousness and general communication – you end up with a lot to offer."
The First Minister also got to hear about SBUHB's In-Work Support Service from former level 3 business administration apprentice, Kayleigh Young, aged 34, who is now employed by the health board as an administrative assistant.
She said: "I joined the team in April 2018 through an apprenticeship, I had the opportunity to gain a level 3 in business administration which is a requirement for many admin roles now.
"Being part of a multidisciplinary team of clinicians, physios, occupational therapists and managers meant that I got to do a variety of tasks.
"Without doing the apprenticeship it would be unlikely I'd be working for the NHS today. Thank you to the In-Work Support Team and to the Apprentice Academy."
Speaking during the visit, Mr Drakeford said: "The importance of the apprenticeship program here in Wales isn't just for this year, it's for many years to come.
"Offering opportunities to people, whether they are new to work or whether they are in work already and they want to develop their skills, and the contribution they can make, will be a really central part of how we rebuild fairer and better the other side of the pandemic.
"There are so many different jobs in the NHS that people never think about. There are lots and lots of opportunities to get their foot on the ladder and we will need these people in the future to have the NHS that we rely on."
SBUHB CEO, Mark Hackett, said: "We are looking as part of our apprenticeships to widen from the traditional base, to look at digital clinical based apprenticeships and looking at those much more around newly redesigned roles.
"We have more than 300 professions/jobs which are potentially available for apprenticeships and it's fantastic."
SBUHB's Apprentice Academy – the first of its kind in Wales - opened its doors in 2016 and has since recruited more than 215 apprentices. It was shortlisted for Apprenticeship Awards Cymru 2020 for Large Employer of the Year, a category which it won in 2019.
Frameworks offered include clinical roles such as healthcare support workers as well as non-clinical roles, ranging from business administration to IT.
Apprenticeships are also available for existing staff to upskill, with programmes such as leadership and management and digital courses offered at no additional cost to them.
Kathryn Jones, Executive Director of Workforce and Organisational Development, said: "Being the first Apprentice Academy in the NHS in Wales is extremely important to us and we are all as an organisation really proud of the Apprenticeship Academy.
"We recognise the importance of developing new and existing staff through apprenticeship qualifications."
If you think an apprenticeship could be the right fit for you, or if you'd like any further info, please contact SBUHB Apprentice Academy at SBU.apprenticeships@wales.nhs.uk