Filipino nurses celebrate their 20th anniversary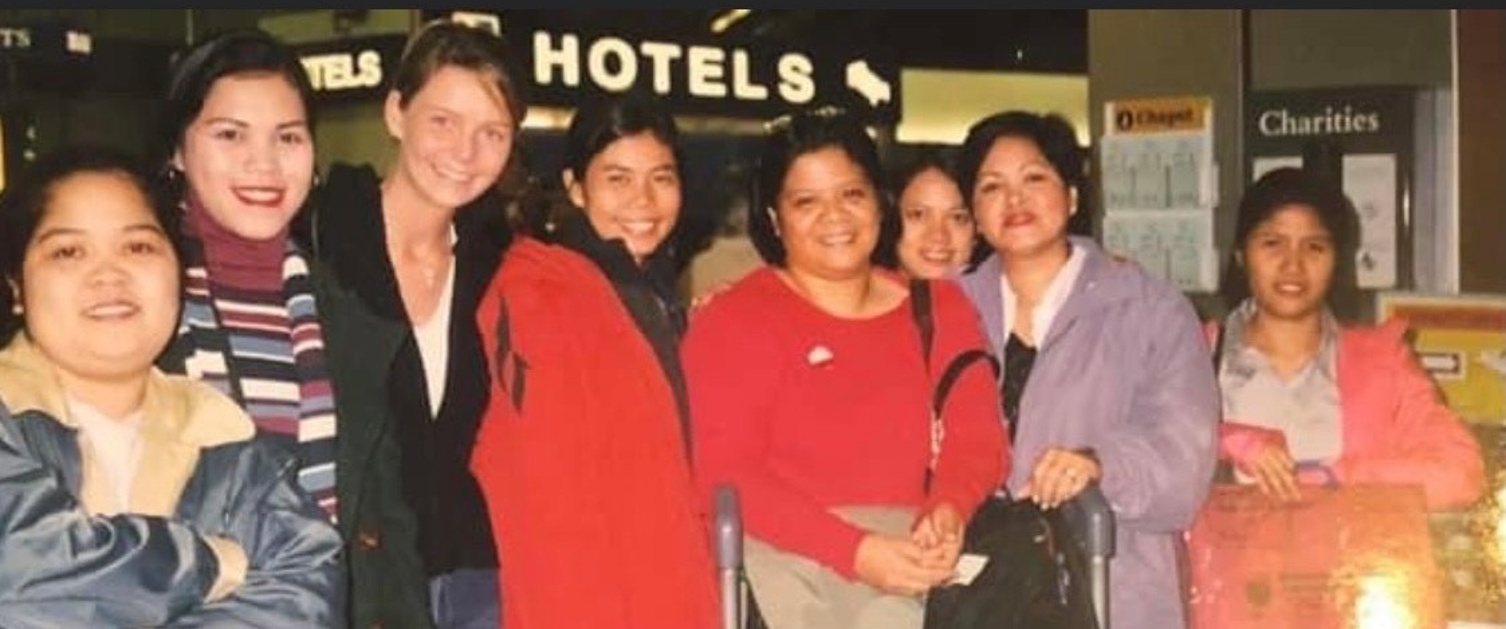 Twenty years ago they arrived in a very unfamiliar and cold Wales following a 16-hour journey from their home country.
Some, like nurse Felma Arriola, left close family behind as they took their first step towards a new life in Swansea.
Recruited via an agency in the Philippines Felma (pictured above in 2001 with the luggage trolley) now 53 and working on ward 9 in Singleton Hospital, said: "It was very strange when we first arrived and very cold.
"All the trees were bare without leaves and I had only seen that in horror movies before.
"The journey was 16 hours long, with a lay over in Hong Kong.
"I was married with two children and had to leave them. On arrival I stayed in staff accommodation, but my husband and children followed eight months later."
She added: "I came here to improve the quality of life for my family, just like everyone else.
"My only regret is that we can't see our family back home as often as we would like. But as long as I have my family here, I don't mind."
Felma said there were 20 in the group which came over in November 2001 and that they had followed an earlier group who arrived in January that year.
Many have stayed in the area while a couple have moved on to other parts of the UK and America.
To mark the 20th anniversary, a few members of the group have written about what brought them here and how they feel two decades later.
Mervyn Pala, staff nurse Morriston Hospital ITU
"Personal growth. Gained a lot of knowledge and excellent experiences especially in my clinical expertise in caring with patients, dealing with relatives and enhanced my contribution in decision making when working with multi-cultural individuals.
"Building a family not only by blood, but through real friendship. For me this is my home from home."
Romina Boniol, staff nurse ward 6 Singleton Hospital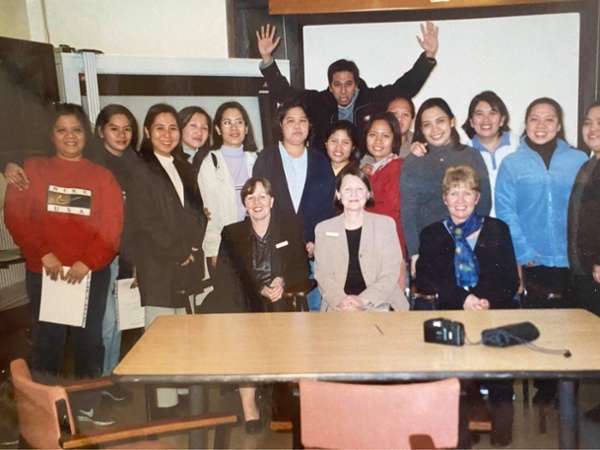 "Working abroad is one of the best decisions I have made. Being in another country allows me to meet new people, friends, experience new culture, broaden my professional knowledge and build my family.
"But living thousands of miles away from home is never easy, I was terrified of moving away from family, friends and starting from scratch in a culture and country that was completely unfamiliar to me. Also, the loneliness and homesickness."
Melfe Terora, staff nurse cardiac ITU Morriston Hospital
"Nurture family in a home away from home. Gain new family and friends, develop one's personality and professionalism in a whole new environment. All together a very rewarding experience."
Pictured right: The Filipino nurses following their arrival in 2001.
Meryan Casica, formerly of Singleton Hospital and now a nurse on the neurology ward at Gloucester Royal Hospital
"It feels just like yesterday since I moved to UK, whereas it's been 20 amazing years.
"I initially worked in Swansea NHS Trust for nine years, then moved to Gloucestershire, where I am currently working as a neurology nurse.
"My early years as a nurse in Singleton Hospital has not only moulded me to be a good and caring nurse, but I developed to be a nurse advocate for patients in my clinical practice, throughout every stage of the care continuum.
"I must acknowledge that I have come a long way as a nurse professional.
"Cheers to 20 years anniversary serving in the NHS."
The video below, which shows staff celebrating the milestone at Singleton Hospital on Tuesday morning, may not display on some browsers. If you are unable to view the video, you can find a version of it in the attachments.