Fight against Hepatitis C mentioned in despatches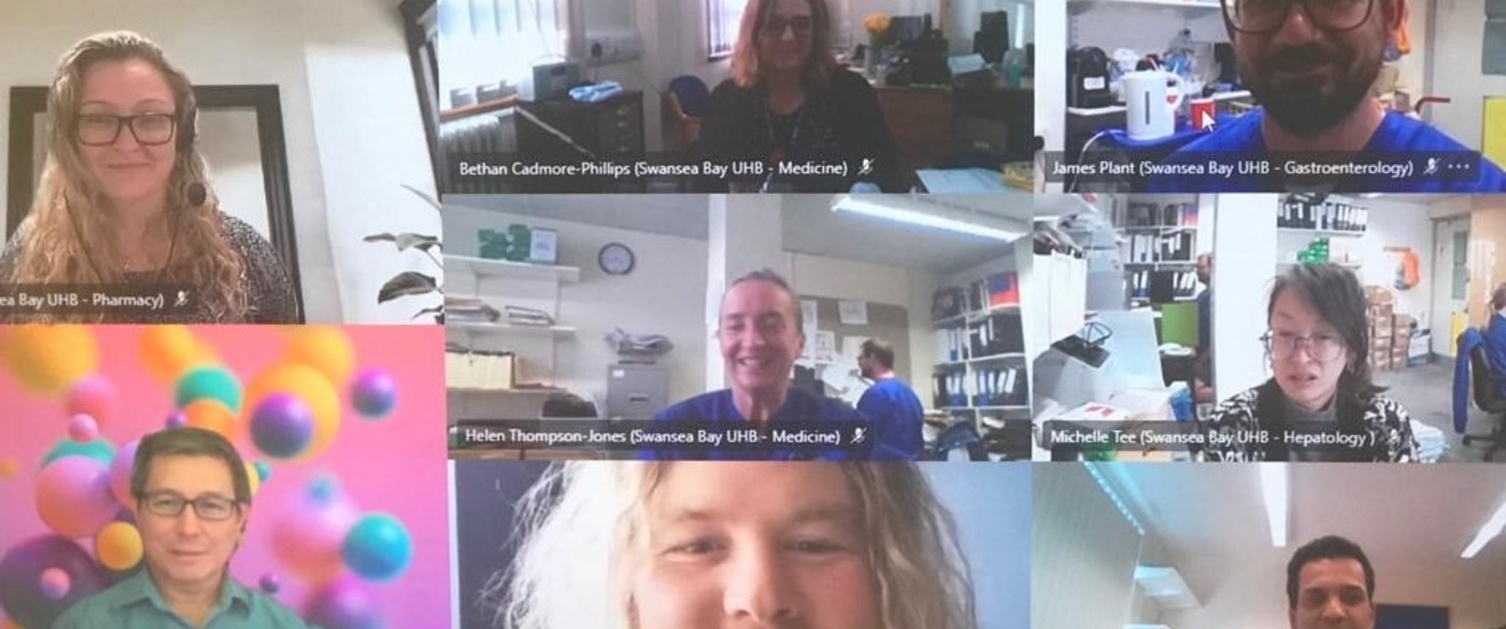 Swansea Bay's BBV Team (Hepatology and Blood Borne Virus Team) has shared a win in the British Medical Journal Awards for its work on a Hepatitis C Elimination project.
The team has been working alongside Public Health Wales and health boards across Wales to vastly increase the number of patients with the liver infection being treated, resulting in a remarkable cure rate of 95% - at least equivalent to other major international centres.
The work has been now been recognised by the British Medical Journal and has been named winners of the Clinical Leadership category in its 2020 awards.
Nationally collated figures demonstrate a decline in Hepatitis C related liver transplantation and related deaths - prior to the project (2011-2013) 604 patients were treated and 309 cured but since the intervention (2015-2019) 2,809 patients have been treated and circa 2,654 cured.
The work has resulted in over £29million worth of savings to NHS Wales since October 2015.
The project has also enabled the transplantation of hepatitis C infected organs to non-infected individuals with excellent results.
Cure of Hepatitis C reduces risk of liver decompensation and need for expensive treatments and interventions including liver transplant, which is a scarce resource due to the number of donors, and prevents the onward transmission of the virus.
In Swansea Bay, the team has worked tremendously hard over the years setting up community and prison clinics to treat hard to reach patients, enabling then to be the only team in Wales to achieve treatment targets year on year since 2015.
In what is seen as a first in the UK Swansea Bay's BBV Team has managed to eliminate hepatitis C from HMP Swansea.
Dr Chin Lye Ch'ng, who is a Consultant on the team, said: "It was with great emotion to learn about the award and the recognition of the hard work of all the staff past and present. This would not be possible without the successive health ministers' support, our National Lead Dr Brendan Healy's perseverance, Public Health Wales, and the managerial and clinical leadership shown across all Health Boards in Wales.
"In Swansea Bay we have excellent teams - primary care, community care, sexual health, homeless health and prison staff - in screening and identifying patients, clinical pharmacists and CNSs in managing the patients and the administrative staff that help us in providing a streamlined service."
Helen Thompson-Jones, a Liver Disease Clinical Nurse Specialist (CNS) based in Singleton Hospital, said: "It has a been a privilege to be a part of this award winning team in Wales, we are proud to have facilitated the first UK instance of HCV elimination in a Remand Prison. These achievements wouldn't be possible without the dedication and hard work of all members of each team throughout Wales."
The staff involved in the projects are Dr Chin Lye Ch'ng (Consultant), Dr Jagadish Nagaraj (Consultant), Helen Thompson Jones (CNS), James Plant (CNS), Hayley Edwards (CNS), Lisa Hughes (CNS), Jan Keauffling (Homeless Healthcare Nurse), Sally Kneath (Clinical Pharmacist), Paul John (Clinical Pharmacist), Richard Evans (Clinical Pharmacist), Michelle Tee (Admin Support) and Bethan Cadmore-Phillips (Support Manager).
Each year, more than 350 teams enter The BMJ Awards and compete to get their work recognised in front of their peers, their organisation and the wider healthcare community.