Fabian Way Covid testing unit relocated to Margam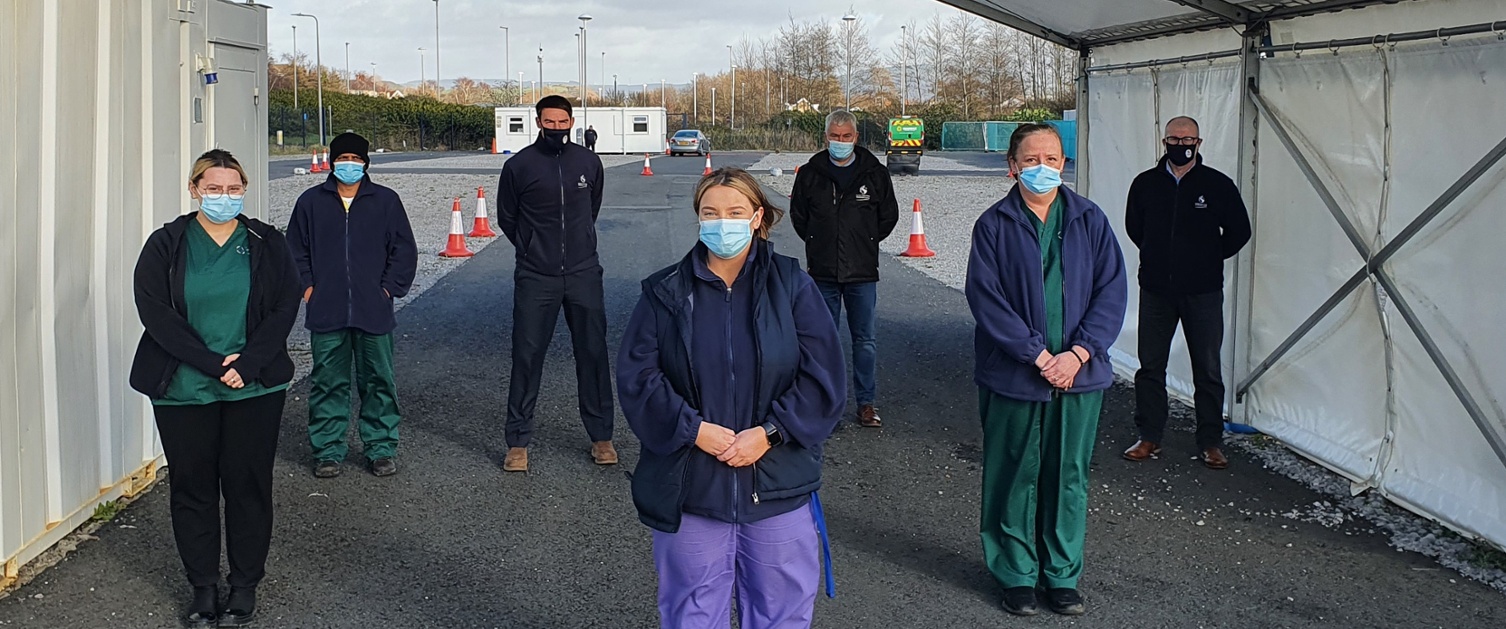 The health board's Fabian Way drive-through Covid testing unit has made the short journey to a new home in Port Talbot.
Above: Members of Swansea Bay's testing team and representatives from Swansea Council pictured on the Fabian Way site before its closure.
The unit carried out around 94,000 tests, since being set up last July, but has now relocated to Longlands Lane, in Margam, to allow the Fabian Way Park and Ride site to return to full use as Covid restrictions are eased.
Simone Manning, Swansea Bay's Operational Lead of Covid Testing, said: "We have taken somewhere in the region of 94,000 drive-through tests here at Fabian Way since last year.
"We would like to say a very big thank you to Swansea Council, they have been absolutely fantastic in supporting and accommodating us."
The new Margam site should be familiar to many as it hosted a Covid testing centre earlier in the pandemic.
Simone said: "The site has previously been used at the beginning of the pandemic for the purpose of testing and continues to be of excellent value to the public in the Swansea Bay and Neath Port Talbot areas, including facilitating school nursing vaccinations during recent months."
As with previous health board testing venues it is essential that members of the public book a test in advance and do not just turn up.
"Only pre-booked appointments will be accepted, we will not be able to accommodate anyone without an appointment. If they do they will be asked to book and come back when they have an appointment."
Although it was a relatively short stay, the Fabian Way site has played an important part in shaping the health board's Covid response programme.
Simone said: "The effects of the pandemic can never be underestimated, and the community of Swansea Bay has rallied throughout. Fabian Way has also been a safe place for health care, administrative hospital staff to train and develop their skills and they have all gone on to help those in need.
"All the staff have played a key role and we would like to thank them for their professionalism, true resilience and their efforts during a very challenging time."
The Leader of Neath Port Talbot Council, Councillor Ted Latham, said that they were proud to continue to collaborate with the health board having previously provided The Orangery in Margam Park for use as a Covid mass vaccination centre.
He said: "We were proud of the role Margam Orangery previously played in helping deliver 150,000 vaccines and I'd like to thank the professionalism, dedication and hard work of those involved in that project.
"Now it is no longer being used for vaccinations we are looking forward to the Orangery receiving visitors and hosting events once again. We are happy to be working closely with the health board and Swansea Council to help facilitate Covid testing across the Swansea Bay region with the reopening of the testing centre at Longlands Lane in Margam."
The Leader of Swansea Council, Rob Stewart, said there had been a great partnership between both councils and the health board throughout the pandemic to keep people in the Swansea Bay area safe.

He added: "I'm proud of the work we've been done together including establishing the drive-through testing centre at the park and ride site at Fabian Way.

"It has clearly been a success and has played an important role in keeping people in the region safe and helping to protect the NHS.

"Other testing facilities will continue in Swansea and although cases are falling coronavirus has not gone away."
The drive-through testing unit is not a drop in unit and testing is by appointment only, anyone without a booking cannot be accommodated.
To book an appointment call the Swansea Bay booking line on 01639 862757 between 9am and 8pm or visit www.gov.co.uk
Please note face coverings are required at all times.
You can go for a free Coronavirus test if you have a wider range of symptoms. As well as the three classic signs: fever, a new continuous cough or a loss/change of taste and smell; people are now able to get a test if they have other symptoms too.
These are:
•Flu-like symptoms including any or all of: myalgia (muscle ache or pain); excessive tiredness; persistent headache; runny nose or blocked nose; persistent sneezing; sore throat and/or hoarseness, shortness of breath or wheezing;
•Generally feeling unwell and a history of being in contact with a known COVID-19 case
•Any new or change in symptoms following a previous negative test
•Any symptom which is new, persistent and/or unusual for them
Pic caption: From Left to right Ebony Love (health care worker), Sidu lngry (health care worker), Stuart Lloyd (operational site manager), Tanisha James (team leader), Gareth Rees (surveyor), Katherine Matthews (health care support worker), Ashley Taylor (contracts manager)