Essential items appeal declared a 'phenomenal' success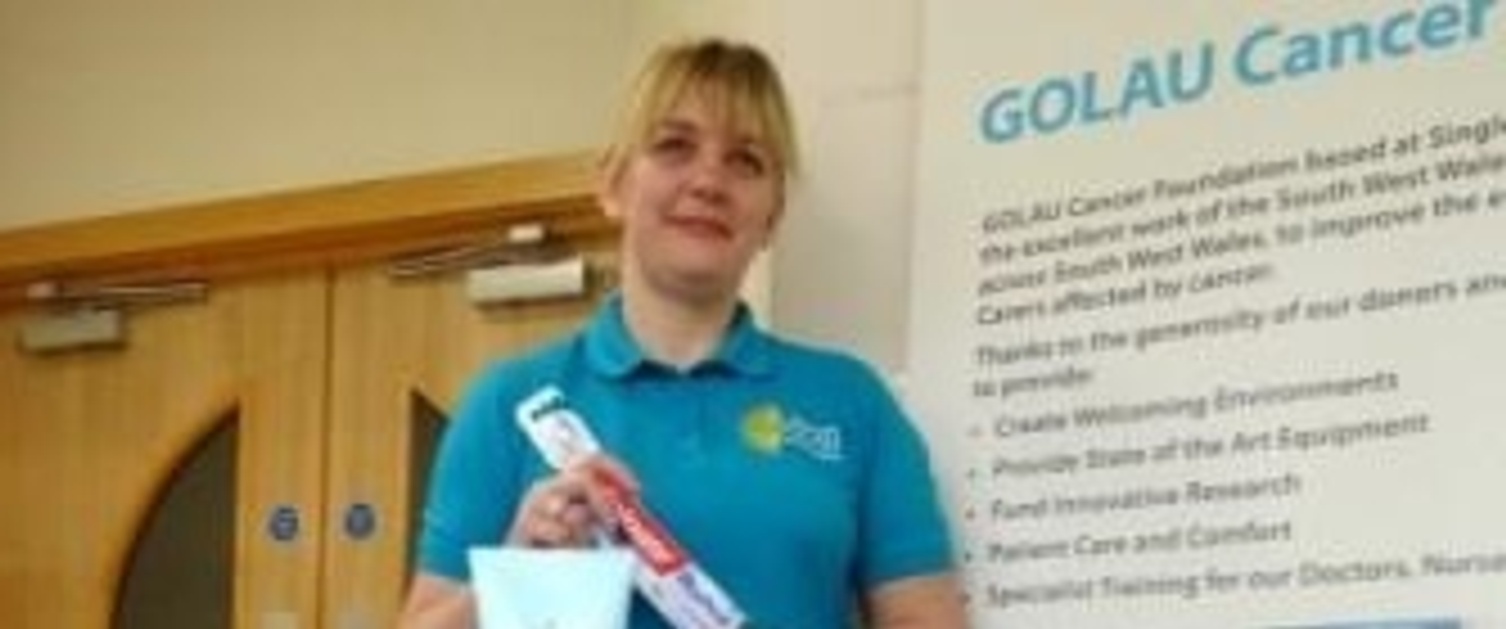 Wednesday, 20 February 2019
Organisers behind an appeal to help people with cancer, who are admitted to hospital at short notice and have no families living close by for support, have been overwhelmed by the public's response.
The essential items appeal was launched at the end of January by GOLAU Cancer Foundation, which supports the South West Wales Cancer Centre at Singleton Hospital, and asked for items such as pyjamas, toothbrushes and toothpaste to be donated.
Radiographer, Sana Arif, came up with the idea for an appeal after seeing patients left in the uncomfortable situation of being admitted to hospital following an outpatient appointment and not having had time to plan ahead and bring essentials with them.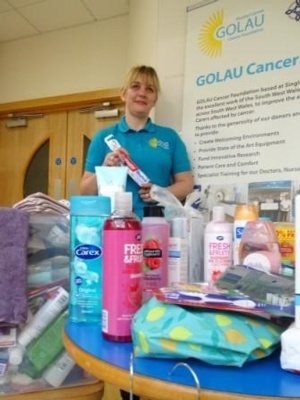 Left: Michelle Barrett, fundraising coordinator
The response to the appeal was instantaneous and a phenomenal success with GOLAU being inundated with offers of help to the extent that the appeal for items is now closed (but they have will still accept items already donated but not yet delivered) and those already collected are being made available to patients in need on other wards.
Those still wishing to help are being asked to make a donation to GOLAU Cancer Foundation's fundraising page instead.
GOLAU Fund Manager, Sian Morgan, was keen to thank everyone involved.
She said: "The response has been excellent, we have been inundated with items and unfortunately we can't take any more because we just don't have enough storage space but everything we were given will be utilised.
"We didn't expect it to be as successful as it has been, we are really grateful, we have been inundated."
It wasn't just physical donations that came in with some kind members of the public donating money towards the cause.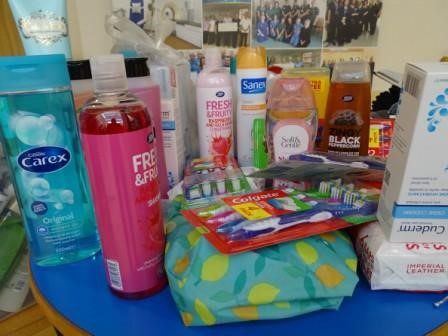 Sian said: "One kind family member donated £1,000, their relative had been a patient here and they were waiting for the right opportunity to donate that money and they felt it was the right time. We will use it as and when it's needed over the next couple of months or so."
Sian added: "If people want to donate money to GOLAU they can do so through our JustGiving page or by coming to the hospital to visit us.
"All the money we raise enhances the services of the South West Wales Cancer Centre, such as ward 12, chemotherapy, radiotherapy and the hostel where people from Carmarthenshire Pembrokeshire and Ceredigion stay if they are having treatment."
Explaining how the appeal developed Sian said: "One of our radiographers, Sana Arif, noticed that people were getting admitted and they lived so far away families didn't have the opportunity to go home and get things and sometimes they didn't have family, so we just wanted a supply of things to give to those who were just taken in unexpectedly to make the experience just a little bit easier."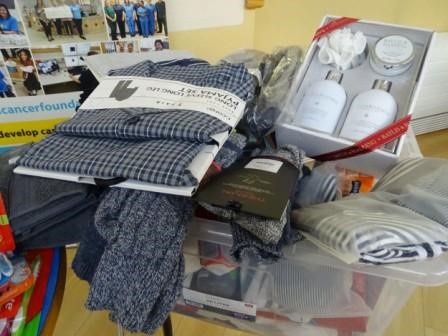 Michelle Barrett, fundraising coordinator, added that they had been taken aback by the instantaneous success of the appeal.
She said: "We put the appeal out a week ago and the response has just been phenomenal. We have filled two cupboards full of fantastic donations and we can't thank people enough. It's been outstanding. We've had people coming from clubs, from gyms, from all walks of life contacting us to see what they can do for us."
Radiographer, Sana Arif, also expressed her surprise at the strength of the support for the appeal and promised it would make a difference.
She said: "I would just like to thank all those who took time to donate to our appeal. Like everyone else at the centre I have been overwhelmed by the generosity of the public demonstrated by this amazing response. These items will make a real difference to those who may find themselves in need and will be one small thing less to worry about."
To donate visit www.justgiving.com/golaucancerfoundation