Emergency Department choir teams up with soul singer Heather Small to perform 'Proud'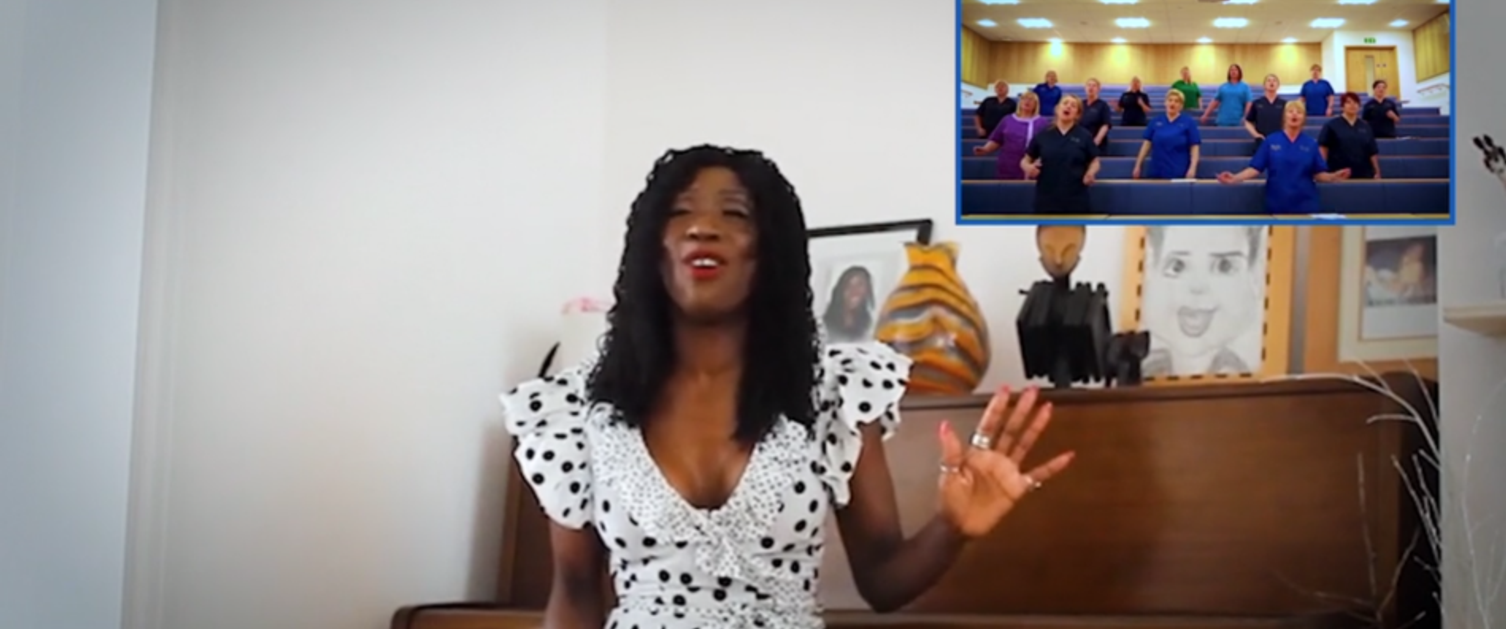 Morriston Hospital's Emergency Department choir will soon be the pride of Britain after filming a video with soul singer Heather Small after footage of the staff performing went viral.
At the end of March, a video of the ED choir singing the Jackson 5 hit 'I'll be there' became a social media sensation and was shared across the world.
Filmed in the entrance of Morriston Hospital, the choir sent it out to encourage everyone to stay home and remind members of the public that when they need help, NHS staff would be there.
The uplifting song caught the attention of music agent Fraser Kennedy, who contacted the choir to suggest they should perform another tune - the hit song 'Proud' - originally co-written by Heather with Peter-John Vettese and released by Heather in May 2000.
The song is one of the choir's favourites to perform so they jumped at the chance to take part.
As they could not get together in person the work was done virtually, creating a new music video with the choir in Morriston Hospital and Heather and Peter in their homes.
Andrea Bradley, Emergency Department matron said:
"We set up our choir 18 months ago as a wellbeing project because staff in the ED work under so much pressure.
"We decided to put out a video of ourselves singing 'I'll be there' to cheer people up, but we couldn't believe it when it went viral.
"It was difficult getting everyone together because everyone's on different shifts, but it was so much fun to do and it has certainly lifted everyone's spirits.
"It's wonderful to be part of it, and it's such a thank you to NHS staff."
Heather Small said:
"I feel privileged and humbled to participate in the celebration of our brave and honourable NHS carers who are putting their lives at risk so that we may live our own with dignity throughout these very difficult times."
Peter-John Vettese added:
"So immensely proud of our NHS, for the incredible care and bravery they bring to each and every day.
"It is a privilege for me to play piano alongside the men and women whose individual talents come together in such an extraordinary way. Truly humbling and inspiring."
Fraser Kennedy said: "The lyric and the sentiment of Proud is just so right, reflecting how much the nation appreciates the NHS and what the dedicated staff do for us all!
"Everyone involved donated their time and facilities to make it work, all royalties generated go the hospital trust."
All royalties generated from the song's release will go to the emergency department at Morriston Hospital.
The Morriston Emergency Department Choir has also set up a fundraiser to help enhance patient and staff welfare with the health board. If you would like to donate, please visit www.justgiving.com/team/TeamMorristonEd
Ends