A new programme designed to give children from one of Swansea's most disadvantaged areas the best possible chance in life has been nominated for a national award.
Pictured above left to right: Tony Kluge, cluster development manager, Jo Edwards, primary care child and family wellbeing team, Eloise Matthews, primary care child and family wellbeing team, Dr Nina Williams, consultant in public health and Deb Morgan, cluster development and planning support manager.
Swansea Bay's Primary Care Children and Families' Wellbeing team has been shortlisted in the Improving Health and Wellbeing category of the NHS Wales Awards 2019 for its work to reduce the impact of adverse childhood experiences in the Penderi ward, which takes in the Penlan, Blaenymaes and
Forestfach areas of the city.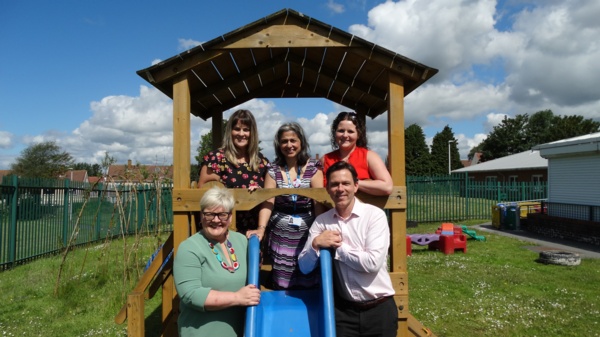 A review of Swansea Bay's Primary Care Child and Family Wellbeing Service was carried out after GPs noticed that large numbers of families were attending practices for concerns linked to parenting, anxiety, wellbeing, developmental and behavioural issues. It was reported that, on average, parents visited their GP practice six times about the same concern relating to their child.
GPs were frustrated that there was little or no option over where to send parents who came to see them because they were worried about parenting.
Previous studies had shown that a worrying percentage of children from deprived areas of Swansea were entering reception class with delayed speech and language development, being dependent on dummies, not being toilet trained and unfamiliar with books or how to handle a book.
The Penderi Cluster (made up of six surgeries or medical groups from the area) allocated substantial resources, co-funded by both Swansea Bay and Swansea Council, to develop a Penderi Primary Care Child and Family Wellbeing service.
Their early years' workers are able to offer up to 12 in-depth sessions, designed to deliver an innovative, integrated approach to supporting the needs of children under 11 and their parents/carers and families in their own homes.
Following the first phase of the project, 100 per cent of participants showed increased levels of wellbeing, improved confidence, resilience and better relationships. It resulted in a reduced inappropriate demand, with more than 700 GP appointments being saved and 100 per cent of families reporting that they would access the service before the GP, if they were to experience similar problems again in the future.
The project also led to avoiding or minimising adverse long-term health and social care outcomes, for example, prevention of a child being taken into foster care.
It's thought to have saved nearly £900,000 in just one year, resulting in an independent evaluation finding that, 'In conclusion, the results suggest that the intervention is highly cost-effective when compared to usual care'.
After the first year, the evidence of outcomes for patients was so convincing, two other clusters in Swansea, Cwmtawe and Llwcwhr, agreed to fund this service for their areas. The project exceeded the target with 284 referrals received to date, equating to 991 beneficiaries supported across three clusters.
Welcoming the NHS Wales Award nomination, Dr Dan Sartori said: "I think it is fantastic that the early years' worker project that we have been undertaking at the Penderi and other Swansea GP clusters has been recognised. Scores of children and their families have been helped over the past three years, and we have had some fantastic feedback.
"I think it has been a great example of innovative thinking and working, in trying to help children before their problems become more serious. The GPs and staff in our networks have really appreciated having someone to refer to who can help these families, instead of having them sent away, or bounced around the system."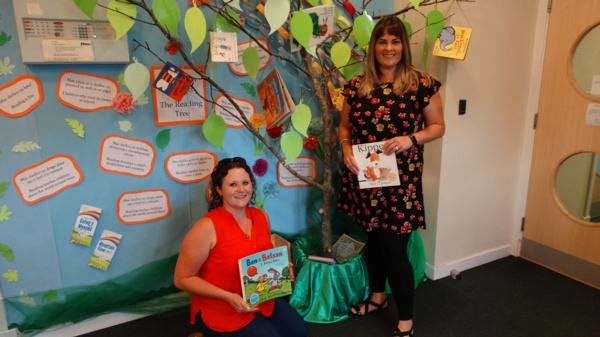 The health board's Head of Primary Care for Swansea, Sharon Miller, said: "I am delighted that the work of the primary care early years team has been recognised in this way. This is part of the broader approach by partners under the World Health Organisation Healthy City programme, Give Every Child the Best Start in Life, as we know it is the way to reduce health inequalities in the longer term.
"The clusters deserve recognition for supporting this approach to improving health and well-being in the longer term. And this is an excellent example of close partnership working between primary care, public health and the Swansea Council.
"I wish the team good luck for the awards."
Right: Jo Edwards and Eloise Matthews.
Judging panels, drawn from across NHS Wales, the public sector and professional bodies, will now visit each finalist to find out more about the projects and see first-hand the benefits they've brought to patients. The winners will be announced in a ceremony in Cardiff on 19 September.