Digital stories project has something to write home about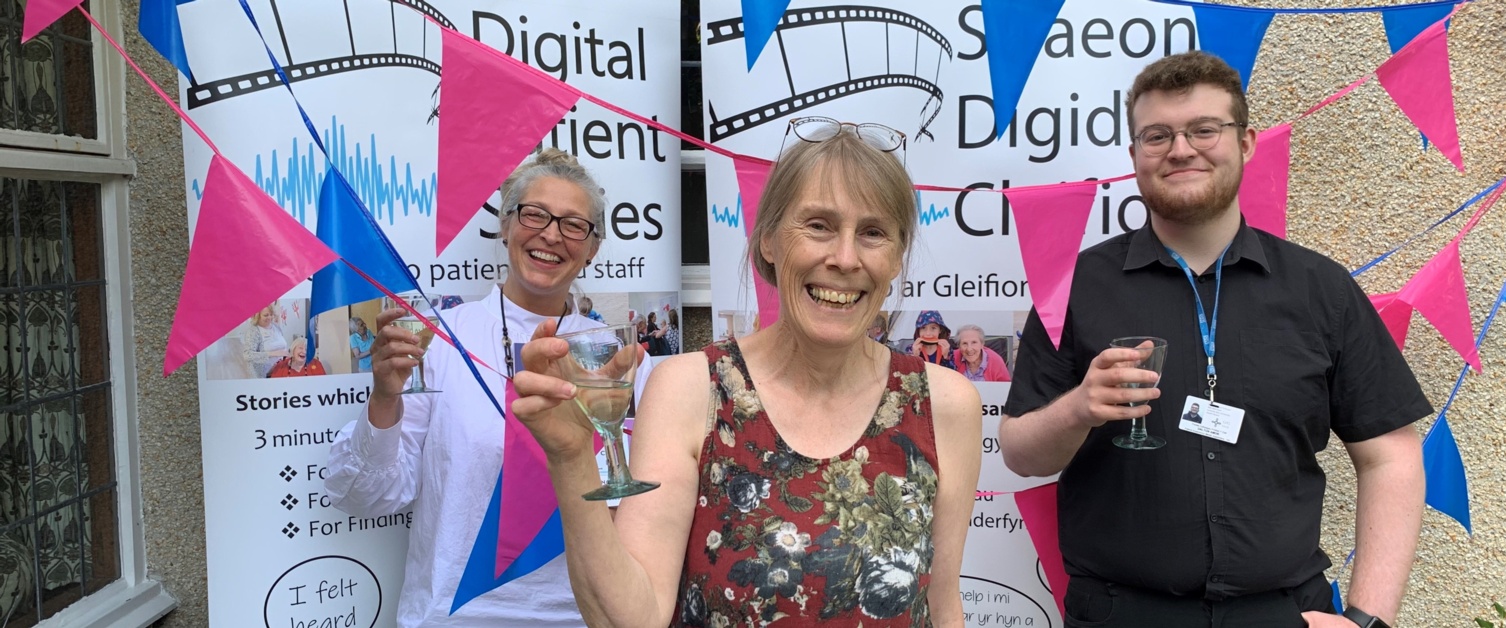 A Swansea Bay University Health Board team tasked with creating digital stories has recorded a happy ending after picking up a national award.
SBUHB's Digital Stories Team (Pictured above, left to right: Marcia Buchanan, Prue Thimbleby, Dalton Amor), which aims to improve the patient experience through sharing good practice as well as highlighting lessons that need to be learned, has won the Turning it Around category in this year's Patient Experience Network National Awards (PENNA).
The team's work has made a real difference as those making complaints are regularly offered the opportunity to make a digital patient story as part of the health board's commitment to listening to and learning from their experience.
Sometimes stories are about sharing best practice, then the action plan shows how the service can be developed in more areas.
The 3 minutes long video stories – which are stored in an online library - are part of service improvement, and as such, an action plan is developed following each one.
Prue Thimbleby, SBUHB's Arts in Health Coordinator, said: "There were 6 projects shortlisted and we each did a 10 min presentation followed by questions.
"Although we were confident that our patient story project had a chance of winning, by the time we had heard all the presentations we were so impressed with what people were doing that we were not expecting to win. But clearly the judges thought it was a winner – we were over the moon!"
Prue added that the award has given the team fresh impetus to share their work with health boards across the country.
She said: "Gradually all the Health Boards in Wales and all the Health Trusts in England are adopting our methodology and asking us for training. The award has given us a real boost and meant that more than ever we need to make sure that we are making high quality digital stories and ensuring that the stories our patients share with us help us get better and better at what we all do in SBUHB."
Responding to the win Cathy Dowling, Deputy Director of Nursing and Patient Experience, said: "We are truly honoured to be recognised for this innovative work and particular to all the staff and patients who have agreed to be part of it to use their stories and experiences to improve care for others."
SBUHB CEO, Tracy Myhill, said: "It's great to see the work carried out by our Digital Stories Team being recognised in this manner and the award is very much deserved.
"Learning from experiences and improvement is at the heart of developing our organisation and it's a feather in our cap to be able to lead the way when it comes to understanding and responding to patient experience in this manner.
"Congratulations to all involved."
PENNA is a not for profit independent organisation that welcomes all involved in delivering the patient experience – with a commitment to continuously improving, learning from each other and sharing best practice.
To view a selection of stories visit www.artsinhealth.wales/storytelling