Dedicated teams support staff mental health during Coronavirus pandemic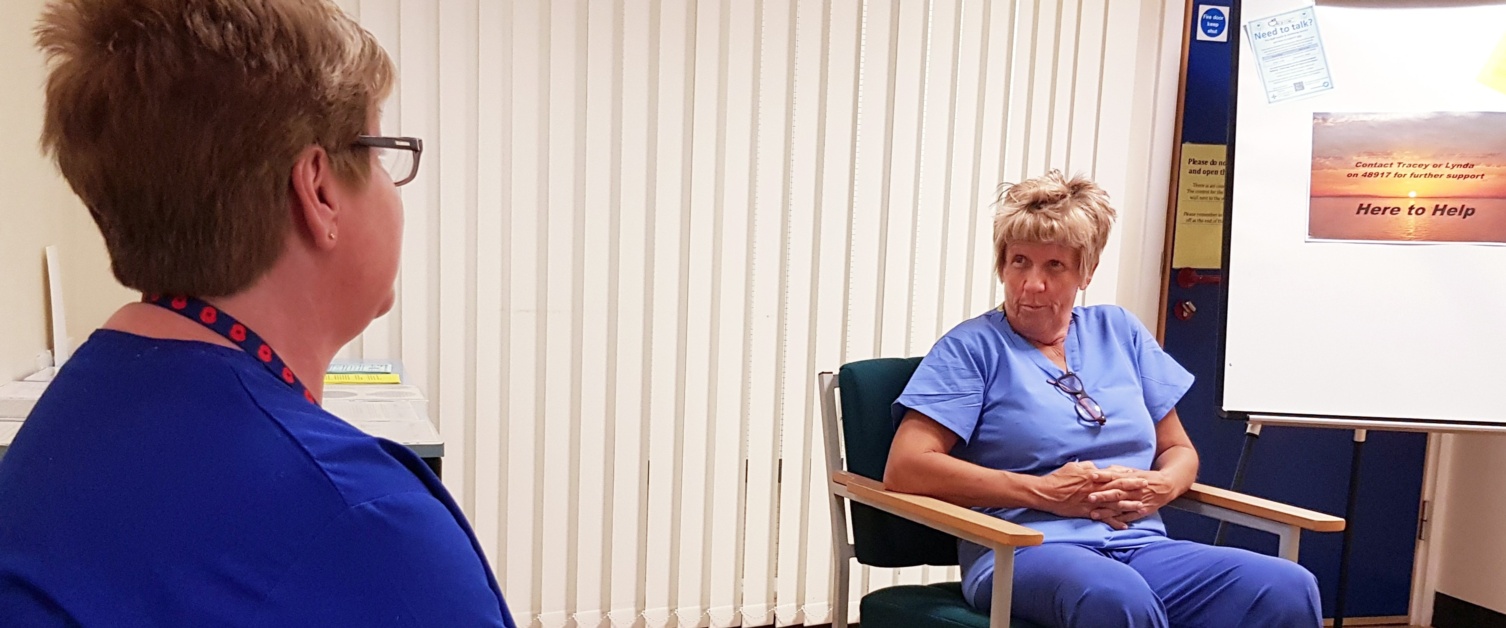 Front line healthcare workers are being given access to everything from psychologists to meditation to support them during the Coronavirus pandemic.
Staff mental health is paramount as they carry out a wide range of essential roles during this unprecedented time.
And across all Swansea Bay University health board sites the workforce is being supported by dedicated teams designed to ensure they have everything they need.
Staff are being offered enhanced spiritual support as well as rest and recovery rooms alongside psychological support as they help in the fight against the virus.
Staff also have access to enhanced and specific wellbeing information and resources available on and offline with further support already planned.
Elsewhere, Morriston Hospital's canteen is now open at night to provide space for hot food and off-ward breaks.
Extra showers have also been made available so staff feel reassured they are clean and not carrying the virus outside of the hospital.
Morriston Hospital's Nursing Director, Mark Madams, said: "We recognise the tremendous pressure all of our staff are working under at the present time, caring for our patients during the Covid-19 pandemic and have instigated a number of support measures.
"We have introduced rest and recovery rooms, time out spaces, on-site wellbeing champions, enhanced chaplaincy support and regular debriefing. We have daily briefings on the national and health board situation and hospital plans."
Mr Madams said hotel rooms were available for staff who have vulnerable people at home and occupational health teams working 12 hours a day, seven days a week to support staff.
He said: "We have also significantly increased our psychology, counselling and mental health teams on the ground.
"All matrons, managers and consultants provide support daily to their individuals and teams.
"Staff are also supported if they are unwell at home, with telephone welfare checks and early testing if they show symptoms."
Mr Madams said some of the greatest challenges faced by clinical teams are when a patient dies.
He said: "We have ensured that no patient dies alone as a member of staff is always with them and we have developed a system for a relative to be able to visit in the final hours of life on the general and COVID-19 wards.
"This unfortunately isn't safe for relatives in the intensive care unit and staff are supported by the chaplaincy, palliative care and senior team in breaking this news by telephone."
A bereavement hub is also being set up which will support families in the processes after a loved one dies, and allows for them to view their loved one and support and guide them on the next steps.
Mr Madams said: "We very much recognise the impact caring for patients has on staff and families.
"Our priority is to support and value staff throughout this pandemic to enable them to deal with the emotional toll they may feel.
"I cannot emphasise enough how professional the staff have been in caring for patients in these most challenging of situations and how they care for each other.
"All the staff have been overwhelmed by the generosity of the public in the daily food donations amongst other support that has been sent to us and we want to thank you all."
Neath Port Talbot Hospital's Unit Director, Brian Owens, said: "The wellbeing of our staff is vital at this challenging time.
"We have developed a staff wellbeing and communication plan to provide additional on-site support to all our employees, including access to a counsellor and psychologist."
Matrons are already speaking to staff on every ward at Neath Port Talbot Hospital to provide emotional support.
There are regular briefings to keep staff up to date and aware of all the changes, and ensure they feel informed and in control of their work.
Mr Owens added: "Line managers are also checking in with staff who are off sick and or isolating.
"Hospital hotel accommodation has also been made available for staff worried about shielding a vulnerable relative at home."
The health board has its own dedicated staff health and wellbeing support Twitter account, where employees can access advice on issues such as anxiety, stress and emotional wellbeing.
The physiotherapy team at Morriston Hospital has converted the physiotherapy gym on site into a wellbeing area.
This will offer a space open to all staff to come away from their work environment and take part in mind and body exercise including Pilates, yoga and relaxation/mindfulness sessions.
Singleton Hospital staff have access to a drop-in relax and recharge space based at neighbouring Maggie's Centre, offering services including videos with sights and sounds of nature to aid relaxation, a listening ear/time to talk service as well as refreshments.
Swansea Bay Chief Executive, Tracy Myhill, said: "Caring for our staff is a priority for us in 'normal' circumstances.
"But given the scale of the Coronavirus challenge we face, it has become even more important for us to ensure we have additional staff wellbeing support in place.
"These are exceptional times where our staff are experiencing something never seen before - on both personal and professional levels.
"Our health board values are caring for each other, working together and always improving.
"Our teams have been working together to provide extra information, support, and dedicated resources to help with staff wellbeing as they care for our patients and communities.
"We know this period will be challenging for everyone and we will continue to support our people as best we can so they can care for those who rely on us."