Cutting-edge treatment to be available in Swansea for the first time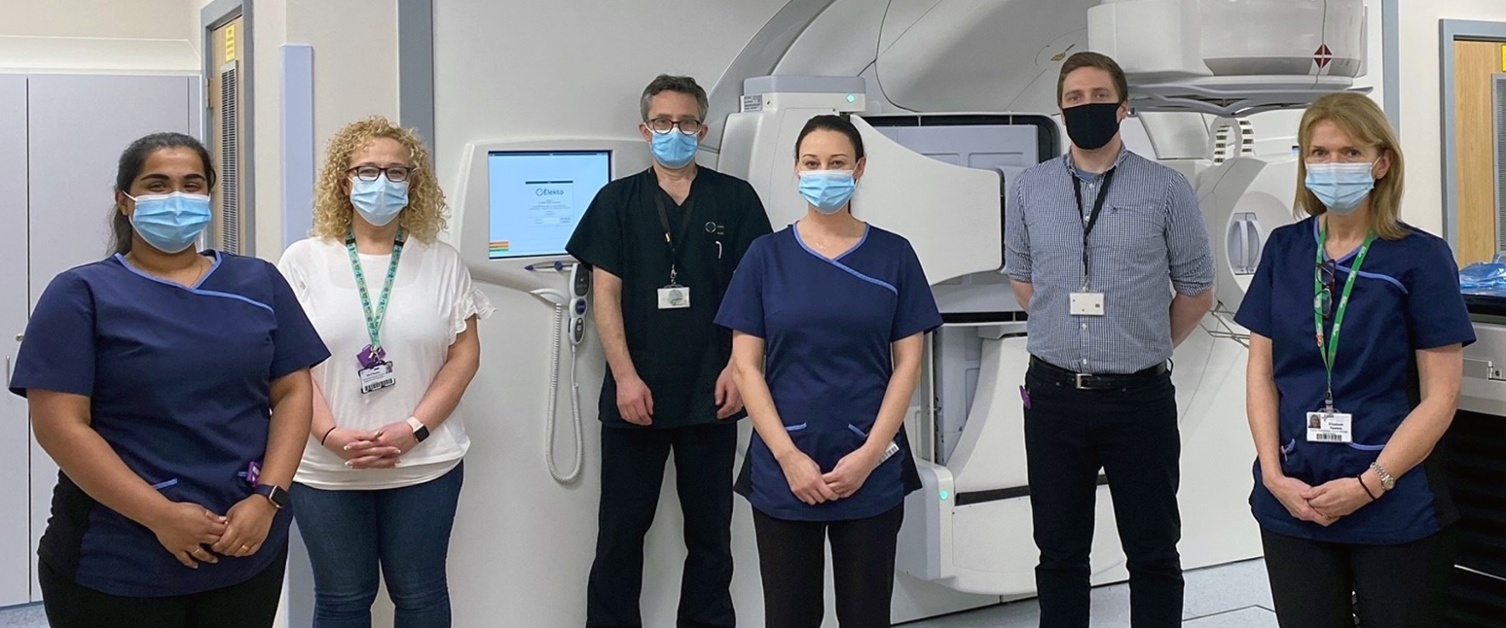 11/03/2022
A highly specialised lung cancer treatment offering huge benefits to suitable patients will be launched at Swansea Bay's Singleton Hospital this spring.
The hospital is home to the South West Wales Cancer Centre, which has already pioneered a series of cutting-edge approaches to treatments.
Main photo above, l-r: Punya Nair, SABR lead radiographer; Nia O'Rourke, imaging specialist radiographer; Russell Banner, consultant clinical oncologist; Rebecca Hunter, Ct SABR lead radiographer; Adam Selby, clinical scientist; Elizabeth Hawkes, deputy radiotherapy service manager
Now, for the first time, it will be able to offer Stereotactic Ablative Radiotherapy, or SABR.
This is a specialist technique to cure early lung tumours, and is more effective than standard radiotherapy for early stage lung cancers.
Suitable patients from the Swansea Bay and Hywel Dda health board areas previously had to travel to Velindre Hospital in Cardiff for it.
Now, thanks to ongoing investment in high-tech equipment and funding from the Welsh Health Specialised Services Committee (WHSSC), the first patients from the region are expected to undergo SABR at Singleton within the next few months.
Dr Ceri Powell, consultant clinical oncologist treating patients with lung cancer across South Wales, said: "The precision and accuracy of the SABR technique allows a safer lower dose to be delivered to normal tissue surrounding the tumour.
"This means potentially curative treatment can be offered to some patients who otherwise would not be able to have treatment for their lung cancer due to their other medical illnesses.
"For other patients it gives a better chance of curing their cancer with fewer side effects than conventional radiotherapy."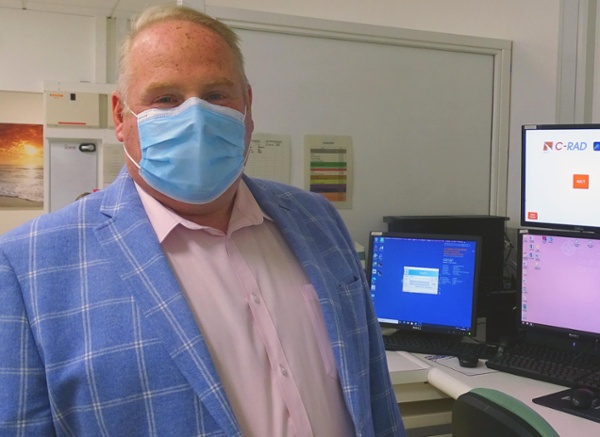 As well as avoiding the need for much longer journeys to Cardiff, the availability of SABR means the number of radiotherapy sessions for suitable patients will be between just three and eight, rather than the 20 using conventional radiotherapy.
Dr Ryan Lewis (left), Swansea Bay's Head of Radiotherapy Physics said: "SABR has been around for around 10 years but up until very recently it has only been done in relatively few centres in the UK.
"It's a very specialised service previously seeing a very small number of patients a year, probably fewer than 200 in the UK."
Before most cancer surgery was paused across the UK at the start of the pandemic, a technology review concluded it would be possible to extend SABR to more centres across the country.
Dr Lewis said the review found the outcome for patients using SABR was as good as for those who had undergone surgery, but was less invasive and with a quicker recovery time.
Singleton Hospital was already able to offer many other forms of highly specialised cancer treatments, following multi-million pound investments in equipment, software and staff expertise over the last five years.
Last year, for example, it became the UK leader in the use of Intensity-Modulated Radiotherapy (IMRT).
For the majority of cancers this is considered the best and most effective form of modern radiotherapy available.
It directs a higher dose of radiation more closely at the tumour while simultaneously sparing surrounding tissue.
The South West Wales Cancer Centre has also trialled and implemented a revolutionary new approach to treating breast cancer, reducing the treatment from 15 days to just five.
Dr Lewis said the Cancer Centre had worked closely with WHSSC, once it had identified Singleton Hospital as a centre that could deliver the new SABR service, and with Velindre Hospital as a mentoring partner to ensure it met the necessary quality standards.
He said: "It's a more technically advanced version of everything we were already doing effectively.
"SABR involves much bigger doses, much faster, and you have to be much more careful when you're using it."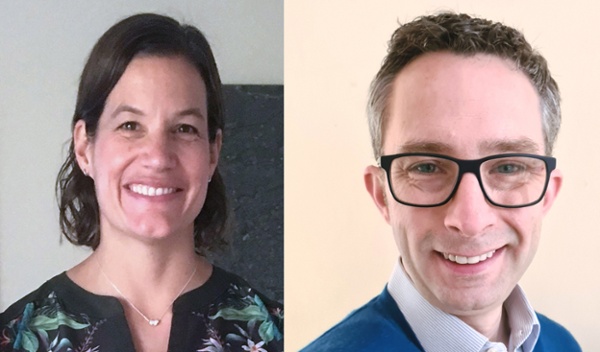 Dr Lewis said that, because SABR is so specialised, he anticipated between 25 and 30 patients a year would receive it at Singleton.
"We could not have done this without some of the new infrastructure we've had, the new machines, some of the new techniques," he added.
Pictured: Dr Ceri Powell and Dr Russell Banner
Dr Russell Banner, South West Wales Cancer Centre Radiotherapy Clinical Lead, said "With the introduction of SABR, we can justifiably claim to be a fully capable, highly specialised radiotherapy centre making the latest state-of-the-art techniques available to the population of South West Wales."
Dr Powell added: "We anticipate that offering SABR treatment in Swansea will improve outcomes by allowing even greater access to this well-tolerated curative treatment closer to patients' homes, providing equity of access across South Wales."