Critically ill patient care boosted by bedside technology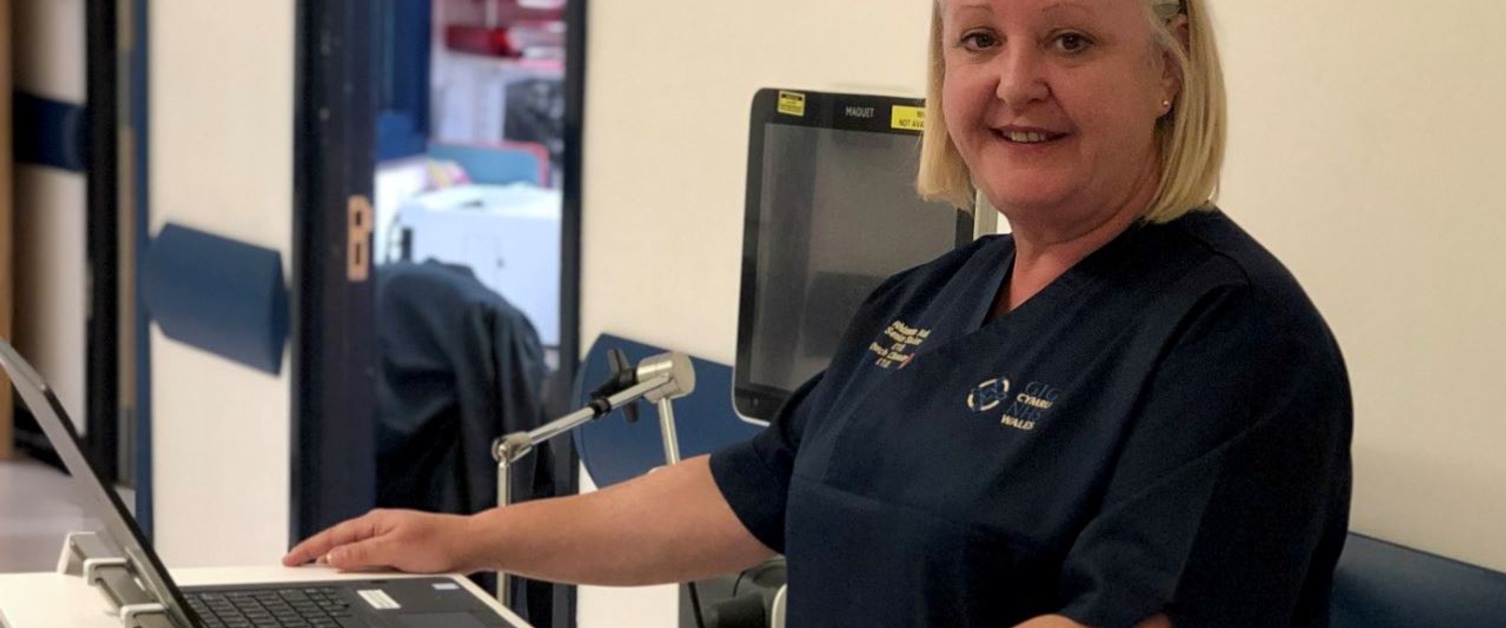 Above: Senior sister Rhiannon Hall at the ICU's mobile workstation.
Care of critically ill patients at Morriston Hospital is being boosted by new bedside digital workstations.
The introduction of both fixed and mobile computer stations in the hospital's intensive care unit (ICU) has significantly changed the way nurses and other healthcare staff record patient notes.
The busy unit, which hosts 28 beds across three wards, looks after patients who are critically ill. They need intensive monitoring and support to recover, so access to up-to-date records is vital for the staff looking after them.
Previously, nurses and other healthcare workers took notes by hand before going back to an office to transcribe them into a computer. This was time-consuming and took them away from patients.
Now, nearly every bed in the unit has a fixed computer workstation alongside it for staff to immediately update records.
The sister in charge also has access to a movable tablet PC stand which can be taken around the wards.
All of these stations are linked to hospital records so they can be immediately updated and staff can call up crucial patient information when they need it.
Since they were introduced to the ICU, the sisters in charge alone have already saved more than 45 minutes a shift.
Rhiannon Hall, senior sister in ICU, said, "Digital technology is helping us get out there, where we are needed, and not locked away in our offices. Now we can make real-time updates at the bedside."
ICU consultant Dr John Gorst, added, "This way of working also means nurses can spend more face-to-face time with patients and relatives."
Mobile technology is one of the health board's digital transformation priorities. It has already been used across several other hospital wards to improve patient safety and flow, and ensure staff are providing the best care.
Matt John, chief digital officer, said, "It is fantastic to see how the workstations are helping nurses in ICU.
"We are now looking at how we can use more mobile devices like this in other areas of the health board.
"In particular we are looking at ways to support electronic prescribing, and will be piloting an electronic nursing documentation project.
"Devices and software like this will transform the way healthcare staff work, and ultimately improve the way patients are treated."
The digital services team is also in the process of making sure all ICT technology in ICU and other key clinical areas, such as A&E, is fit for purpose and running smoothly, so that healthcare staff across the board have more time to treat patients in need.