COVID callers work on engaging patients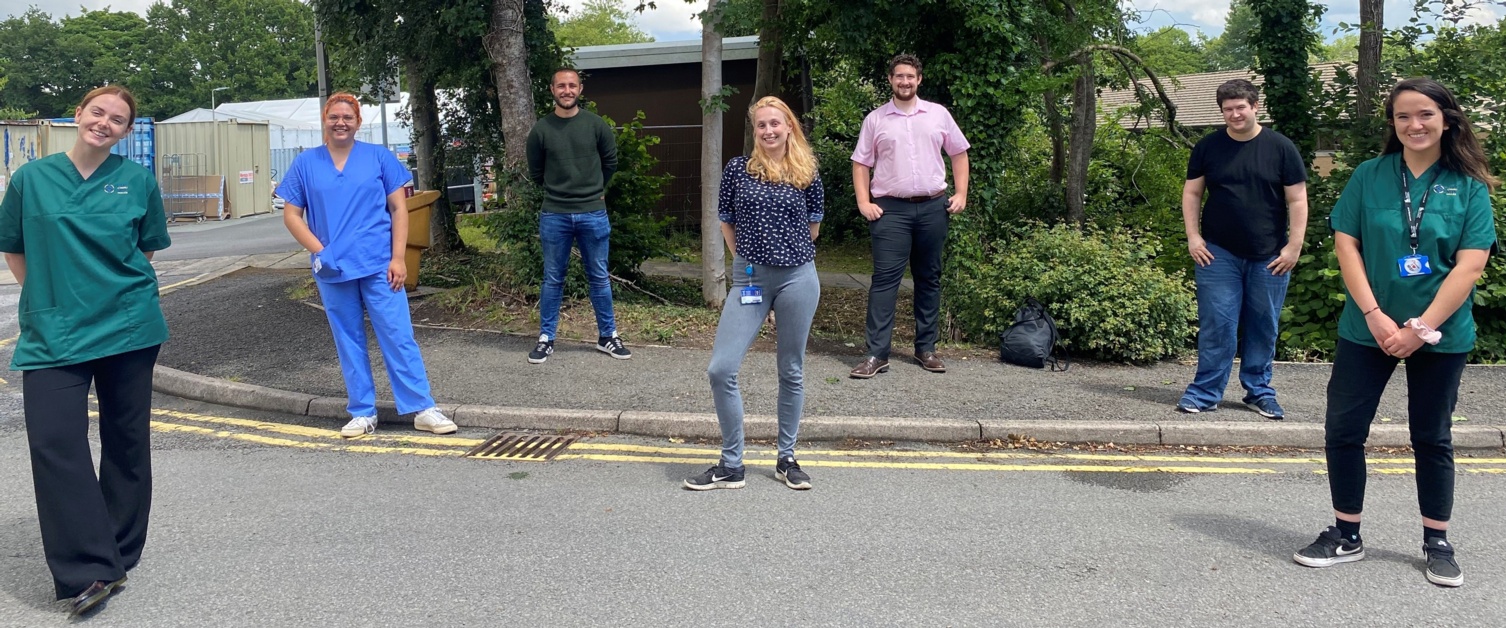 A new scheme designed to offer reassurance to newly diagnosed COVID-19 patients in Swansea Bay, via telephone, is being declared a ringing success.
The scheme, conducted by Swansea Bay University Health Board's Infectious Disease Team and Medical Students from Swansea University, aims to offer support to patients as they come to terms with their diagnosis.
Since the beginning of the outbreak 1,748 patients in Swansea Bay have been infected and tested positive for COVID-19 at a time of reduced access to health care. Many have needed to cope with their diagnosis relying on the internet and those around them for information while some patients can suffer from potentially worrisome symptoms for some time after recovery which could add to their anxiety.
Senior management in SBUHB instigated the scheme after recognising patients might be troubled by their diagnosis and not have any means of seeking reassurance from the hospital or their GP.
Initially a team of Infectious Disease doctors - Dr Ian Blyth, Dr Claire Johnston, Dr Alice Bone and Abigail Holborrow - developed a proforma for calling known COVID-19 positive patients along with a script providing answers to frequently asked questions.
A pilot to ascertain if patients would find such a call to check on their wellbeing proved overwhelmingly positive.
Subsequently, the team of students, led by Katie-Rose Cawthorne, Cameron Avo and Lavinia Porter, has been working every day in an effort to call all of the known positive patients to check on them, ask how they are getting on, provide support if possible, signpost to other services where required and answer questions where appropriate.
Lavinia Porter said: "Since the pilot, 452 patients have been contacted and the majority of people rated the call 10/10 for helpfulness. The most common question asked was whether it is possible to be re-infected by COVID-19 once they have tested positive."
Overall the majority of calls have been very well received, although there were a small number of patients that did not appreciate being phoned.
Everybody involved in the project would like to apologise for any inconvenience or unintentional upset caused to these individuals.
Katie-Rose Cawthorne said: "Comments such as 'I haven't felt comfortable talking to anyone about this before' and 'it is brilliant to be contacted afterwards' were common demonstrating how much patients appreciated being contacted in this way."
Brendan Healy clinical lead for the Infectious diseases team said: "The experience has also been overwhelmingly beneficial for the students. The students were able to provide support to patients in the community whilst also gaining vital clinical liaison and communication skills. They were also able to learn about how COVID-19 presents and more importantly affects people both physically and psychologically.
"The students involved in the project now probably know more about the presentation and effects of COVID than any other staff member in the hospital.
"The project has also highlighted the importance of the Health Board demonstrating how much it values its patients and provides an insight into how useful a telephone follow up can be in providing patients with support and giving them an opportunity to ask questions.
"This is perhaps something that could be considered in other disease areas given how well it has been received."
Katie-Rose added: "A couple of patients stand out in my mind as they were clearly affected by their experience with COVID-19 – it was a privilege to be able to talk with them and offer reassurance.
"Given that placements have been cancelled, it was also a great opportunity to put our learning into practice. I feel much more confident explaining concepts to patients; such as how their immune system works."