Consultant prescribes the gym before surgery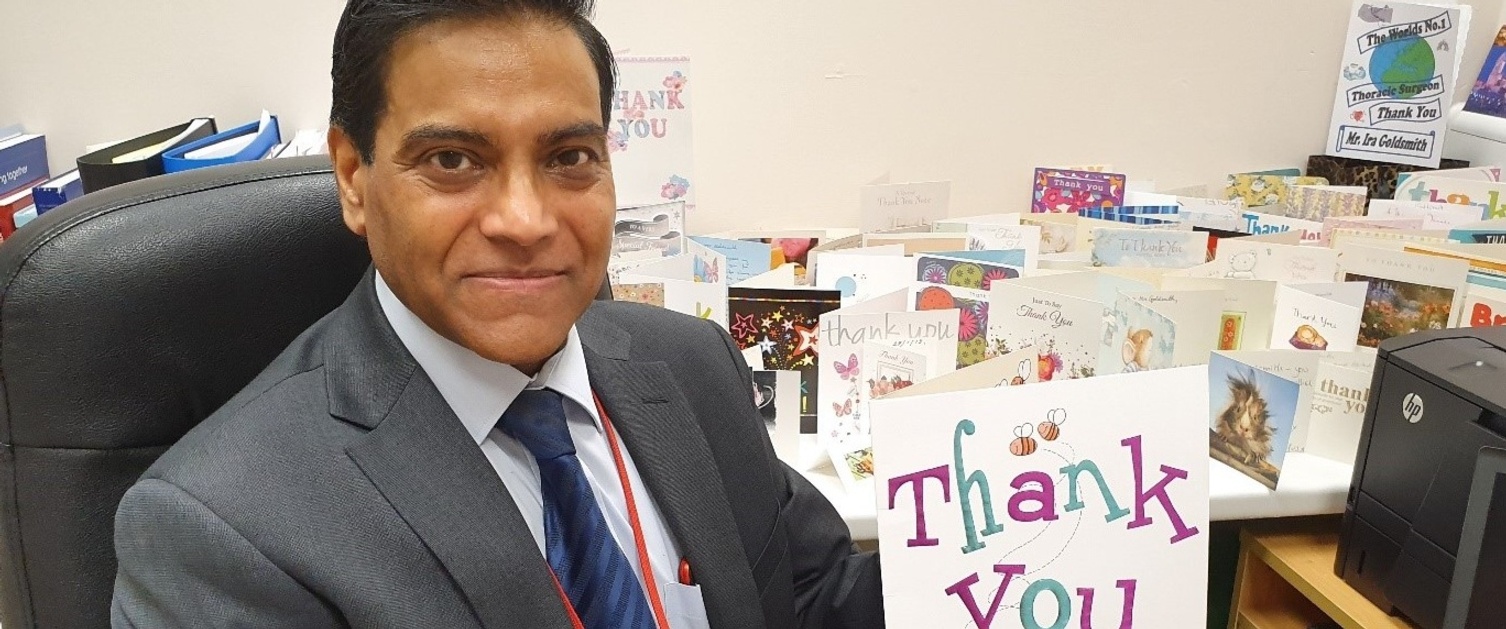 Meet the consultant who is prescribing gym sessions ahead of surgery for lung cancer patients … and saving lives!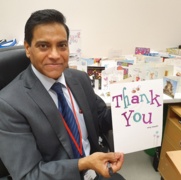 Mr Ira Goldsmith with one of the many thank you cards he receives
You may think that a cardio session in the gym is the last thing someone with breathing difficulties would need.
But Mr Ira Goldsmith, a consultant surgeon in Morriston Hospital's Department of Cardiothoracic Surgery, is turning to the treadmill before the operating theatre.
And the innovative approach is working as Mr Goldsmith has helped transform survival rates amongst those requiring surgery for lung cancer through his prehabilitation programme.
This is centred on circuit training, targeting the upper and lower body.
The success earned Mr Goldsmith a place on the short list for this year's NHS Wales Awards in the improving health and wellbeing category.
Mr Goldsmith said the whole aim of the Pre-treatment Optimisation and Prehabilitation in Lung Cancer programme was to make patients fit for surgery so they could undergo surgery safely.
"The second objective was to improve the number of patients who were having surgery and improve their chances of survival.
"But it doesn't stop there, it's not just about survival. It's about a meaningful survival, with improved health and wellbeing and a good quality of life. That's the key.
"I have always been keen on quality of life after surgery and this project has really helped us achieve that.
"When I came here in 2009 our resection rates* in Wales were five per cent. We were at the bottom of the pile. By 2017-18, resection rates were up to about 20 per cent. For Princess of Wales Hospital they were 27 per cent and amongst the highest rates in the UK."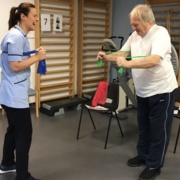 Left: A patient is put through his paces in a gym as prescribed by Mr Goldsmith
Mr Goldsmith initially had his doubters.
He recalled a consultant telling him patients insisted on getting old and there was nothing they could do about it.
"I said, 'Yes you can.' Yes they have frailty because they are old, but you can give them primary physiotherapy and rehab, and improve them.
"We showed you can make elderly patients who have frailty improve their frailty index, and allow them to have safe surgery with quicker recovery, fewer post-operative complications and no deaths.
"We could show their survival rates were the same as those who don't have frailty.
"We were the first in the world. No one else has done this. Clinicians talk about assessing frailty but no one has actually done anything with patients to improve it."
Mr Goldsmith said he found an ally in Morriston Hospital physiotherapist Gemma Thomas.
He said: "Gemma was very enthusiastic. She had similar thoughts to mine, that maybe we can improve patients and enable them to have surgery.
"We put together a programme and selected some patients for prehab to see what the outcome would be.
"We did a pilot for six months. We recruited everyone who came into the clinic, and gave them two sessions of 70 minutes of prehab a week, over three weeks.
"We found that 75 per cent of those previously not suitable for surgery became suitable for surgery. It was huge."
Right: Physiotherapist Gemma Thomas
Explaining the programme he said: "First the physio will assess the patient, to see how good or bad they are, what exactly are their requirements, some are very sick others not so, then they are taught breathing exercises.
"There are 12 stations in all and they go around the whole circuit alternating between lower body and upper body exercises.
"They do a six-minute walk test before they start the programme and after they have completed it and it shows an improvement.
"We found that by improving their breathlessness they are safely able to undergo surgery.
"You would not believe the lower death rates compared to people who don't have prehab and a shorter length of stay in hospital because the complication rates are less. It makes a big difference.
"Most importantly, it was making inoperable patients operable."
Mr Goldsmith added that he hoped the initiative would be rolled out across Wales.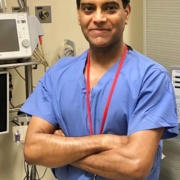 He said: "I want to see all patients with lung cancer in Wales having access to a prehab and an optimisation program regardless of what treatment they receive, whether this is surgery, radiotherapy or chemotherapy.
"Hence, I have led the conceptualisation and implementation of such a program across Wales through the Lung Cancer Initiative."
*The number of patients who have had surgery over the number of patients diagnosed with cancer multiplied by 100