Child and Family Wellbeing Service helps parents cope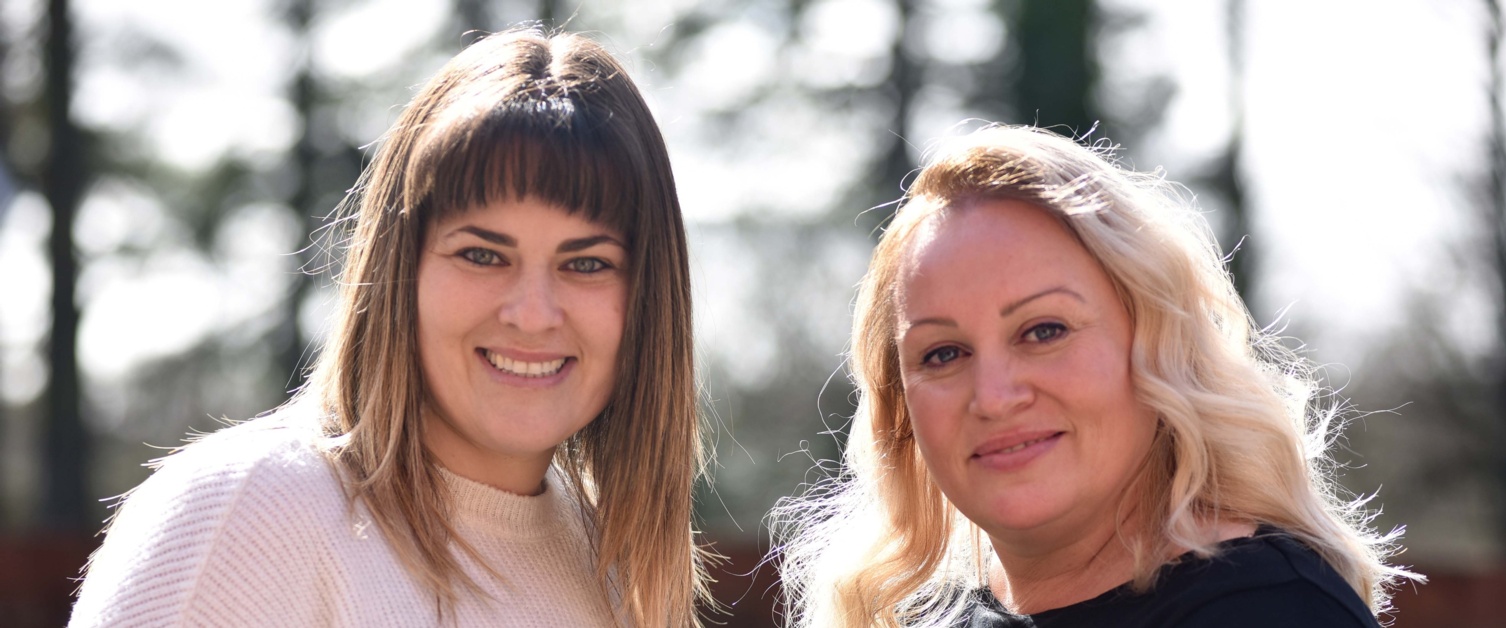 Michelle Holland was at her wits' end when she made an appointment to see her GP. She couldn't cope with her son's challenging behaviour and, with an eight-month-old baby to look after as well, she desperately needed help.
Luckily for Michelle, (pictured above, right) the doctor was able to prescribe just what she needed – a guiding hand from 'super nanny' Jo Edwards (above left).
Jo has already helped hundreds of worried parents in her role with the Primary Care Child and Family Wellbeing Service, working with families in their own homes to help them find better ways of managing their children's behaviour.
"A GP can only do so much in a ten minute appointment but we go into people's homes and spend two hours at a time with them over a period of time and that's when you really start to get to the root of the problem," said Jo.
It has worked wonders for Michelle, her partner Rob and seven-year-old Alex.
"Without Jo, I don't know where I'd be," said Michelle. "Alex has high functioning autism, ADHD (attention deficit hyperactivity disorder) and ODD (oppositional defiant disorder). From the age of two it became clear there was a problem. What I thought were the 'terrible twos' went on to three and four and the school started to highlight it.
"Everything is high speed with Alex. He would want something there and then and if he didn't get it his frustration would boil over and he would lash out.
"I didn't know how to deal with him. He kept being excluded from school and it took a long time to get a diagnosis of what he had. Even then, a diagnosis doesn't take away the worry or the problem.
"He would call me early every morning, and he would shout for me at least 40 times in the time it took me to get out of bed and go to his room. Now I say: call Mum once and then count 20 and I'll be there by the time you get to 20."
They found that Alex responded well to rewards. "He has no fear and he would jump out of the car and run across the road when we got home from school. Now he knows he can earn three stars and therefore 15 minutes of iPad time if he gets out of the car nicely, goes into the house and takes off his coat and shoes," said Michelle.
"We've developed that further so he gets a star if he has a good day at school and if he gets five stars from Monday to Friday I take him to the newsagents where he can pick a magazine out of the rack."
Said Jo: "Sometimes children get labelled as 'naughty' when it is the behaviour that is naughty and not the child. Alex is now being rewarded for good behaviour."
"The last two years have been really hard but in the last month or so, I am starting to see a real benefit from the work we are doing with Alex," said Michelle. "He used to slam the door in my face to get a reaction. He was attention seeking, so now I ignore that behaviour, and give him attention when he's good, and he's stopped slamming the door."
"When we first started seeing Jo, Alex was at a pupil referral unit for four days a week and in mainstream school one day a week. Now that is the other way around."
The Child and Family Wellbeing Service is a joint initiative run by the local health board, GPs and Swansea Council. It started out as a pilot scheme but has been so successful that it has been expanded to cover a wider area and employ a second worker, Elle Matthews. Jo and Elle work with families with children aged 0-11 in the Penderi, Llwchwr and Cwmtawe areas.
The service is helping take pressure off GPs and saving time and money for the NHS.
Dr Kannan Muthuvairavan, lead GP in the Llwchwr area, said: "There has been a reduction in demand for GP appointments from parents and children as they are now being seen by the service. This is a financial saving for us as a GP practice and increases the availability of appointments for our other patients."
The service is being evaluated to demonstrate its value and early results show that it is highly effective compared to usual care.
Now that Michelle has new strategies for managing Alex's behaviour, Jo can step back, but she will still stay in touch once a month to make sure everything is going well.
"I have bought Alex a kitten to show him how to love and care for something and it is going really well. He is very gentle with it," said Michelle. "I can finally see a light at the end of the tunnel!"