Cheering up midwives with a hug in a mug from the Birth Centre Buddies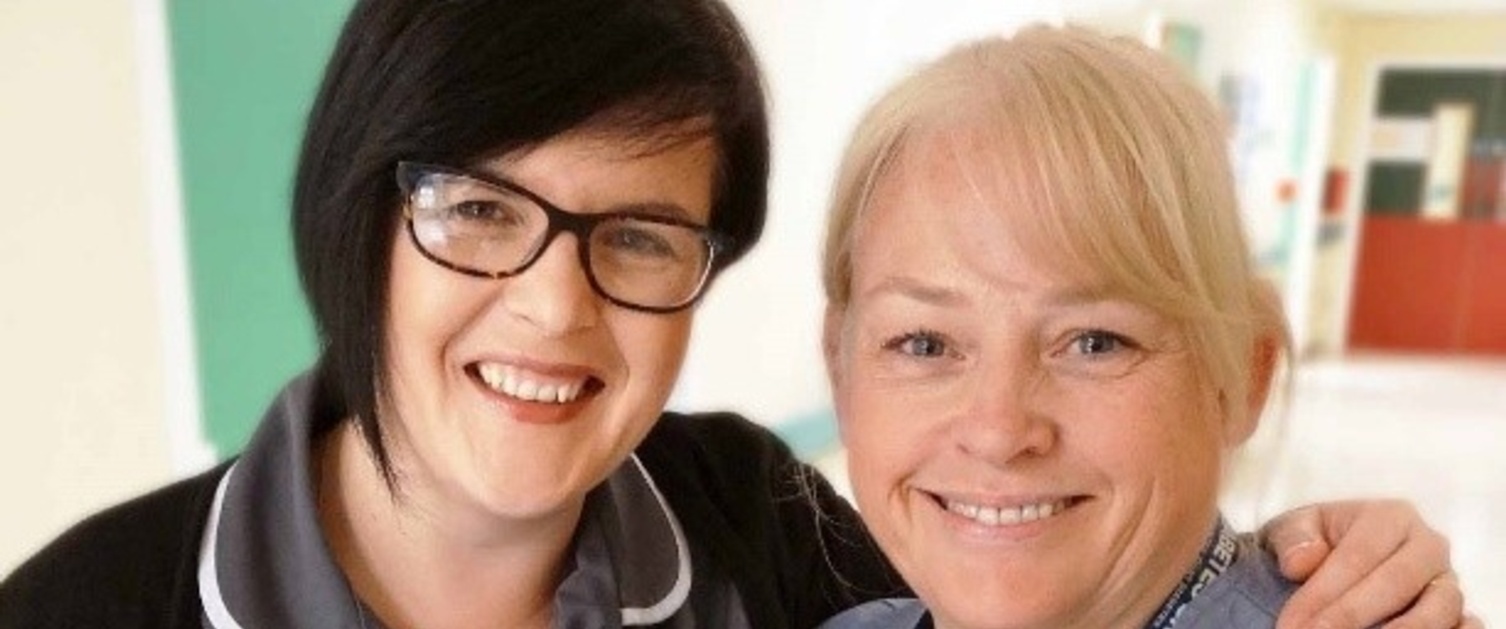 Thursday, 28 February 2019
Midwives are being "mugged" in the nicest possible way to help put a smile on their faces when the going has been tough.
A new tradition has been started at Neath Port Talbot Hospital's Birth Centre to give a hug in a mug to staff who are really up against it.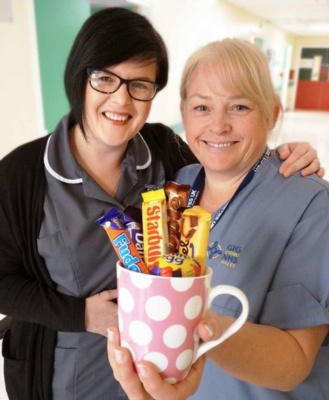 The original Birth Centre Buddies – Ann-Marie Thomas (left) and Nicola John
They are being presented with a mug filled with chocolates and other goodies – though the original plan to have the donor's identity remain a mystery didn't last very long.
Midwife Nicola John came up with the Birth Centre Buddies idea after seeing something similar on social media.
She left the first mug for community midwife Ann-Marie Thomas, who had been going through a difficult time, to find.
The intention was for Ann-Marie to have no idea who it was from, and for her to then leave a similar gift anonymously for another colleague. This could be a midwife in the community, in the Birth Centre or antenatal clinic.
Except no sooner had Ann-Marie found the mug than she knew exactly who the "mystery" benefactor was.
Nicola said: "My niece saw it on Pinterest and I thought it looked like a nice idea, something kind to do for somebody.
"I knew Ann-Marie had been through a difficult time and been working really hard and I thought she would appreciate a little pick-me-up.
"I filled the mug with chocolates, sneaked it into the Birth Centre and hid it in a place I know Anne-Marie would find it.
"When she did find it she knew it was me straight away. I wasn't meant to be identified but the secret was out."
The original version which inspired Nicola involved paying the favour forward within seven days. But she and Ann-Marie agreed that this would not be practical.
"Everybody works really hard and I wanted Ann-Marie to pass it on when she felt the time was right, otherwise someone would having a mug every week," said Nicola.
"It would get out of hand, and I just wanted it to be a nice little surprise and not for somebody to be waiting for it."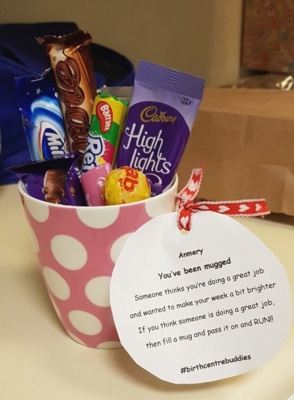 As she loves her mug (right), Ann-Marie has bought another to fill with goodies ready to give to a deserving colleague when the time is right.
She said: "It's quite tricky to decide who to give it to. The team are always dealing with difficult cases and everybody works so hard to make sure our families are well supported.
"I almost feel like I could give out a cup a day really.
"It's about waiting for something monumental to happen. I'm waiting for that gut feeling."
Ann-Marie had been through a particularly difficult time, with a family bereavement on top of a series of challenging cases. So the surprise gift really helped cheer her up.
"It felt like Nicola was giving me a hug. It absolutely made my day. We often get cards and maybe a box of chocolates from women we've looked after.
"When I found the mug and realised someone had not just thought of me but had taken the time to buy those unique bits to put in the mug, it was lovely.
"Hopefully whoever I give it to will then pay it forward to someone they think deserves it. It's just that little boost but it means a lot.
"I think it's the start of a new tradition here."