Carpenter still at work after nearly slicing off his fingers says thanks to Morriston Hospital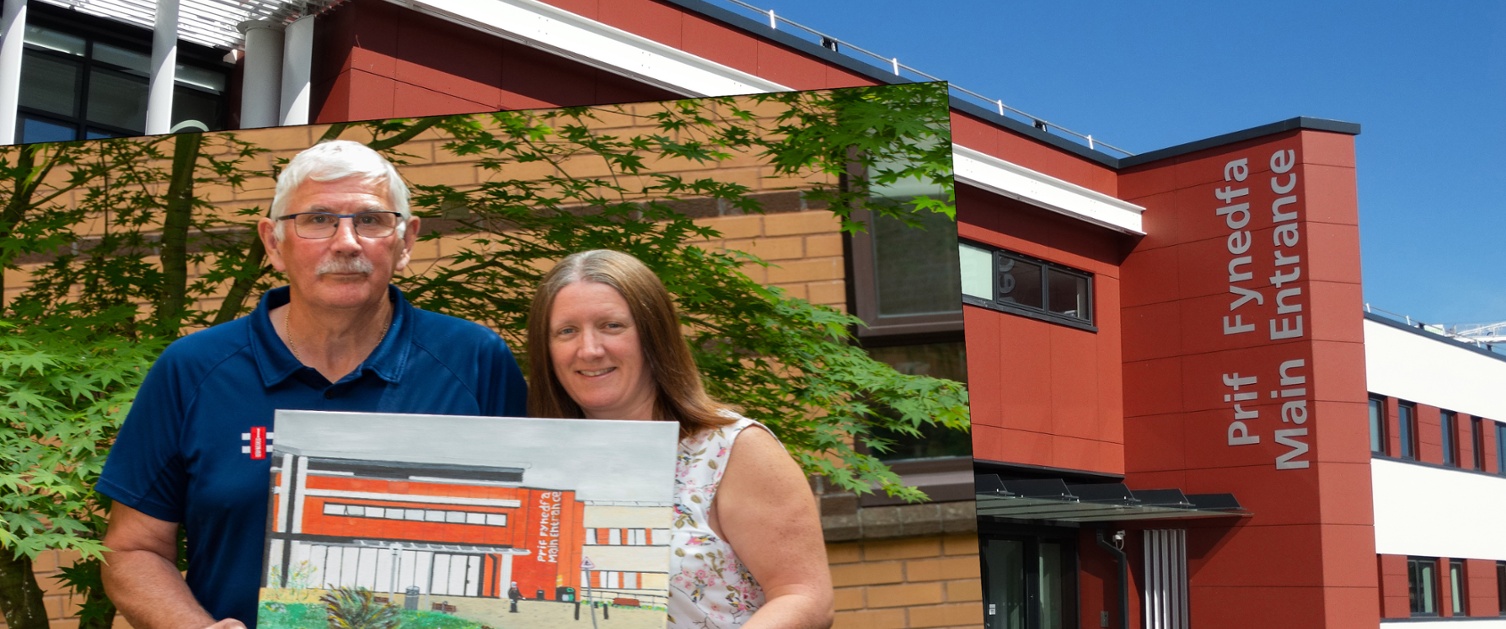 A retired carpenter who almost sliced off his fingers is still crafting away in his workshop thanks to the skill of Morriston Hospital staff.
Colin Taylor was working on turning a piece of wood into a teapot-shaped plant potholder when his wood cutter slipped and went into his hand.
But despite slicing two fingers through to the bone, he is not just busy in his garden workshop but has also rediscovered his artistic skills as a way of thanking hospital staff.
The 73-year-old said: "I had put the wood in a vice and started shaping it with an electric cutter. I had a new blade which was able to cut everything including metal.
"It had gone well, when I had an itch on my nose and went to scratch it. I took my hand off the cutter and it cut across the timber and across my hand.
"There was blood spurting up in the air. I knocked the cutter off immediately, and my wife called my daughter who is a good first aider. She came up and my fingers were hanging off. I'd damaged them all, but particularly my middle and index finger, and had severed two tendons.
"My daughter took me to Prince Charles Hospital in Merthyr but they contacted Morriston Hospital who told me to come down straight away.
"From the moment I went in it must have been the best treatment in my life. The people were so nice and courteous. I was seen to first by a young lady who cleaned me up, and then the doctor came and took a look at it and said I'd have to have an operation.
"They injected my finger and the operation didn't take too long, and I went home and my left hand was in a plaster for in six weeks. The surgeon fixed the tendons.
"It is not 100%, but it is what it is. I have got to get on with it. It's a bit stiff in the morning and I can't bend my middle or index finger like I used to."
The grandfather of three has since produced a couple of paintings which he has presented to staff at Morriston Hospital by way of thanks.
He added: "I did some painting a long time ago. I always enjoyed painting and carpentry, although I know I'm no Picasso.
"But the people in hospital were so good to me I just wanted to do something to thank them.
"I'm not surprised the NHS has such a good reputation with people like that working there."
Specialist hand physiotherapist Iona Davies added: "Following surgery and initial assessment at Morriston Hospital, Mr Taylor was able to access our specialist hand therapy services virtually, at a time when local therapy services were constrained due to Covid.
"This eliminated the need for him to travel from Tredegar, where he lives and cares for his disabled wife.
"He has been dedicated to his rehabilitation and exercises, and as a consequence has been able to achieve his treatment goals, returning to woodwork and painting. The outcome following such an injury is dependent as much on patient's motivation and commitment as it is on surgical skill and therapy input.
"We were delighted to receive his gift."

Swansea Bay Health Charity
Are you interested in raising money to support NHS services in Swansea and Neath Port Talbot? Did you know that Swansea Bay University Health Board has its own fundraising charity?
Swansea Bay Health Charity supports patients, staff and services within Swansea Bay University Health Board. Visit its webpage here to find out more.