Brave hospital staff whose actions ensured the safety of patients during a devastating fire have received a surprise award.
It was announced during the Swansea Bay University Health Board Chairman's VIP Awards on Thursday evening, prompting a standing ovation from the audience.
The workers from ward 12 at Swansea's Singleton Hospital were told by Chairman Professor Andrew Davies their "calm, composed and effective training from fire marshall Pat Howells (now known as Fireman Pat)" saved patients from potentially serious injury.
Professor Davies said he and Swansea Bay's Chief Executive Tracy Myhill decided to honour staff as they had been so impressed by their response to the emergency in March.
He said: "All the staff have said that if it hadn't been for the training that Pat had undertaken so positively, there may have been more serious damage and maybe harm to patients and staff."
Few knew the specially-created award was to be handed out during the health board's fifth annual VIP (Values Into Practice) ceremony hosted by radio presenter Kev Johns.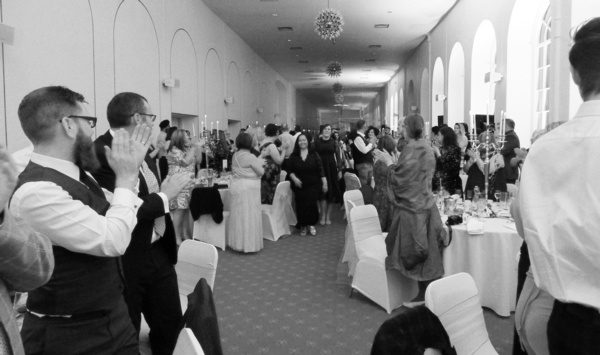 Caption: The audience gave the staff from Singleton Hospital ward 12 a standing ovation as they walked to the stage
The awards, voted for by staff and the public, celebrate some of the most inspiring work being undertaken by staff who have gone above and beyond.
The announcement of the special award was greeted with cheers and a spontaneous standing ovation by colleagues from across the health board.
Since the fire ward 12, an oncology ward, has been relocated to ward 20 at Singleton Hospital while repairs take place.
Many other health board staff members and volunteers were also honoured for their innovation and commitment during the glittering occasion at Margam Organgery.
Jackie Cadmore who, at 80, is almost a decade older than the NHS itself, was awarded one of two Chair's Challenge cups for her stalwart work as a clerical officer at Singleton Hospital.
She first joined the health service as a 17-year-old trainee nurse in Morriston Hospital during the days of strict matrons and starched sheets in 1956.
The other Challenge Cup recipient was operating theatre nurse Dominique Potokar for her work to improve burns care in developing countries through the Interburns international volunteer network.
Gorseinon Community Hospital Multidisciplinary Team and Hospital to Home Scheme were honoured with the Always Improving Award.
Since December 2018, they have made significant changes and improvements, which make it safer and easier for patients to move around and socialise during their recovery.
Ms Myhill said: "As your Chief Executive I love nothing more than hearing of all the wonderful things our people are doing to support the people we serve.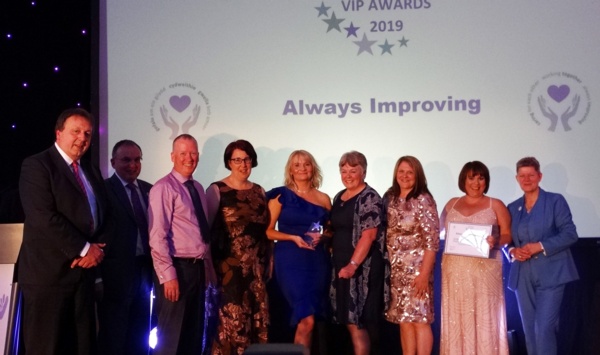 Caption: The Gorseinon Community Hospital MDT and Hospital to Home Team received the Always Improving Award
"Recognising and celebrating our people and their achievement is a fundamental part of how we do things here at Swansea Bay. Events such as these are an opportunity for us to say thank you for your sterling work throughout the year."
A successful annual appeal, which collects hundreds of bags of donations of clothes, toiletries and other essentials from health board staff to support rough sleepers and the vulnerably housed in the Swansea area, scooped both the Caring For Each Other and Ultimate VIP awards.
Run for five years by mental health nurse Pat Dwan and homelessness nurse Janet Keauffling in conjunction with the health board's communications department and homeless charity The Wallich, it distributes donations to those most in need during the coldest months and throughout the rest of the year.
Unfortunately Pat, who has been one of the project's leading lights, was on holiday and unable to attend the awards.
Dr Manju Nair and midwives Sharon Jones and Catrin Ellis' fundraising work, which led to the purchase of a double bed for bereaved families to spend precious time together, received the Going the Extra Mile Award.
Their passion encouraged colleagues to join their Bollywood dance group, which performed during a fundraising event.
Attention to the details that make a world of difference to patients and their families scooped the Working Together Award for the Neuro Rehabilitation Unit Team at Neath Port Talbot Hospital.
Examples of that individual and compassionate care include buying a Valentine's Day card for a patient who was too ill to leave the ward so they could give it to their partner and ensuring therapy and nursing interventions do not clash with meal times. Staff also work with patients on art and craft projects and ensure the unit has a homely feel.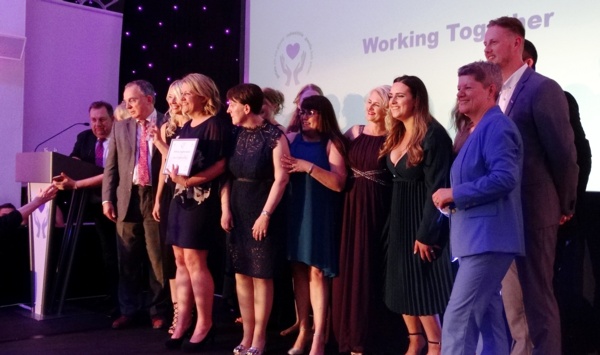 Caption: The Working Together Award went to the Neuro Rehabilitation Unit Team
Professor Davies, who is stepping down as chairman, said: "To provide such care requires passion and commitment from motivated, dedicated and loyal staff who learn, develop and improve what they do, so we can provide a first class service."
The health board wishes to thank the many sponsors who made this event possible: The College of Human & Health Sciences at Swansea University; Gower College, Swansea; Medacs Healthcare; Allocate; the Ospreys; Blake Morgan; Ferry Flowers and Gifts, the Royal College of Nursing and Neath Port Talbot College.
On the night £1,341.40 was also raised for the health board's charitable fund through a raffle and table envelopes.
(Please note the pictures in this bulletin are not from the official photographer but were taken by the communications department for speed. The official photographs will be available soon.)
Here is a full list of award winners and details of their work:
The Chair's Challenge Cup:
Winner - Jackie Cadmore – for over 50 years dedication to the NHS
Highly commended - Dominique Potokar – 10 years Volunteering for Interburns
Always Improving:
Winner - Gorseinon Community Hospital MDT including the 'Hospital to Home' Team
Gorseinon Hospital is a 36-bed unit providing re-enablement facilities for patients discharged from Morriston and Singleton Hospitals who are judged medically fit. Since December 2018 significant changes and improvements have been made in order to ensure that patient care and safety is optimised. Wards were reconfigured creating a dining/lounge environment, encouraging patients to mobilise, increasing their physiotherapy significantly and promoting socialisation.
Caring for Each Other:
Winner - ABMU Annual Winter Homeless Appeal
Launched in November 2013, this successful annual appeal collects hundreds of bags of donations of clothes, toiletries and other essentials from Health Board staff to support rough sleepers, homeless people and vulnerably homed people in the Swansea area. The first Winter Homeless Appeal resulted in over 400 bags of donations, and continues to grow year on year. So much is now donated, that distribution of clothing and other items continues well past winter and up to the September of the following year.
Commitment to Research & Learning:
Winner - Ira Goldsmith and Gemma Thomas
Mr Ira Goldsmith, Consultant Thoracic Surgeon, and Gemma Thomas, Senior Physiotherapist have shown exemplary leadership in putting into place and leading an innovative patient centred pre-treatment optimisation and prehabilitation program (prehab) to improve the health and wellbeing of patients through their research, audit and learning from their experience. The Prehab program,
optimises and improves the fitness of lung cancer patients prior to and immediately following treatment, allowing many to successfully receive high quality, safe, effective, curative surgical and non-surgical care.
Environmental award:
Singleton Hospital Unit
Singleton Hospital implemented an on-site mixed recycling segregation process in 2015-16. The process improves the recycling of waste by providing clean un-contaminated recyclable waste to the waste contractor for sorting and recycling along the waste process chain. Since the scheme was introduced, the total of recyclable material has increased from 50 to 94 tonnes. This improvement also contributes towards the Welsh Government waste and future generations target.
Excellence in Leadership and Management:
Winner: Helen Extence
Over the last nine months Helen has shown exceptional leadership qualities leading the Welsh Cleft Centre through the most challenging times. The service has been experiencing one of the most difficult periods and considerable uncertainty regarding the direction of the service. Under her leadership the service identified priorities and plans for addressing each aspect of concern for staff and patients. Helen's collaborative, strong and positive leadership style meant that all staff members felt listened to and able to contribute to the process. The cleft service, under Helen's leadership, feels stabilised and is working effectively. Patients are informed and their anxieties are contained, and the team is working together and looking forward with confidence and optimism.
Best Foundation Trainee:
Winner - Simon Morris, Paediatrics
Best GP Trainee:
Winner - Adam Yarwood, GI Surgery
Best Junior Trainee:
Joint winners - Mike Cooper, Emergency Medicine and David Stephen Davies, Anaesthetics
Best Higher Trainee:
Winner - Bhawana Purwar, Urogynaecology
Going the Extra Mile:
Winners - Manju Nair, Sharon Jones and Catrin Ellis
Collectively the nominees set about organising a fund raising event to improve the environment and quality of care provided for bereaved families in Singleton Maternity Unit. They passionately wanted to improve existing facilities and set about their 'Bollywood' fundraiser. The nominees enthusiastically went about engaging staff to join a dance group to perform during the Bollywood evening, working tirelessly to engage the local community and businesses to support their fundraising efforts. The dance troupe called the 'Bollywood Beauts' met up regularly to learn a fabulous Bollywood dance routine to perform on the night. They raised an incredible sum of £4,489 to refurbish a bereavement and counselling room.
Improving Lives Through Arts in Health:
Winner - Unscheduled Care OT Team
The team have adopted a joint mural project within Unscheduled Care team. The project consists of two murals one based within the Assessment Home Treatment Team and one based in Cefn Coed. The project was led by the unscheduled care OTs and Technical Instructor. This project has forged collaboration with patients and also strengthened the pathway of care between ward and home treatment, building upon the therapeutic relationships at the earliest stage and following through with patients OT plans, goals and hopes of their recovery journey as they transition from acute care to the community.
Arts in Health – photography:
Winner - Katie Stubbs
Runner up - Michelle Freeman
Volunteer of the Year:
Winner - Blood Bikes Wales (West Area)
Blood Bikes Wales charity was started around 2011 with the aim of assisting the NHS in the advancement of health or saving lives by providing a volunteer out-of-hours motorcycle courier service to supplement the in-hours service. The Charity's riders go out in all weathers, covering some significant distances to ensure transport of blood samples, blood products, medical resources and medications between hospitals and medical facilities, between 7pm and 7am on weekdays, on weekends and on bank holidays. The Blood Bike charity have provided our Health Board with this out of hours transport service for a number of years, resulting in a significant cost saving for the Health Board. The West area also provide a specific chemotherapy service for Singleton Hospital and transporting breast milk for poorly neonates.
Welsh Language:
Winners - Angharad Higgins, Mitchell Jones and Ysgol Y Ferch O'r Sger Siarter Iaith Champions
In April 2018, Neath Port Talbot Hospital arranged for a local Welsh medium primary school to come and visit us to learn about the role that the Welsh language plays in health services. This event promoted the importance of the Welsh language to both our staff and the community. Over 50 Year 5 and 6 pupils from Ysgol Y Ferch o'r Sger in North Cornelly spent the morning in the hospital, learning about different roles within the NHS and how Welsh is used in these settings. Following the event the pupils requested a further project to strengthen links between the school and hospital, in December 2018 all the pupils made Christmas cards to share with patients who were in hospital over the Christmas period. The school choir then visited the hospital to sing Welsh Christmas carols to patients and to distribute the cards by hand on the wards. Patient feedback from the visit was extremely positive, patients commented that the singing had been moving and uplifting and the cards had raised their spirits during a difficult time of year.
Working Together:
Winner - Neuro Rehabilitation Unit Team
Patients on the ward spoke of individual, compassionate care that exemplified the Health Board values. Examples of this include one patient who was not well enough to leave the ward and whose partner would visit regularly. A member of staff had brought in a Valentine's card for this patient to give to her partner. When speaking with the housekeeping and hostess staff they described how they work with the nursing staff in ensuring that meals are provided around the therapy and nursing interventions. These small examples demonstrate the commitment of the NRU team to caring for our patients at every interaction. There is also a patient garden and communal which has craft and art works created by patients.. There were examples of how staff worked together to create a homely,
person centred environment of care throughout the unit
Ultimate VIP Award:
Winner - ABMU Annual Winter Homeless Appeal