ABMU Nurse Takes Leave to Help Out in Africa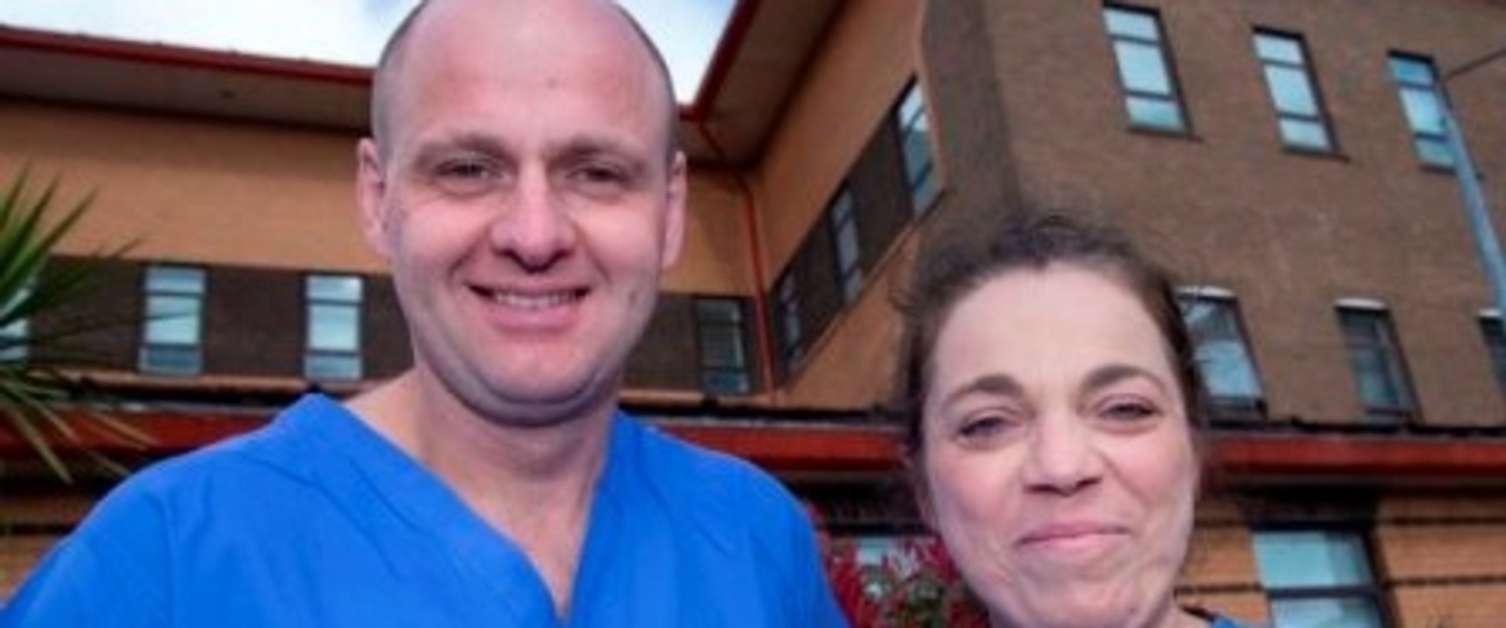 Thursday, 14 March 2019
While most of us look forward to spending time recharging the batteries on annual leave, ABMU employee Dominique Potokar (pictured below) often unselfishly packs her bags and heads off to developing countries to help others.
The operating theatre nurse, at The Welsh Centre for Burns and Plastic Surgery in Morriston Hospital, has just marked her tenth year of helping Interburns - an international volunteer network of expert health care professionals who specialise in burns care - with a mission to Africa.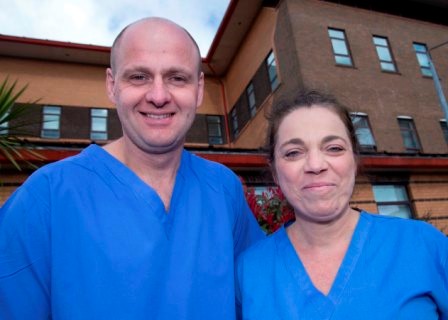 The mother of two, whose husband former Morriston burns consultant Professor Tom Potokar OBE is a co-founder of Interburns, was joined on the 10-day trip by ABMU colleague Dave Johnston (left), a health care assistant in the burns centre, and two former ABMU nurses, Charlie Leach and Danni Mehrez.
Having previously volunteered in Bangladesh, India, Ghana, Nepal, Palestine and Ivory Coast, Dominique's latest mission saw her help deliver specialist training in Addis Ababa, the capital city of Ethiopia.
Dominique said: "Interburns is an international group of health care professionals. People volunteer from the UK to India across to Africa, it's more of a network than an organisation, we just work together under the same goal, trying to improve burns care in developing countries."
The team of volunteers had a truly international dimension to it. Dominique said: "It's always amazing but more so this year as we increased the size of the team to 14 with people coming from Ghana, Malawi, India and the UK - we communicated mostly through English as it was the only language we all had in common. We managed to spend 10 days together without a single problem. There was a great atmosphere."
Explaining how she manages to fit her volunteering in with her work, Dominique said: "I've been volunteering since I became a nurse. The NHS gives you five days' study leave a year but obviously I spend more than five days, so anything over comes out of my annual leave.
"It's all charitable, we are all working as volunteers so none of us get paid. We rely on private and grant funding – we often work with Wales for Africa which has given us a grant for almost every African training – it's the only way we can operate. We keep trying to add different pots of money."
There is an obvious gulf in resources between those available within the NHS and developing world.
Dominique said: "We held the course within a hospital which has a burns unit and it was quite a shock for David because he had never seen conditions quite like it.
"The standard of burns care was quite poor but there has been some progress and the Ethiopian Government has just made it a priority and is working with Interburns and other organisations to improve their burns care, they still need a lot of help.
"It's like almost anywhere else in the world, burns is always the last cause for people to be interested in because it's difficult work. Even in the UK we find it difficult to find burns staff. In developing countries they don't have the NHS and patients have to pay for their care. If they don't have money then they don't have care. It's a difficult situation."
Dominique said that despite the sometimes difficult conditions there were plenty of rewards.
She said: "I feel that it gives me a balance. We treat people in the UK and we have a lot of means, yet you hear negative comments on how the NHS is run. It makes you realise that we are so lucky.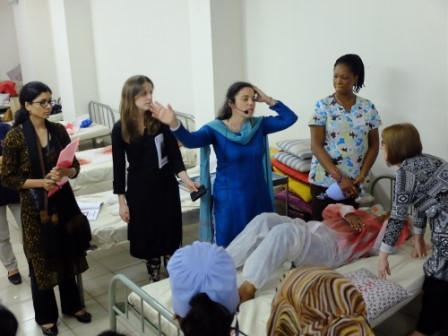 "I also like to give something back by helping those who don't have what we have. I've had hugs from patients as they are so grateful because they usually get so little help. It's not that the people who care for them are bad but there are just so few of them and they have so few means. They try to do what they can.
"All the new volunteers found it emotional at times. They shouted and they cried. I just try to see the result and that keeps me going. The nurses from Malawi, who were trained in Ghana, said that their mortality rate fell significantly after they attended the course. It's rewarding to hear such things. It doesn't cost a lot to adapt and make burns care better."
Right: Dominique on a previous trip to Bangladesh
And at a time when some are turning insular, Dominique is more than happy to take a global view of the world and to reach out to help others.
She said: "I don't think we can feel good about ourselves when there are only a few countries doing well while others are struggling. The political climate may be leading to putting up more borders but the bottom line is, the world is not like that anymore.
"I'm French, was born in Germany and I live in Wales, my children were born here and my husband is British but half Slovenian, we live in a multicultural world. I'm very close to my colleagues in Africa although we have different cultures and different languages."
David, who has worked for the NHS in Wales for nine years, said: "It was a big eye-opener. Where we do the dressings in Wales is a bit different. They have big buckets of water and use jugs to pour over the patient, there are no showers, panes of glass in the windows were smashed. It was upsetting.
"There's no physiotherapy over there and we were able to show patients and staff how to do exercises to aid recovery."
However the 38-year-old added: "There's a lot of work involved but it was a rewarding experience and I am glad I went. They were happy to see us.
"Hopefully it will help improve the situation in different countries. We are so lucky having the NHS and the visit opened my eyes. Over there they have to pay for treatment and there's little quality of care."