£12.7 million investment in radiotherapy services helps Swansea Bay in the fight against cancer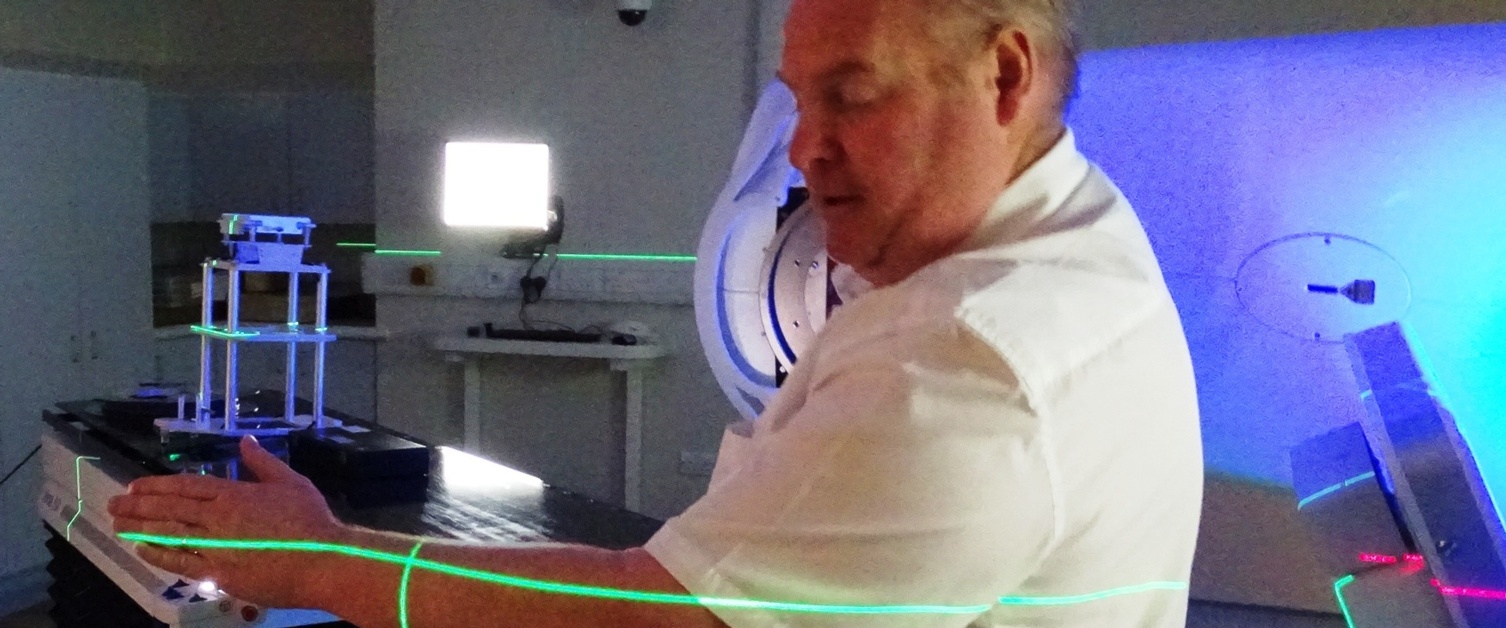 Above: Dr Ryan Lewis demonstrates how lasers are used to ensure patients are accurately placed for their treatment.
A multi-million pound investment in cancer services in Swansea means patients will be the first in Wales to benefit from the very latest radiotherapy technology.
More than £12 million is being spent over three years on new equipment for the South West Wales Cancer Centre in the city's Singleton Hospital.
Two linear accelerators and a CT scanner have already been replaced at a cost of £9.8 million. A third replacement accelerator is due to be installed next year, costing a further £3.9 million.
Below: The newest linear accelerator, used to deliver radiotherapy.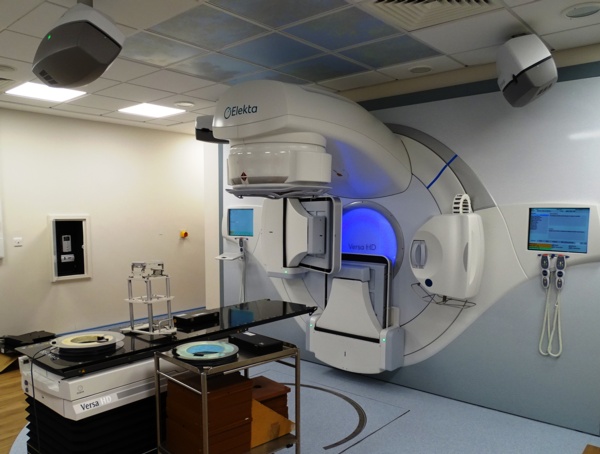 The funding is provided by the Welsh Government and Swansea Bay University Health Board.
Radiotherapy can be used to treat several types of cancer, including breast cancer, prostate cancer, cervical cancer and cancers of the brain, head and neck.
It involves the use of high-energy X-ray beams to stop cancer cells from growing and is usually administered Monday to Friday for between three and Six weeks. Average treatment time is between 10 and 20 minutes.
One of the new pieces of kit is a £4.4 million linear accelerator, or Linac, which uses beams of radiation to destroy cancer cells.
Director of Medical Physics and Clinical Engineering, Andy Irwin said: "Our older linear accelerators are coming to the end of their lifespan.
"The technology moves on so quickly that ideally they need replacing every 10 years.

"We have patients coming from well outside the Swansea Bay area for treatment here, so our equipment sees a lot of use."
The new radiotherapy equipment also features surface-guided radiotherapy, the first of its kind to be used in Wales.
The technology uses 3D cameras to create a visual map of the patient's skin. It then monitors the exact position of the patient before and during treatment, comparing this data to the ideal position agreed in the bespoke treatment plan drawn up by oncologists.
This limits damage to healthy tissue by stopping the linear accelerator if the patient moves as little as a fraction of a millimetre.
Head of Radiotherapy Physics Dr Ryan Lewis said; "We're dealing with tiny margins here, this isn't something we can afford to get wrong.
"Having this technology available gives us huge advantages we just didn't have before."
Another way the surface topography scanner reduces damaging healthy tissue is in conjunction with a technique called Deep Inspiration Breath Hold (DIBH).
DIBH is used particularly by patients receiving radiotherapy for breast cancer, as the radiation is delivered close to their heart.
It involves them taking a deep breath during treatment, and holding it while they receive radiation. As the lungs fill with air, so the heart moves away from the chest.
Dr Lewis said: "This is personalised medicine. There are millions of different treatment combinations, and every single one is different.
"One of the biggest benefits is that previously breast cancer patients needed tattoos, to line up the radiotherapy machine for each treatment.
"But surface-guided equipment means that won't be necessary in the future."
Surface-guided radiotherapy uses 20,000 light generated points on the skin's surface to set up accurately without the need for tattoos.
As Dr Lewis explained: "It not only means a better clinical outcome for people following a cancer diagnosis, but they'll also be able to live the rest of their life without a radiotherapy tattoo as a reminder of their illness."
It is hoped that by 2021 the department will have expanded to host five treatment machines.
Mr Irwin added: "The technology is constantly changing and evolving. This investment is helping to ensure we're giving our patients the best care, as safely and as quickly as possible."