Visiting updates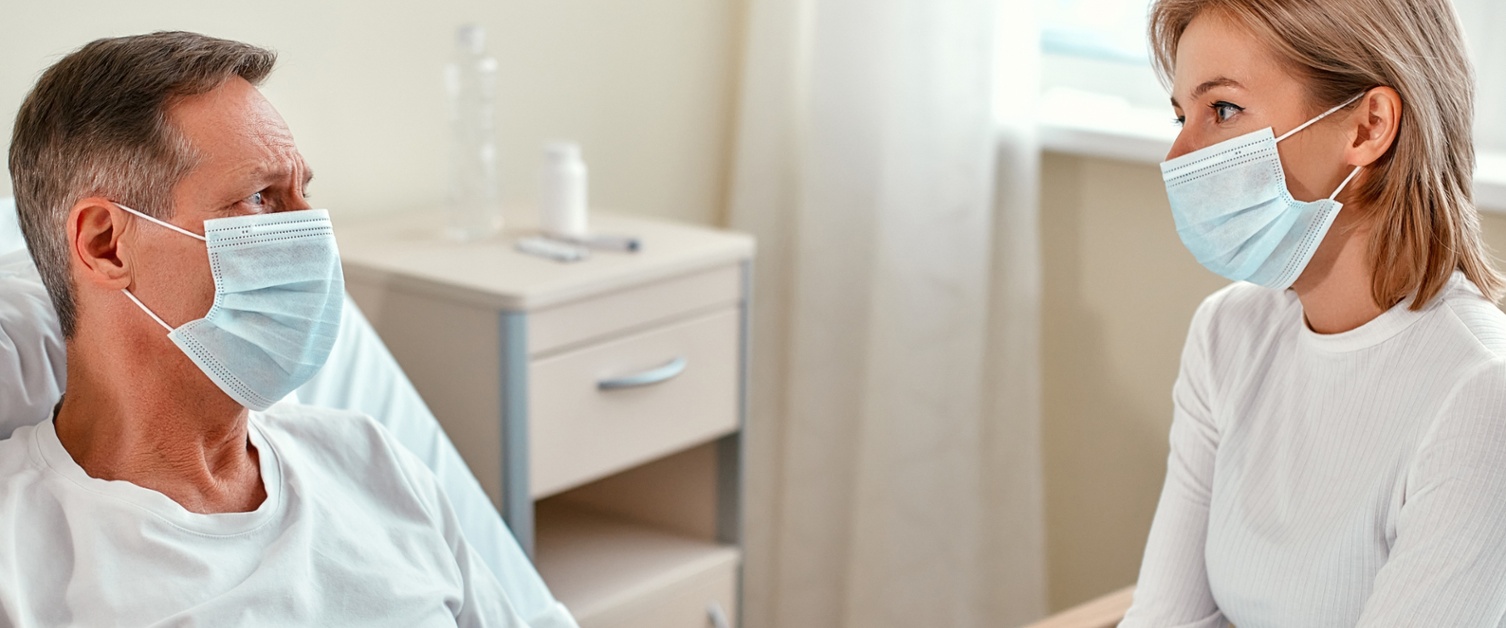 Covid-19 visiting update: December 2021
Swansea and Neath Port Talbot is continuing to experience high levels of Covid-19 community infection rates. The highly transmissible Omicron variant is also circulating. This shows that the pandemic is sadly not over, and we must continue to do all we can to protect the vulnerable inpatients in our care.
In line with the Welsh Government guidance Hospital visiting during the coronavirus outbreak guidance (June 2021) we are risk assessing the situation locally to agree visiting arrangements in Swansea Bay hospitals. An important practical way to protect inpatients is restricting the number of people coming to our hospitals. This is to reduce the risk of infected visitors - who may be symptomless and unaware they have Covid-19 - unwittingly bringing the infection onto our wards.
We understand how important visiting is for patients' and relatives' wellbeing. We can give assurances that as soon as we feel it is safe to do so, we will ease visiting restrictions. However, while local Covid-19 infection rates remain so high, we are not in a position to return to normal pre-pandemic visiting arrangements.
Visiting is only allowed if is 'with a purpose' which in practice means keeping visits to a minimum and only in specific circumstances, which are outlined in the tables below.
If you do visit you must wear a face-covering, keep a safe distance from others and regularly sanitise your hands. Do not visit if you are ill, have any symptoms of Covid-19, have tested positive for Covid-19 or have been told to isolate by the Test, Trace and Protect service.
Before you visit, we strongly encourage you to take a lateral flow test, even if you don't have any symptoms.
Some people can be infected with Covid-19 (even if they've been vaccinated or previously had COVID 19) but feel normal and be unaware they have Covid-19. Sadly, they can still pass the virus onto others.
Taking a lateral flow test beforehand will help reduce the risk of you unwittingly infecting your relative, whose resistance may well be lower than usual because they are so unwell.
You can order your free lateral flow test by following this link to the Welsh Government website.
You will receive a small stock of tests, usually posted to your home within a couple of days. The test doesn't take long to do; but a negative result will give you peace of mind when you visit.
However, if you get a positive result, you must not visit, even if you feel well. You must self-isolate immediately for 10 days and take a PCR test at a test centre within 24 hours. To book a PCR test ring 119 or book online via this link.
Please remember all visits, including their frequency and duration, must be arranged with the hospital in advance; but one hour per visit is considered standard. The wards will have a maximum number of visitors they can accommodate at one time. Visiting is usually between 1 to 7pm weekdays.
Patients should also attend planned appointments like outpatient clinics, and unplanned, urgent care attendances on their own, if possible. Exceptions to this are outlined below.
Please check below first to see if you are eligible to visit a patient. If so, remember to make arrangements in advance.
Visiting a patient in hospital
| | |
| --- | --- |
| Paediatric wards | Only one parent allowed to be present with their child on our paediatric wards. Parents are allowed to swap every 24 hours. |
| Patients who are sadly in the last days of their life | Up to two visitors at a time from the same household or extended household |
| Patients with mental health needs, dementia, a learning disability or a cognitive impairment, where not having a visit would cause them distress | Generally one visitor at a time, the frequency and duration of visits will be agreed on an individual basis by wards/department. |
| Patients who are parents, or who are guardians/ carers to children and young people | A child or young person can visit their parent/guardian/carer, along with one adult |
| People who are in hospital for a longer time – usually seven days or more; or who may need additional help with communication or feeding | Visits must be discussed and arranged in advanced. |
How to book your 'visiting with a purpose'
Neath Port Talbot and Singleton hospitals:
Please contact the wards directly.
Our wards are currently experiencing high levels of calls. Please be patient, staff will answer your call when they're able to.
Gorseinon Hospital:
Please ring the hospital directly to arrange a visit: 01792 704184 or 01792 704180
Please note: Gorseinon operates a lateral flow testing regime for visitors.
Morriston Hospital:
Please contact the wards directly.
Our wards are currently experiencing high levels of calls. Please be patient, staff will answer your call when they're able to.
Accompanying patients to hospital (appointments or unscheduled urgent care)
Further information can also be found on appointment letters and within departments.
| | |
| --- | --- |
| Individuals with a mental health issue, dementia, a learning disability or autism, where not being accompanied would cause the patient/service user to be distressed | Patients can be accompanied by one adult. Where possible, this should be agreed in advance. |
| Individuals with cognitive impairment who may be unable to recall health advice provided | Patients can be accompanied by one adult |
| People requiring essential support, for example for British Sign Language Interpretation | Essential support assistants, or a family member providing this service, can accompany patients to appointments. |
| Where the treatment or procedure is likely to cause the patient distress | Patients can be accompanied by one adult to provide support |
| Children and young people, including Paediatric Assessment Unit | One parent/ guardian/ carer can accompany the child or young person |
| Assessment services – e.g. Emergency Dept.; Surgical Assessment Unit, Minor Injury Unit etc | Please come on your own unless you need particular support, e.g. you have a physical or psychological disability |
Visiting updates
We are continually risk assessing our services and making any changes needed as a result.
We would like to thank our patients and their families for their patience during this exceptionally challenging time. We are continually reviewing local and national data to make sure that we can respond to any changes in the risk of Covid-19 to our patients and communities, therefore please regularly check our website and social media pages for news of any changes.
Follow this link to the Covid-19 information page on our website.
Please click here for guidance about physical (social) distancing and what to expect when you visit.
Please go here for information about Welsh Government guidance over visiting
Refreshments
Please avoid using our canteens at present. There are vending machines available on our sites if you need refreshments.
Please note that SBUHB supports a zero tolerance stance for any abusive behaviour towards staff due to variances in visiting guidance for different patient groups.
Smoking
Please note that since 1st March 2021 it is now illegal to smoke in the grounds of our hospital sites.