Breathlessness
Breathlessness
Breathlessness is a normal response to being active, but it is also normal to experience some breathlessness doing simpler tasks after having a lung infection, such as COVID-19.
It is important that you don't completely avoid the things that make you breathless, but you should use how breathless you feel to guide how much activity you do.
This is the BORG breathlessness scale and it describes how much effort your breathing feels.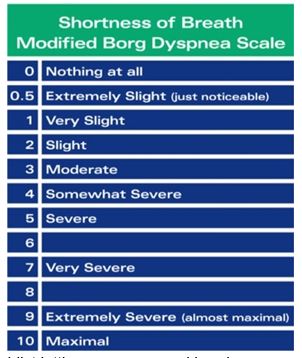 When you are being active or exercising in the first 6 to 8 weeks after being discharged from hospital, you should aim to keep your breathlessness score at or below 3.
Tips for Managing Breathlessness
Positioning: Sit leaning forward, with your elbows resting on your knees, or on a table. You could also lean forwards onto a windowsill or worktop if you are standing. Stand leaning backwards onto a wall, whilst letting your arms and hands relax.
Breathing exercises: Breathing control is a gentle breath using the least effort and is used when you are short of breath or feeling fearful, anxious or panicked:
Get into a comfortable position where you can be relaxed
Breathe in gently, preferably through your nose, but if not, through your mouth
Breathe out through either your nose or mouth
Gradually make your 'out' breath longer than your 'in' breath
Pursed-lip breathing can be used at any time to control your breathing. You can also use it during an activity that makes you breathless to help you feel less short of breath:
Breathe in gently, preferably through your nose, but if not through your mouth
As you breathe out, 'purse' your lips as if you were going to gently blow out a candle or whistle
Blow out for as long as is comfortable without emptying your lungs.
What else?
In the future if your breathlessness persists, your doctor may suggest attending something called Pulmonary Rehabilitation. This is a programme designed to help people that are breathless because of a lung condition, which could be of benefit to you.
There are also lots of resources and information available from the British Lung Foundation.
Go to the British Lung Foundation website for more information on lung health and support for conditions.